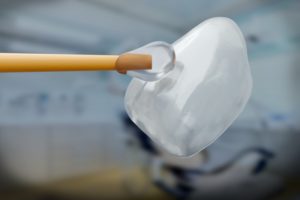 Both veneers and Lumineers are regarded as all-inclusive cosmetic treatments that can take a smile affected by a range of imperfections, like dental damage, misalignment, and discoloration, and transform it into one that's beautiful and symmetrical. However, despite being able to offer similar results, people are often torn between the two procedures trying to find the one that would be best for their individual smile goals and needs. Read on to learn the difference between Lumineers and veneers and the pros and cons of each.
The Difference Between Veneers & Lumineers
The main departure from veneers that Lumineers have is the preparatory part of the process. For veneers, a small portion of your tooth enamel will need to be removed in order to accommodate the thickness of the dental porcelain that veneers are crafted from. This is a permanent alteration to your teeth, so moving forward, you'll always need to have veneers over them.
Lumineers, similar to minimal-prep veneers, are specifically made to be thinner, requiring little to no alteration of your existing teeth to be secured to them. This means that whenever they fail, become damaged, or need to be replaced, you won't have to commit to them again. Just like a lease on an apartment, you'll be able to decide whether you want to renew your smile again or not have them anymore.
Weighing the Pros & Cons of Both Treatments
The decision of whether to invest in veneers or Lumineers is dependent on your smile goals. While veneers offer a longer lifespan of 25+ years with routine maintenance, they require a permanent commitment to having them replaced. This makes them a great option for those who are committed to preserving their brightened, completed, and beautiful smile for the rest of their lives.
On the other hand, Lumineers offer the same results with virtually no preparation of your natural teeth required. This makes them an excellent option for those who aren't sure whether they're ready to commit to having them replaced 15 years down the road. Because they're typically made from composite or laminate instead of porcelain, they're not as durable.
The best way to make a sound decision on what option is best for you is to schedule a consultation with your cosmetic dentist. After hearing your goals, they'll be able to help guide you towards making a decision that would provide you with the most benefits.
About the Practice
Jacksonville Dental Specialists is led by a duo of highly skilled experts, Drs. Matthew Nawrocki and Richard Aguila. Dr. Nawrocki is a board-certified prosthodontist, meaning he has completed an additional three-year residency to improve the function and appearance of smiles by providing custom-crafted, beautiful prosthetics. Dr. Richard Aguila is a board-certified periodontist who has completed an additional post-graduate residency program to become an expert in treating the supportive structures of the smile, like the jawbone and soft tissues. Together, they're able to provide a wide range of smile-beautifying treatments. For questions or to schedule a consultation, visit our website or call 904-683-4781.