Far too often, patients assume that the only way to straighten crooked teeth or realign a bite is with metal brackets and wires. While this remains an option for patients of all ages, most adults who require orthodontics prefer a more subtle solution. At Jacksonville Dental Specialists, our team of experts is pleased to provide Invisalign in Jacksonville. With clear plastic aligners that are customized to fit your smile, you can feel more confident in your daily appearance and avoid the embarrassment of shiny metal. Call us today to find out if you're a good candidate for Invisalign treatment.
How Does Invisalign® Work?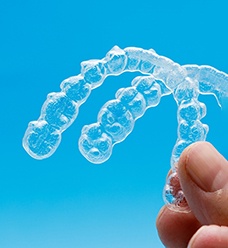 Made of clear plastic trays, Invisalign is worn 20-22 hours each day and applies gentle pressure to your teeth to shift them in the right direction. Every two weeks, you are required to swap out your existing trays for the next set. This will ensure that your teeth continue to move accordingly. Every few weeks, you'll return to our office for a follow-up appointment so that we can check your progress.
When worn correctly, you will notice a dramatic change in your bite and teeth alignment within 12-18 months (on average).
Indications for Invisalign®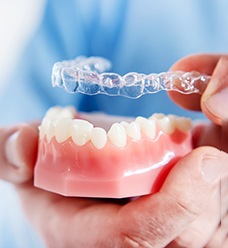 Not everyone needs Invisalign or is considered a good candidate for treatment. However, after a thorough consultation with our team, we will determine if these clear aligners can help to treat one or more of the following problems:
Crowded Teeth
When teeth erupt through the gumline, there should be just enough space to ensure that you can adequately brush and floss your teeth. If teeth sit too close together, decay, cavities, and gum disease can cause a serious problem. Fortunately, Invisalign can work to gently move teeth away from each other so that overcrowding is no longer a problem.
Gaps Between Teeth
Having too much space between teeth can be an equally serious problem that can result in food debris becoming trapped and bad bacteria accumulating. Gum disease and cavities can also develop as a result. With Invisalign, though, your teeth can shift closer together so that the space is eliminated, and your smile is more aesthetically pleasing.
Bite Alignment
When your bite is out of alignment, you'll likely notice a problem with jaw pain and worn tooth enamel. If allowed to continue, you can face significant issues such as sensitivity and TMJ. With Invisalign, we can work to bring your overbite, crossbite, open bite, or underbite back into alignment so that your mouth works correctly moving forward.
The Benefits of Invisalign®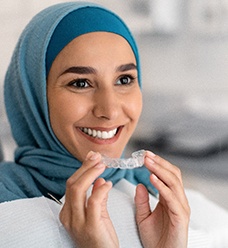 When it comes to choosing between metal braces and Invisalign, the benefits that come with clear aligners tend to be more appealing to adult patients. The reasons are:
Invisalign is a flexible treatment solution that allows you to remove your aligners to eat the foods you love.
Clear aligners are easy to maintain, requiring no special products (if preferred), and can be cleaned using a soft-bristled toothbrush, clear soap, and lukewarm water.
Invisalign can produce faster results than metal braces (12-18 months versus 2-3 years on average).
Invisalign is unlikely to irritate soft oral tissues because there are no protruding brackets to rub against cheeks, tongues, lips, and gums.
Understanding the Cost of Invisalign®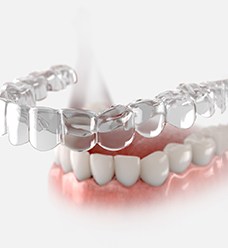 When it comes to fixing crooked teeth, Invisalign may be the recommended treatment option, but how much will it cost? These clear aligners might be what you prefer, but can you afford them? The good news is that no two cases will produce the same price tag. What you need may be vastly different than someone else's, so the only way to determine your cost estimate is to schedule a consultation with our Jacksonville Dental Specialists team. You can also count on us to help maximize your dental insurance benefits so that you pay less when it comes to any out-of-pocket expenses you might incur.