Invisalign is fast becoming one of the most popular orthodontic solutions available. Rather than the traditional bracket and wire braces, Invisalign uses clear alignment trays to move teeth into place. At Jacksonville Dental Specialists, we're happy to offer this comfortable, cosmetic orthodontic solution to our patients. If you're interested in Invisalign or any of our other orthodontic services, call to schedule a smile alignment consultation. We'll be happy to examine your smile, walk you through treatment options, and help you create a personalized treatment plan to deliver a flawless smile.
How Do Invisalign Braces Work?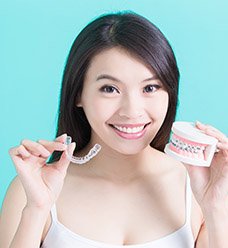 The Invisalign system uses a series of clear plastic alignment trays to gently shift teeth into the ideal position. Each set of aligner trays represents the positioning of your smile one step closer to the ideal alignment. When you wear the aligners for the prescribed amount of time, they place constant pressure on your teeth, shifting them into this new placement. Then, you'll exchange the current set of alignment trays for the next set in the series. Throughout treatment, you'll need to visit our office every six to eight weeks, so we can make sure your teeth are still moving according to our plan. This allows us to make minute adjustments to ensure we achieve the desired results.
How Long Do I Have to Wear Invisalign Trays?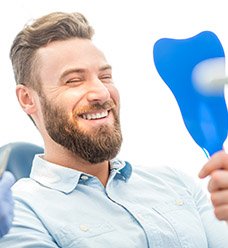 You will receive a unique treatment plan that addresses your specific needs. In most cases, each set of alignment trays need to be worn for at least 20 hours each day for about two weeks. The total treatment time is typically between eight and eighteen months.
Will I Need a Retainer?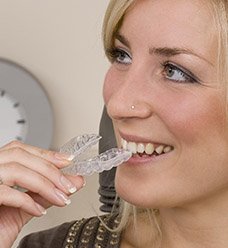 You will still need to use a retainer. The purpose of retainers is to maintain the new positioning of your teeth until the supportive alveolar bone and soft tissue have time to fuse with the tooth roots, holding them in their new positioning. If you do not wear your retainer as directed, the odds are high that your teeth will shift back out of alignment.
Is Invisalign Better Than Traditional Braces?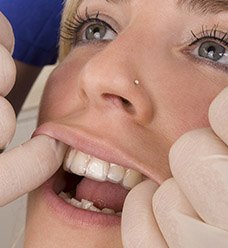 Not necessarily. No treatment is right for every patient. If you are considering Invisalign, some of the benefits of this treatment compared with traditional bracket and wire braces include:
Fast – you save time during treatment with fewer office appointments and you save time overall with just twelve months of treatment on average compared with two or more years with traditional braces.
Comfortable – moving teeth will likely cause some discomfort, but traditional bracket and wire braces also irritate soft tissue. The smooth, plastic Invisalign trays reduce irritation and gently shift teeth into alignment.
Natural looking – throughout your Invisalign treatment, your clear aligners will be hard at work moving your teeth into the ideal position, but all you'll ever see is a beautiful smile.
No Hassle – you won't need to worry about changing your diet or oral hygiene routine. Simply remove your aligner during meals and while cleaning.
Am I a Candidate for Invisalign?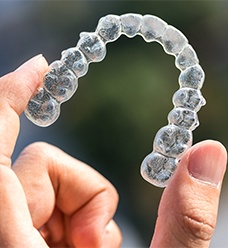 In the early days of Invisalign orthodontics, these systems were only used for very basic treatments. Today, we can use Invisalign to correct the majority of alignment concerns. From closing gaps between teeth to correcting over, under, and crossbite, it's now possible for more patients than ever to correct their bite alignment using Invisalign.