Many patients visit Jacksonville Dental Specialists who are unhappy with some aspect of their smiles. We offer these patients a variety of treatments that renew oral health and enhance the appearance of their smiles. We work hard to help patients get the smile of their dreams while preserving the maximum amount of natural dental structure and improving overall oral health. If you're ready to find out more about how to get your picture-perfect smile, read on to explore our services or contact our team today to schedule a consultation. We welcome patients from Jacksonville and surrounding communities.
Porcelain Veneers
If you have a number of chipped, cracked, stained, or gapped teeth you'd like to correct without investing the time and financial commitment into more advanced care, we can help. For many patients, porcelain veneers offer an effective alternative to complex restorative and orthodontic treatments. Veneers are thin sheaths of porcelain that fit over the front facing surfaces of teeth, concealing any number of irregularities with just one treatment. Porcelain veneers are typically placed in two appointments. During the initial visit, we remove a small amount of enamel that will allow the veneer to lay flat within the natural smile line. We then capture impressions of the prepared teeth to be used by our trusted dental lab to create the custom veneer. Before patients leave, we attach temporary veneers to protect teeth and allow patients to get used to the look and feel of veneers. Once the final product is received from our dental lab, patients return to the office to exchange their temporary for a custom porcelain veneer.
Learn More About Porcelain Veneers
All-Ceramic Dental Crowns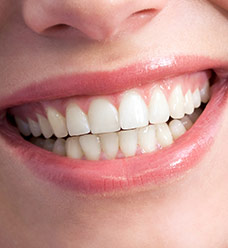 A number of materials are available to create dental crowns. Each has its own unique advantages and disadvantages, but for patients whose main concern is a natural appearance, all-ceramic crowns are the best solution. Other crowns are made from gold and porcelain bonded to metal. Gold restorations are the most noticeable in appearance, but they create minimal wear against opposing teeth. Porcelain bonded to metal crowns are the ones that begin to show dark rings or lines as the porcelain wears away. All-ceramic crowns are not only the most natural looking restoration options, they also offer a number of oral health benefits. They are the only restoration option that does not affect patients who have metal allergies or sensitivities, and they are crafted from high quality materials that are less likely to crack and chip away over time compared with the porcelain bonded to metal solutions. When it comes to repairing front teeth, all-ceramic crowns are the only option that allows our team to completely renew the form, function, and appearance of teeth.
Invisalign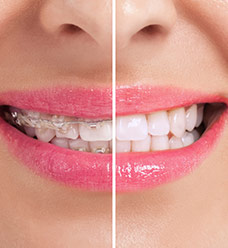 Many patients, especially busy professionals, would love to straighten their smiles, but the thought of countless trips to the orthodontist, years of treatment, and the unsightly metal brackets and wires keeps them from pursuing orthodontic care. We are happy to offer a cosmetically superior alternative that creates minimal impact on patients' daily routines – Invisalign. This orthodontic system uses a series of clear alignment trays to gently shift teeth into the ideal position over the course of about a year of treatment. This may still seem like a lengthy time commitment, but unlike bracket and wire braces that require more frequent, longer appointments with an orthodontist, Invisalign aligners can be designed and manufactured several sets at a time. That means patients wear a set of alignment trays for a designated period, exchange it for the next set in the series, and visit our office for a short checkup to ensure their progress every four to six weeks. Additionally, patients don't have to worry about changing their diet or oral hygiene routine. Simply remove the aligners during meals or while brushing and flossing.
Learn More About Invisalign
Crown Lengthening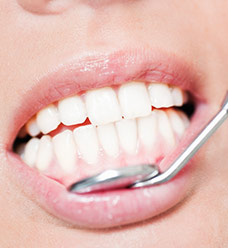 The name crown lengthening for this procedure is a bit misleading. We don't actually make the crown, visible portion of the tooth, longer. The procedure requires the careful removal of a small amount of gum tissue to effectively reveal enough dental structure to support a dental crown. When patients experience decay or trauma, too much of the exposed portion of the tooth may be lost making it impossible to attach a restoration. When this happens, we can remove part of the gums, and attach the crown to the newly revealed dental structure. In order to maintain the appearance of patients' smiles, we don't just remove gum tissue around a single tooth as this would change the shape of the smile line. Instead, we remove a small amount from the surrounding teeth as well, maintaining a natural looking smile line.
Learn More About Gum Recontouring
Teeth Whitening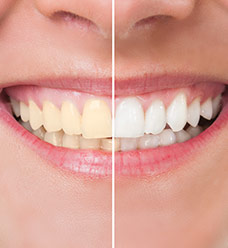 If you've tried store bought whitening toothpastes, mouthwashes, strips, or gels, and didn't see any improvement, you're not alone. These products promise dramatic transformations, but they are typically unable to deliver the promised brilliant white smiles. We provide patients professional level treatment options that brighten smiles up to ten shades may want to use our at-home whitening kits. At-home whitening uses professional levels of the active whitening agents to ensure predictable results. Additionally, we protect the soft tissue from potential damage in-office and at-home with customized application methods that keep whitening gel on the teeth where it belongs.
Cosmetic Dentistry FAQs
Your cosmetic dentist in Jacksonville, Dr. Nawrocki, can use special aesthetic treatments to help you achieve the smile you've always dreamed of. He and Dr. Aguila can both use cosmetic dentistry to improve the alignment, color, size, and shape of your teeth to your liking. Even if you're excited to invest in your smile, you undoubtedly have some questions. That's why, for your convenience, we've gathered some of the questions we get asked most often about cosmetic dentistry.
Does My Dental Insurance Cover Cosmetic Dentistry?
Most of the time, dental insurance will not pay for purely cosmetic procedures, but there are always a few exceptions. Some cosmetic treatments may overlap with restorative procedures, such as in the case of all-ceramic dental crowns. These restorations can benefit your overall oral health as well as provide cosmetic improvement. In that case, your insurance may cover the procedure up to 80 percent depending on your individual policy.
Our office is more than happy to answer your insurance questions and work with you, so you don't have to pay a cent more than what's absolutely necessary.
Can My Teenager Benefit from Cosmetic Dentistry?
There are actually plenty of cosmetic treatments that are perfectly suitable for teens, such as teeth whitening, Invisalign, and dental crowns. The best way to find out if your teen can benefit from cosmetic dentistry is to schedule a consultation with your dentist in Jacksonville.
How Long Will the Process Take?
There is no surefire answer to this question, because the time needed varies depending on which procedure you're undergoing. Options like teeth whitening can be completed in just one hour-long appointment, while treatment like Invisalign can take up to a year or even longer. During your initial consultation, your cosmetic dentist in Jacksonville will outline not only the cost, but how long you can expect the process to take.
Is Cosmetic Dentistry Right for Me?
If you have ever found yourself feeling unsatisfied with the smile you see in the mirror, you might be a candidate for cosmetic dentistry. As long as you are free from infection or other oral health issues, you can receive cosmetic procedures. Even if you have cavities, gum disease, or some other dental problem, you can still undergo cosmetic dentistry as long as you seek preliminary treatment first.
If you're ready to completely transform your smile for the better, don't be afraid to contact our office today to see if cosmetic dentistry is right for you.