Dentures have been used for hundreds of years to give people with missing teeth a full smile once more. They've came a long way since Egyptian times, making today's dentures more realistic and reliable than ever before. At Jacksonville Dental Specialists, Dr. Matthew Nawrocki and Dr. Richard Aguila are trained and experienced in providing patients with comfortable and natural-looking dentures. Keep reading to learn everything that you need to know about dentures and how you can benefit from them.
What Are Dentures?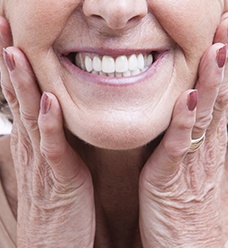 Dentures are one of the most common and popular options for replacing teeth. A denture is composed of a plastic, gum-colored base, which is attached to false teeth. Dentures are made with a plastic resin to be as comfortable and flexible as possible. Depending on what you want out of your replacement as well as how many teeth you're missing, we will recommend partial dentures, full dentures, or implant-retained dentures. They are held in place by natural suction, dental adhesive, or clasps based on the type of denture that you have. The best way to find out which one is right for you is to visit our office.
Who's a Good Candidate for Dentures?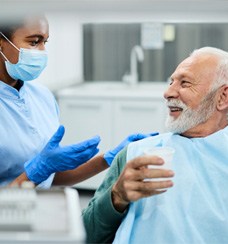 Compared to those in the past, dentures today are much more versatile, meaning they can provide the strong, natural-looking, and reliable solution you need to renew your smile. This option is ideal for those who are struggling with missing several, most, or all of their teeth, and can help restore their bite as well as their confidence. If you wish to know if you're a good candidate for dentures in Jacksonville, you'll want to schedule a consultation with our team first. We'll evaluate your oral health, discuss your smile goals, and explain what you can expect from your treatment should you decide to commit to it.
Effects of Missing Teeth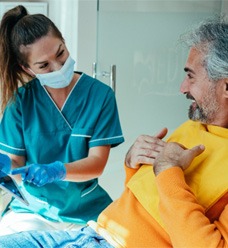 Before undergoing the process of getting dentures, it's important to understand how tooth loss happens in the first place. According to the American College of Prosthodontists, there are several different reasons you might be missing teeth. Some of the most common causes involve gum disease, tooth decay, and accidental trauma or injury. Furthermore, certain systemic conditions (such as inherited disorders) can increase your risk of tooth loss.
Regardless of how you've lost your pearly whites, it's crucial that you replace the gap in your smile as soon as possible. Neglecting to do so can result in numerous negative outcomes. For example, you may encounter complications like difficulty eating, trouble talking, facial sagging, jawbone shrinkage, and lower self-esteem. Any remaining natural teeth can even shift out of position, and your facial structure can begin to deteriorate.
What Qualifies You for Dentures?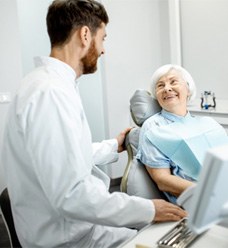 Generally speaking, nearly anyone struggling with tooth loss can be a good candidate for dentures. This tooth-replacement option has been tried and tested for decades, and it's helped countless patients restore their bite and smile. These restorations can help those with missing teeth, sensitive teeth, and excessive decay.
That said, you'll first need to have the sufficient bone density to guarantee successful results. The number of teeth that you're missing will also influence the kind of denture that would be best for you. Depending on your situation, you might benefit most from either full dentures, partial dentures, or implant dentures.
Alternative Tooth-Replacement Options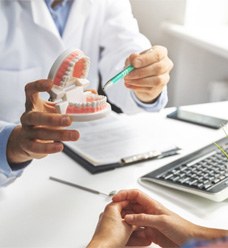 Even if you aren't a good candidate for dentures, it doesn't mean you won't have alternative options to look into. One of the most comprehensive tooth-replacement solutions is dental implants. This option is considered the gold standard when it comes to rebuilding missing teeth, as the titanium posts are designed to renew your pearly whites from the roots up! Moreover, you can enjoy an incredibly stable restoration that only requires minimal dental care to preserve and can last several decades to a lifetime.
Your Options for Dentures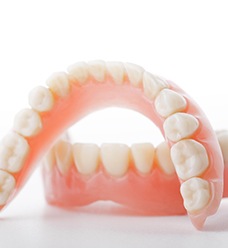 Not every smile is the same, which is why we believe that not every replacement should be the same either. We offer 3 different options of dentures to provide you with the replacement that works best for you and your smile:
Partial Dentures
We will typically recommend partial dentures for patients who have multiple teeth missing consecutively but still have some healthy natural tooth structure. This allows for a complete-looking smile while keeping your natural teeth at the same time. Partial dentures will usually be held in place by clasps that fit over your teeth.
Full Dentures
If you're missing the majority or all of your teeth in a single arch, full dentures can give you a new and beautiful smile almost instantly. They stay in place using suction or adhesive, but you should take them out each night for cleaning. Dr. Nawrocki or Dr. Aguila will take impressions of your gums to provide you with the best-fitting denture possible.
Implant-Retained Dentures
If you want the benefits of dentures with the most secure function and feel, implant-retained dentures could be the best option for you. Using dental implants that are placed in your jawbone, we can secure your dentures to give you the most natural-feeling restoration. Plus, dental implants help to preserve the strength and function of your jawbone.
The Benefits of Dentures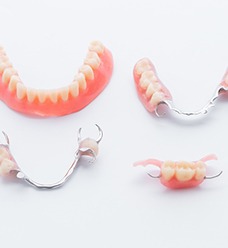 Missing several or most of your teeth can make it difficult to perform certain daily tasks, such as chewing comfortably, conversing easily, and smiling confidently. By restoring your full grin with dentures, you'll be able to enjoy life-changing results for many years to come. As long as you have healthy gums and sufficient jawbone density, these restorations can provide the second chance you deserve. Here are several essential benefits to expect from dentures.
Psychological Benefits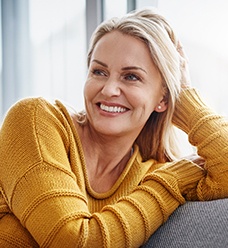 One of the consequences of missing teeth is that you can end up feeling less comfortable showing off your remaining teeth or smiling altogether. Feeling self-conscious can place a lot of stress on your mental and emotional well-being, and you might experience difficulty engaging in social interactions. By renewing your full smile with dentures, you can get a boost in self-esteem, effectively reducing any anxiety about your grin, chewing capacity, speech articulation, and more.
Clearer Enunciation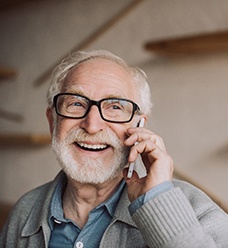 Speaking clearly is typically more challenging without all of your teeth. To enunciate most words, your tongue and lips usually need to be properly positioned against your teeth. If you can't touch your teeth with your tongue, certain words can be difficult to pronounce. Since dentures restore your full smile, you'll be better able to communicate with clarity. While you might experience an adjustment period, your speech will feel more natural with just a little bit of practice!
Improves Nutrition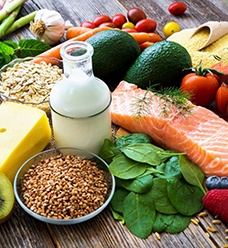 While there are plenty of soft foods to choose from, many nutritious ones can be tough in texture. Some of these include lean proteins, vegetables, and fruits. If you aren't able to chew your food properly, you can end up experiencing problems like malnutrition and indigestion. Dentures can effectively eliminate this complication by renewing your full bite, allowing you to maintain a nutrient- and vitamin-rich diet. Additionally, you'll be able to receive essential minerals that will promote better oral and overall health.
Preserves Oral Health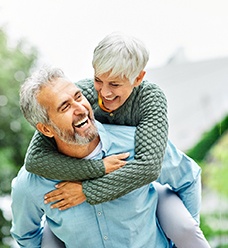 Whenever you're missing teeth, any remaining ones can be at risk of moving out of place to fill in the gaps. By getting well-fitted dentures, you can help prevent dental shifting as well as further tooth loss. Your restorations will also help withstand the excessive pressures of chewing, lowering the risk of wear and tear on your remaining natural teeth.
Expands Opportunities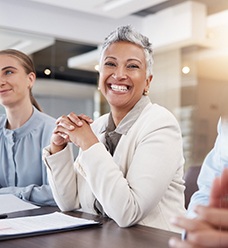 One of your biggest assets for first impressions is your smile. If you have a job interview coming up, working on a promotion, or simply going on a date, you'll want to look your best to increase your chances of success. By replacing missing teeth with dentures, you'll boost your confidence in your smile, which can even boost your opportunities in your social, personal, and professional life!
Understanding the Cost of Dentures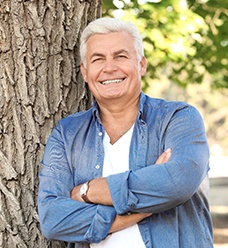 Dentures in Jacksonville are such a popular restorative treatment because they're a tried-and-true tooth replacement solution that has helped millions of people regain the full function and appearance of their smile. Our team at Jacksonville Dental Specialists is passionate about helping our patients get the most out of their life by rebuilding their grins and making basic tasks like eating and speaking easy again. Below, we've outlined some of the factors that can affect the cost of your dentures. If you have any questions about dental insurance coverage or financing, feel free to reach out to us.
Factors That Affect the Cost of Dentures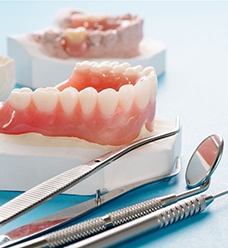 There are a few predominant factors that can influence the price of getting dentures, including:
Whether you require any preparatory procedures, like a tooth extraction, before you can wear your dentures.
The type of materials (acrylic) used for the base of your dentures that fits over your gums.
Whether you choose to have your replacement teeth crafted from porcelain or ceramic.
One thing's for sure, the cheapest option isn't always the best choice for every patient. If you have a budget but also want higher quality materials that are going to last, our team will be happy to help you navigate additional financing to get you the perfect dentures in Jacksonville.
Are Implant Dentures More Expensive?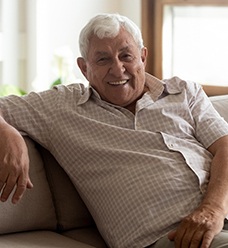 It's true that implant dentures are more expensive than traditional dentures. This is because there are several additional steps to the procedure, including implant surgery, and unique advanced technology may need to be used to get the best results, like a cone beam CT scanner.
The primary difference between these two restorations is the dental implants themselves, which anchor the denture in place. This prevents slippage and makes speaking and eating food easier. The implants also fuse with your jawbone, helping stimulate the area and preventing it from deteriorating. Lastly, implant dentures can last for up to 35 years with routine maintenance, as opposed to only five to seven years, like traditional dentures.
If you'd like to learn more, you can read our page on implant dentures or schedule a consultation with our team.
Does Dental Insurance Cover Dentures?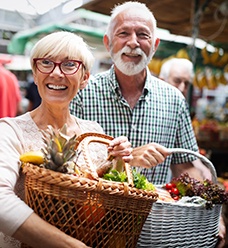 Most dental insurance plans cover about 50 percent of the cost of dentures in Jacksonville. However, it's important to keep in mind that this can vary, because every dental insurance plan's coverage is different. To know for sure whether this treatment will come with out-of-pocket costs, be sure to contact your insurance provider directly. Our team can also help you find out if you need assistance!
Other Options for Making Dentures Affordable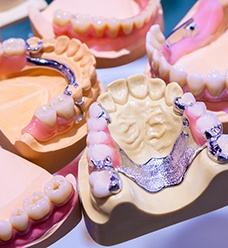 At Jacksonville Dental Specialists, we also take additional financing through CareCredit, which is a flexible and trusted third-party financer. They can create a monthly payment plan that fits your budget and allows you to get the high-quality and realistic dentures that you deserve. If you need help signing up for financing, feel free to ask our team!
Dentures FAQ
Tooth loss can develop slowly over time or it can appear quite suddenly. No matter what the circumstances might be, the fact that you're considering a denture is fantastic! With that said, we understand that you may have some questions about your future tooth replacement. You can read about the most common questions that Jacksonville Dental Specialists receives from patients, as well as our responses below! If you have additional questions, please don't hesitate to give us a call.
Is it difficult to adjust to wearing a denture?
During the first few weeks, it's normal to spend additional time getting used to a new denture, especially when you've never used one before. Keep in mind that your lips, tongue, and cheeks will consider these a foreign object at first, which is why we recommend practicing the following when you do receive your new denture:
Make time to practice speaking in a mirror while wearing your denture.
Begin eating softer foods as you wear your denture.
Switch to solid foods once you get used to your replacement teeth.
How often do I need to replace my denture?
On average, dentures tend to last between 5 and 8 years before they need to be replaced entirely. Keep in mind that throughout this time period, you'll likely need to have the denture relined and repaired to ensure comfort and function. Dr. Nawrocki and Dr. Aguila will walk you through the best steps to take to make your denture last as long as possible. This includes regularly cleaning it, keeping it moist when not in use, and coming in for regular checkups to confirm its condition over the next several years.
How often should I visit the dentist when using dentures?
Just because you are using false teeth does not mean you should skip your biannual dental exams and cleaning. We recommend coming to our office twice a year, not just because we want to give your mouth a thorough cleaning, but because we need to confirm that no oral cancer is present. This potentially life-threatening disease can be found in the mouth, neck and throat, so our office is in a unique position to catch the disease in its earliest stages where it's more treatable.
Can I sleep in my denture?
Technically you can, but we strongly advise against it. Instead, we ask that you soak your denture in cold water overnight. This ensures that they stay not only clean, but moist. This is crucial to making them last as long as possible. Furthermore, your gums and jaw bone need time to rest anyway, so letting them soak overnight is an effective and simple way to do so. Additionally, you should not wear your denture a full 24 hours without cleaning them.
When do I need to reline/repair my denture?
During your routine exams, Dr. Nawrocki will be able to tell if your denture needs to be relined. If your jaw changes or shifts over time, you might notice your denture no longer feels right in your mouth. Once we get them adjusted, you can expect a much tighter and more secure fit.