Dentures have been used for hundreds of years to give people with missing teeth a full smile once more. They've came a long way since Egyptian times, making today's dentures more realistic and reliable than ever before. At Jacksonville Dental Specialists, Dr. Matthew Nawrocki and Dr. Richard Aguila are trained and experienced in providing patients with comfortable and natural-looking dentures. Keep reading to learn everything that you need to know about dentures and how you can benefit from them.
What Are Dentures?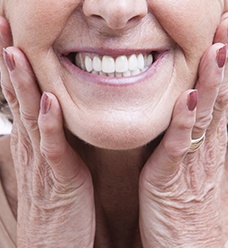 Dentures are one of the most common and popular options for replacing teeth. A denture is composed of a plastic, gum-colored base, which is attached to false teeth. Dentures are made with a plastic resin to be as comfortable and flexible as possible. Depending on what you want out of your replacement as well as how many teeth you're missing, we will recommend partial dentures, full dentures, or implant-retained dentures. They are held in place by natural suction, dental adhesive, or clasps based on the type of denture that you have. The best way to find out which one is right for you is to visit our office.
Your Options for Dentures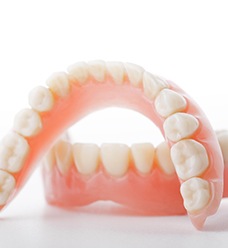 Not every smile is the same, which is why we believe that not every replacement should be the same either. We offer 3 different options of dentures to provide you with the replacement that works best for you and your smile:
Partial Dentures
We will typically recommend partial dentures for patients who have multiple teeth missing consecutively but still have some healthy natural tooth structure. This allows for a complete-looking smile while keeping your natural teeth at the same time. Partial dentures will usually be held in place by clasps that fit over your teeth.
Full Dentures
If you're missing the majority or all of your teeth in a single arch, full dentures can give you a new and beautiful smile almost instantly. They stay in place using suction or adhesive, but you should take them out each night for cleaning. Dr. Nawrocki or Dr. Aguila will take impressions of your gums to provide you with the best-fitting denture possible.
Implant-Retained Dentures
If you want the benefits of dentures with the most secure function and feel, implant-retained dentures could be the best option for you. Using dental implants that are placed in your jawbone, we can secure your dentures to give you the most natural-feeling restoration. Plus, dental implants help to preserve the strength and function of your jawbone.
Benefits of Dentures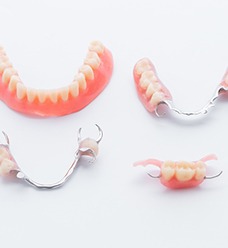 Dentures provide you with a full smile, which can in turn boost your confidence. If you avoid speaking or laughing because of your missing teeth, dentures can restore your smile for a younger-looking appearance. They will also allow you to eat more of your favorite foods, giving you a more nutritious and healthy diet. Lastly, implant-retained dentures can keep your jawbone from deteriorating over time and allow for a secure and stable denture.
Cost of Dentures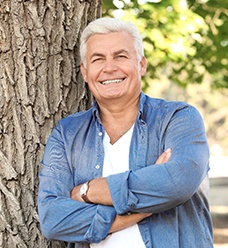 The cost of your dentures is hard to determine without examining your mouth. There are many factors that play a role in the price of your prosthesis, which is why you should contact our office to schedule an appointment. We accept insurance and do our very best to make dentures as affordable as possible for you and your smile.
Dentures FAQ
Tooth loss can develop slowly over time or it can appear quite suddenly. No matter what the circumstances might be, the fact that you're considering a denture is fantastic! With that said, we understand that you may have some questions about your future tooth replacement. You can read about the most common questions that Jacksonville Dental Specialists receives from patients, as well as our responses below! If you have additional questions, please don't hesitate to give us a call.
Is it difficult to adjust to wearing a denture?
During the first few weeks, it's normal to spend additional time getting used to a new denture, especially when you've never used one before. Keep in mind that your lips, tongue, and cheeks will consider these a foreign object at first, which is why we recommend practicing the following when you do receive your new denture:
Make time to practice speaking in a mirror while wearing your denture.
Begin eating softer foods as you wear your denture.
Switch to solid foods once you get used to your replacement teeth.
How often do I need to replace my denture?
On average, dentures tend to last between 5 and 8 years before they need to be replaced entirely. Keep in mind that throughout this time period, you'll likely need to have the denture relined and repaired to ensure comfort and function. Dr. Nawrocki and Dr. Aguila will walk you through the best steps to take to make your denture last as long as possible. This includes regularly cleaning it, keeping it moist when not in use, and coming in for regular checkups to confirm its condition over the next several years.
How often should I visit the dentist when using dentures?
Just because you are using false teeth does not mean you should skip your biannual dental exams and cleaning. We recommend coming to our office twice a year, not just because we want to give your mouth a thorough cleaning, but because we need to confirm that no oral cancer is present. This potentially life-threatening disease can be found in the mouth, neck and throat, so our office is in a unique position to catch the disease in its earliest stages where it's more treatable.
Can I sleep in my denture?
Technically you can, but we strongly advise against it. Instead, we ask that you soak your denture in cold water overnight. This ensures that they stay not only clean, but moist. This is crucial to making them last as long as possible. Furthermore, your gums and jaw bone need time to rest anyway, so letting them soak overnight is an effective and simple way to do so. Additionally, you should not wear your denture a full 24 hours without cleaning them.
When do I need to reline/repair my denture?
During your routine exams, Dr. Nawrocki will be able to tell if your denture needs to be relined. If your jaw changes or shifts over time, you might notice your denture no longer feels right in your mouth. Once we get them adjusted, you can expect a much tighter and more secure fit.