Whether patients are missing one tooth or a full arch, it's essential that teeth are replaced as soon as possible. The longer patients wait to replace missing teeth, they are at greater risk for oral health issues including dental drift and bone and gum tissue loss. Unfortunately, traditional tooth replacement solutions only restore those parts of teeth that are visible when patients smile. This does not protect patients from jawbone and gum tissue loss, and they typically rely on support for healthy dental structures. Dental implants offer a more natural solution by replacing the entire tooth from the roots up. Contact Jacksonville Dental Specialists to schedule a dental implant consultation today.
What are Dental Implants?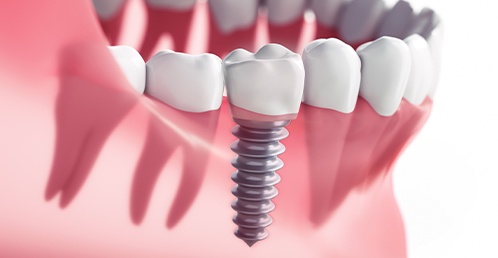 They're tiny titanium posts that mimic tooth roots.
Dental implants are small, metal posts that are inserted below the gum line to replace lost tooth roots. Typically, titanium is used to craft the posts because it is highly biocompatible fusing with the gums and supportive jawbone tissues to perfectly mimic the function of root systems. Implants look like small screws, and when placed into the jawbone, they can be crafted and positioned to support any number of replacement teeth. Dental implants are available in a variety of styles depending on the size and location of the tooth to be replaced, and the implants are connected to replacement teeth via abutment pieces.
Benefits of Dental Implants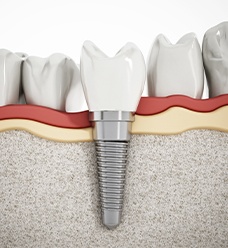 When you choose dental implants to replace your missing teeth, you can look forward to a number of outstanding benefits:
Implants provide whole-tooth replacement, which gives you the strongest, most natural-looking smile possible. And since implants mimic tooth roots, they stimulate the jaw and prevent the bone loss that often occurs after tooth extractions.
The unique bond that implants form with the bone around them gives them the potential to last a lifetime.
Once you adjust to your implants, living with them is easy. They enable you to eat almost anything you want, and caring for them is no more complicated than caring for natural teeth.
Implant restorations are as beautiful as they are functional. Dr. Nawrocki is a true expert in crafting comfortable, aesthetically pleasing teeth.
Implants don't usually require that the teeth around them be modified or extracted. This is in contrast to traditional bridges, which require that the abutment teeth be filed down in order to fit under their crowns.
How long have Implants Been Around?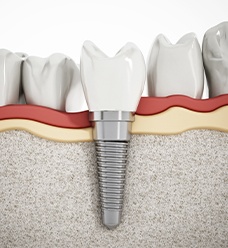 For thousands of years – But modern implants are safe, predictable, and effective.
Archaeologists have uncovered the skeletal remains of people thousands of years old that have primitive forms of dental implant tooth replacement. Jade, stones, and teeth from other people and animals were inserted into the gums to replace lost teeth. As is clear from the fact that these replacement teeth are still snugly in position thousands of years later, these dental implants worked. We use a much safer and more predictable surgical method of placing and restoring dental implants to replace lost teeth, but this method has been in use for a very long time. Today, dental implants have a greater than 95% success rate, and they provide tooth replacement that lasts decades.
What is the Dental Implant Process, and How Long Does it Take?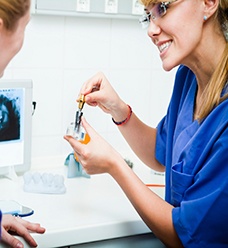 It varies from patient to patient, but let's discuss what could be involved in your plan.
The dental implant tooth replacement process is completed in two phases, and treatment time and method may vary dramatically based on the number and location of missing teeth. Overall, the procedure remains basically the same. The first step is to plan for the number and location of replacement teeth using our state-of-the-art CT Conebeam scanner. We may also design a temporary replacement prosthetic. The first phase in the actual treatment process is the surgical placement of dental implants into the gum tissue. We make a small incision, insert the implant, position it for optimal tooth replacement stability, and secure a protective cover over the surgical site. If patients are missing numerous teeth or a full arch, we may choose to create a temporary tooth replacement at this time. Over the course of three to six months, a process known as osseointegration occurs. Osseointegration is the name for the fusion between the dental implant and the gums and supportive alveolar bone system, and this is the key to successful dental implant tooth replacement. After osseointegration, the dental implant post mimics the natural function of tooth roots. At this point, we're able to remove the protective covering and connect an abutment to the implant, which will attach the replacement tooth or teeth to the dental implant.
What Does Being a Hybridge Certified Provider Mean?

Our team has advanced training, quality controls, and we promise excellent work.
Dental implants have offered increasingly predictable results over the past few decades as dentists and dental researchers continue to improve implant methods and materials. Hybridge is at the forefront of the innovations in dental implant placement and restoration. In the past, dental implant manufacture, restoration creation, and dentists' training were all handled by separate entities. Hybridge has perfected every part of the tooth replacement process with dental implants, abutments, and restorations that are all designed to work together flawlessly. Best of all, we train and certify dentists to provide safe, efficient treatments and natural looking and feeling results. When you visit a Hybridge dental office, you're guaranteed expert care from a highly trained professional, and the materials we use for our implants, abutments, and restorations are all created from superior quality materials that promise the highest levels of biocompatibility, comfort, and stability. The Hybridge tooth replacement system offers dental implant restorations in less time and for less cost than most other implant restoration processes. All of this makes Hybridge dental implants the ideal solutions for any patients who need to replace one or more teeth. Our team would be happy to walk you through the ins and outs of Hybridge implant supported tooth replacement, and help you determine whether this is the right solution for you.
Learn More about Hybridge Dental Implants
How Does the Dentist Know Where to Put the Implants?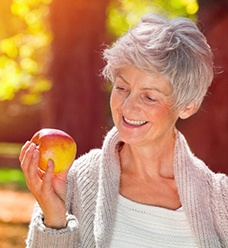 We use a CT Conebeam Scanner and the TRIOS® 3D Scanner to plan your implant procedure.
Planning is an essential part of any surgical treatment. Before we ever begin surgery, we use our state-of-the-art dental technology to help us determine where to place the implants in order to provide maximal stability with the minimum number of implant posts. Using a CT Conebeam Scanner, we capture a panoramic view of patients' entire jawline. These images tell us where the bone is dense enough to support the implants, they reveal any shifted teeth, and allow us to precisely place the implants safely and effectively. We'll use CT scans to create a surgical guide in order to offer patients fast, efficient treatment.
CT Conebeam Scanner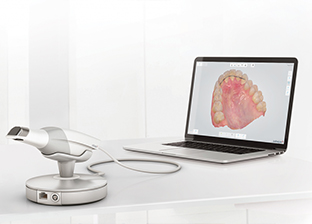 Advanced dental technology used for implant procedure.
Digital dentistry improves the way we do just about everything -- and it's especially valuable in the treatment planning phase for creating restorations like crowns, bridges, and dental implants. We use the TRIOS® 3D Scanner to capture accurate images of your teeth within a matter of minutes. Unlike traditional methods of impressions, which involve biting down on a wet hunk of cement, the TRIOS® system allows your dentist to record a 3D image of your teeth and oral structures using a small, handheld scanner that we run throughout your mouth. This method is more comfortable for you, and provides a better image for us.
What Types of Restorations Attach to Implants?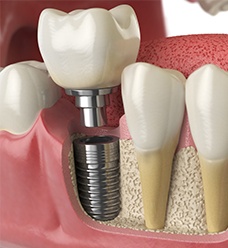 Dental implants can be used to support any number of replacement teeth.
The right number of dental implants in the appropriate position can be used to support any number of replacement teeth from a single tooth to a full arch. Each case is unique, but we may recommend the following solutions:
Single tooth – one implant is placed to support a custom crafted dental crown.
Two consecutive teeth – two dental crowns are attached to each other, and they are typically supported by a single implant post. In rare cases, we may need to place an implant for each crown.
Three to four consecutive teeth – a fixed bridge, multiple replacement teeth connected to each other, is supported by a dental implant at each end of the restoration.
Numerous teeth – any number of consecutive and nonconsecutive teeth along an arch can be replaced with an implant supported partial denture. Like traditional partials, the implant supported variety is crafted by shaping a gum-colored base to fit snugly between healthy teeth, and replacement teeth are attached to the base. Rather than connecting to healthy dental structures with metal clasps, we connect the partial to implant posts. The number of implants varies based on the extent and location of tooth loss, but we typically strive to use the minimal number of implants that still offer maximum support. Both fixed and removable options are available.
A full arch – full dentures can be used to replace a full row of lost teeth. Like traditional dentures, these prosthetics combine a custom base that fits snugly against the gums with a replacement arch of teeth. Rather than relying on the suction between denture and gums for support, implant supported dentures are attached to between four and six dental implants. Fixed and removable varieties can be crafted depending on patient preference.
Understanding the Cost of Dental Implants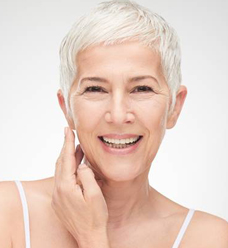 The dental implant process can be divided into two main phases: implant placement and restoration. Each of these steps comes with its own cost, so the total price of your restored smile may be significant. Other factors, such as the extent of any preliminary work you must undergo before your placement surgery, and the type of restoration you're receiving (for example, a three-unit bridge will cost more than a single crown), also play a role in determining the cost of your implants.
You shouldn't let financial concerns hold you back from getting this treatment. Implants are the best tooth replacement method that modern dentistry has to offer; they are a worthwhile investment that has the potential to provide you with many decades of strong, healthy, and confident smiles!
Learn More About the Cost of Dental Implants
Dental Implant Salvage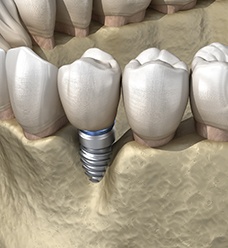 By and large, dental implants are a successful procedure. However, dental implant failure can occur due to infection, trauma, or other reasons. If you notice that one of your new teeth feels loose or you experience other possible signs of implant failure, contact us right away. Drs. Nawrocki and Aguila will work to pinpoint the cause of the problem and correct it so you can continue to enjoy all the benefits of your restored smile.
Learn More on Salvaging Dental Implants
Dental Implant FAQs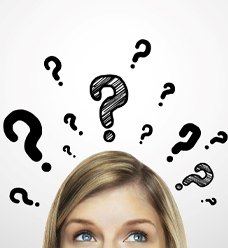 If you have any additional questions that weren't answered on this page, we have the answers! We understand that you may want information about dental implants before coming in to visit our practice. Some questions we have heard enough to give you the answers before you even have to ask them. Read on to learn more about dental implants while considering this treatment option.