Whether patients are missing one tooth or a full arch, it's essential that teeth are replaced as soon as possible. The longer patients wait to replace missing teeth, the grater their risk of oral health issues including dental drift and bone and gum tissue loss. Unfortunately, traditional tooth replacement solutions only restore those parts of teeth that are visible when patients smile. This does not protect patients from jawbone and gum tissue loss, and they typically rely on support for healthy dental structures. Dental implants offer a more natural solution by replacing the entire tooth from the roots up. This means you can replace your missing teeth with the next best thing and enjoy a lifetime of strong, healthy smiles. Contact Jacksonville Dental Specialists to schedule a dental implant consultation today.
What Are Dental Implants?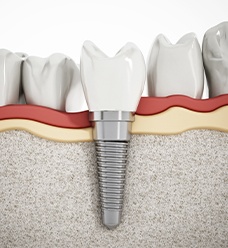 Dental implants are small titanium posts that are inserted below the gumline to replace the roots of a missing tooth. Typically, they're made of a biocompatible material called titanium, since this material is well-known for how well it fuses with bone and gum tissue to mimic the function of natural tooth roots. Dental implants are available in a variety of styles depending on the location, size, and number of missing teeth that need to be replaced. These screw-shaped posts are carefully designed and positioned to support a restoration that replaces any number of missing teeth, whether that be a crown, bridge, or denture. These final restorations are attached via an abutment and custom-made from high-quality materials to blend in seamlessly with the rest of your smile. Dental implants are so similar to natural teeth that they are often referred to as "nature's rival" and are widely considered the gold standard of tooth replacement.
The 4 Step Dental Implant Process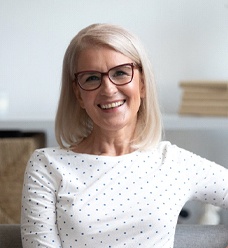 The dental implant tooth replacement process requires several steps over the course of multiple months. The treatment time and method may vary dramatically from patient to patient based on factors like the number of missing teeth and the need for any preliminary treatments. While this may seem like a long time, the unique and lasting benefits that implants help you enjoy are well worth it. Overall, there are four main stages of dental implant treatment. Thankfully, Dr. Nawrocki and Dr. Aguila have advanced training that allows them to provide implant surgery and restoration at the same convenient location that you receive your routine care. Read on to learn more about the dental implant process.
Initial Dental Implant Consultation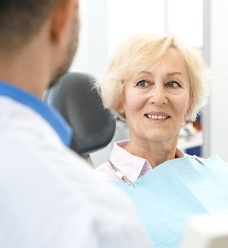 The first step is to plan out your personalized treatment plan. During your consultation, we'll discuss your tooth replacement goals and take images of your mouth with our state-of-the-art CT Conebeam scanner. At this initial appointment, we will also review your medical history to ensure that dental implants in Jacksonville are right for you. Some patients will need to complete preliminary treatments like bone grafting or periodontal disease before moving onto the next stage of getting their dental implants. Once these issues are addressed, we'll be able to provide you with a cost and timeline estimate.
Dental Implant Surgery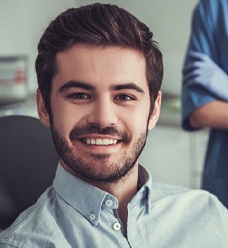 Next is the surgical placement of dental implants into the gum tissue. Thanks to the advanced training of Dr. Nawrocki and Dr. Aguila, we perform this stage in-office instead of referring you to an outside specialist. The surgery is relatively straightforward: we make a small incision in the gums, insert the implant into the jawbone, position it for optimal tooth replacement stability, and secure a protective cover over the surgical site before closing the gums once again. If patients are missing numerous teeth or a full arch, we may choose to create a temporary tooth replacement at this time.
Dental Implant Osseointegration & Abutment Placement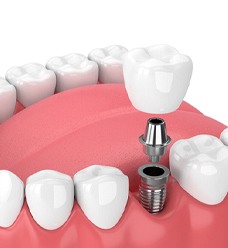 Over the next three to six months, a process known as osseointegration occurs. Osseointegration is the name for the fusion between the dental implant and the gums and supportive alveolar bone system, and this is the key to successful dental implant tooth replacement. After osseointegration, the dental implant post mimics the natural function of tooth roots. At this point, we're able to remove the protective covering and connect an abutment to the implant, which will attach your custom-made replacement tooth or teeth to the dental implant.
Delivery of Dental Implant Restorations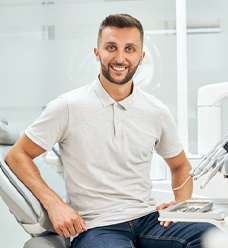 Lastly, you'll return to our office to receive your final restorations from our implant dentist in Jacksonville. Whether it's a crown, bridge, or denture, we will always make sure that you're satisfied with your results before permanently placing your restorations. Once in place, we will also check that your bite feels natural and comfortable. After this step, all that's left to do is to walk out of our office with a full, beautiful, and strong set of teeth. Of course, we recommend routine checkups and cleanings to maintain the health of your smile.
Benefits of Dental Implants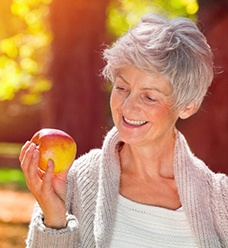 In your discussions with our team at Jacksonville Dental Specialists, you will discover there are many great benefits of dental implants in Jacksonville. Not only do they provide a more natural appearance and longer-lasting option for tooth replacement, but they can accomplish what other solutions cannot, which is replacing the entire tooth structure from the root to the crown. As you navigate the process of determining how you plan to replace your missing teeth, consider the following benefits you'll receive with dental implants.
Lifestyle Benefits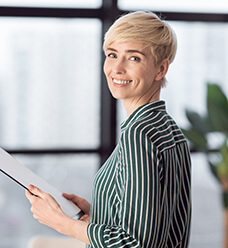 Dental implants are surgically put into place, which means you'll never have to worry about them slipping or falling out. This is drastically different than dentures, as they only sit on top of the gums and rely on your natural suction to hold them in place.
You'll be free to enjoy your favorite foods, even those that are hard, because of your increased bite force and chewing power. You'll also enjoy your favorite hot beverages and never have to worry about the temperature warping or damaging your implants.
With dental implants in Jacksonville, you can feel confident in your appearance, allowing you to feel comfortable around others and embrace a better quality of life. Unlike 20% of individuals with dentures or fixed bridges who admit they're afraid to smile.
You'll never feel the need to hide your implants from friends and family, whereas an estimated 63% of denture wearers admit to hiding their prosthetics from loved ones because of potential embarrassment.
Health Benefits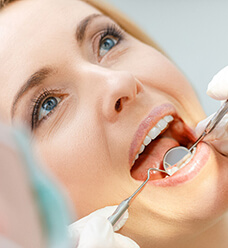 With dental implants, you can enjoy improved oral health because it is easier to keep them clean and maintained, unlike dentures that require soaking and removal.
Your jawbone will remain strong and durable because of the continuous stimulation provided by your dental implants. Those with fixed bridges and dentures only have prosthetics that create the look of a complete smile but do not offer assistance beneath the gum line.
By replacing your missing teeth, you can reduce your risk for osteoporosis, cardiovascular disease, and even diabetes.
You'll enjoy the potential for a longer life by choosing to replace your missing teeth rather than live with gaps in your smile.
Long-Term Benefits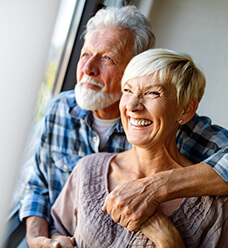 If you want a solution that will last, dental implants are known to have a success rate of 90-95% after 10 years.
Depending on your implant dentist in Jacksonville, you can expect at least a 98% success rate when initially put into place.
Dental implants are designed to last a lifetime with proper care and maintenance. You'll never need to worry about replacing the posts in your smile. This is one of their greatest benefits simply because dentures and fixed bridges must be replaced every few years.
In the long run, you will save substantially more money because you will not need to buy cleaning solutions, dental adhesives, or spend your hard-earned dollars on relining or replacing your implants. Dentures and fixed bridges may be more affordable upfront but will cost you more down the road.
Who Dental Implants Can Help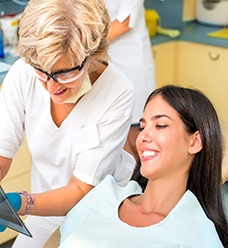 Dental implants can be used to support any number of replacement teeth. The right number of dental implants in the appropriate position can be used to support any number of replacement teeth from a single tooth to a full arch. Each case is unique, but we may recommend the following solutions:
Missing 1 Tooth
Instead of filing down the neighboring teeth to place a traditional bridge, we can replace a single missing tooth with one dental implant topped with a dental crown. Not only is this option more stable and longer-lasting, but it doesn't weaken or alter your remaining healthy teeth.
Missing Multiple Teeth
If several consecutive teeth are missing, we can place an implant bridge. Unlike a traditional bridge, this restoration is attached to one dental implant on each side of the empty space, supporting the replacement teeth securely between them to effectively "bridge" the gap. For replacing multiple nonconsecutive missing teeth, we may recommend a partial implant denture. These work similarly to traditional partial dentures, but instead of using metal wires and clasps to stay in place, the restoration is anchored via a minimal number of implants.
Missing All Teeth
Dental implants can secure a full denture in place to restore an entire row of missing teeth. Like traditional dentures, these prosthetics combine a custom base that fits snugly against the gums with a replacement arch of teeth. Rather than relying on the suction between denture and gums for support, implant dentures are attached to between four and six dental implants. Fixed and removable varieties can be crafted depending on patient preference. Some patients who are missing al their teeth may be good candidates for Hybridge full-arch restorations. At Jacksonville Dental Specialists, we're proud to be Hybridge-certified to provide top-tier treatment for our patients.
Learn More About Implant Dentures
What Does Being a Hybridge Certified Provider Mean?

Dental implants have offered increasingly predictable results over the past few decades as dentists and dental researchers continue to improve implant methods and materials. Hybridge is at the forefront of the innovations in dental implant placement and restoration. In the past, dental implant manufacture, restoration creation, and dentists' training were all handled by separate entities. Hybridge has perfected every part of the tooth replacement process with dental implants, abutments, and restorations that are all designed to work together flawlessly. Best of all, we train and certify dentists to provide safe, efficient treatments and natural looking and feeling results.
When you visit a Hybridge certifier provider, you're guaranteed expert care from a highly trained professional, and the materials we use for our implants, abutments, and restorations are all created from superior quality materials that promise the highest levels of biocompatibility, comfort, and stability. The Hybridge tooth replacement system offers dental implant restorations in less time and for less cost than most other implant restoration processes. All of this makes Hybridge dental implants the ideal solutions for any patients who need to replace one or more teeth. Our team would be happy to walk you through the ins and outs of Hybridge implant supported tooth replacement, and help you determine whether this is the right solution for you.
Understanding the Cost of Dental Implants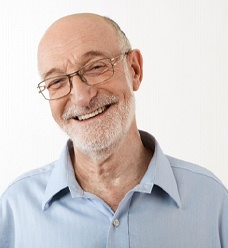 Many patients that hear about dental implants are immediately interested but often pause when they consider the cost. At Jacksonville Dental Specialists, we truly believe dental implants are both an effective tooth replacement solution and wise investment. Read on to learn about the factors that contribute to the cost of dental implants in Jacksonville and how implant treatment can actually end up saving you money in the long run.
Preliminary Treatments & Dental Implant Surgery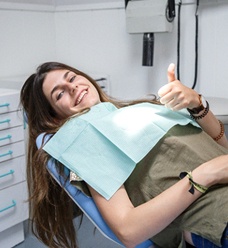 After an initial consultation, we may recommend preliminary treatments like tooth extractions, gum disease therapy, or bone grafting. These services will add to your total cost, but they are integral for the success and longevity of your dental implants. Plus, these treatments are usually covered at least partially by dental insurance.
Then, your implant surgery will incur its own cost, which can range based on the type of sedation or anesthesia used. Because Dr. Nawrocki and Dr. Aguila place and restore implants at their office, you won't have to worry about keeping up with multiple, separate fees.
The Parts of Your Dental Implant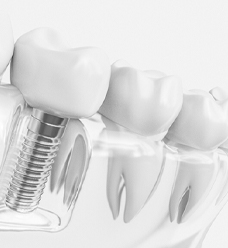 The cost of your dental implants in Jacksonville will be affected by these factors:
Number of dental implants: Typically, it will take one dental implant to replace a single tooth, 2 dental implants to replace multiple teeth consecutively, and four to 6 implants to replace a whole row of teeth.
Type of restoration: We offer crowns, bridges, and dentures to restore dental implants. Usually, the smaller the restoration, the less expensive your treatment will be.
Size and material: Dental implants are designed to be longer or shorter based on the area in the jaw that they're being placed. The size and material used will also contribute to the price of your replacement.
Brand of dental implant: Like cars or clothes, different brands manufacture implants to meet a variety of different needs, so the type you choose will also influence your cost. Please feel free to contact our office to learn about the specific types of dental implants that we have to offer!
How Dental Implants Can Save You Money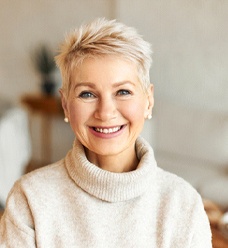 Although dental implants may cost more initially than other tooth replacement solutions, they are well worth the investment over the long term. First, no other dental restorations can match the stability, renewed chewing power, and natural appearance of dental implants. In addition, dental implants placed by our implant dentist in Jacksonville can easily last for several decades – or possibly the rest of your life – with proper care. In contrast, traditional dentures and bridges must be replaced every few years. For these reasons and more, dental implants are among the most reliable, popular, and at times economical tooth replacement solutions available today.
Does My Dental Insurance Cover Dental Implants?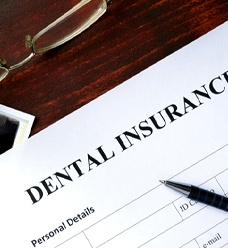 Unfortunately, many dental insurance plans do not cover dental implants. However, you may be able to take advantage of your insurance benefits to reduce the costs of certain related treatments. For example, your insurance may cover an initial consultation with Dr. Nawrocki or Dr. Aguila. In addition, any preliminary treatments that must be completed before moving forward with dental implants, such as gum disease therapy, a sinus lift, or a bone graft procedure, may also be covered.
Making Dental Implants Affordable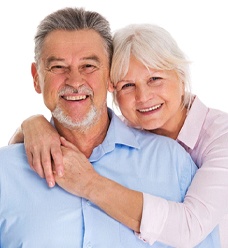 No insurance coverage? No problem! At Jacksonville Dental Specialists, we firmly believe everyone deserves a full, beautiful smile. If you have financial concerns related to implant treatment, ask our staff about CareCredit and the Lending Club. We proudly partner with both of these dental financing organizations, which offer low-to-no-interest payment plans to fit virtually every budget. You can review your options and choose a plan that works best for you.
Dental Implant Technology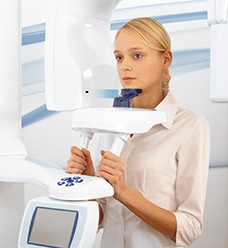 Planning is an essential part of any surgical treatment. Before our team at Jacksonville Dental Specialists ever begin surgery, we use our state-of-the-art dental implant technology in Jacksonville to help us determine where to place the implants in order to provide maximal stability with the minimum number of implant posts. By choosing to use these unique systems and equipment, we can ensure more comfortable treatment as well as more precise, accurate, and longer-lasting results. Not to mention, this commitment to providing advanced technologies makes it possible for us to reduce the potential for surprises and ensure a more predictable treatment.
3D Cone-Beam Imaging/ 3D CT Scanner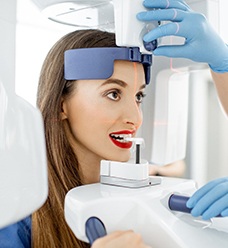 Unlike traditional X-rays that only capture 2D images of your mouth, a 3D CT Scanner can capture a panoramic view of a patient's entire jawline. These images tell us where the bone is dense enough to support the dental implants in Jacksonville, they reveal any shifted teeth, and allow us to precisely place the implants safely and effectively. The 3D image created will spotlight all your oral structures, allowing our team to create a surgical guide in order to offer patients fast, efficient dental implant placement.
By using a 3D Cone-Beam Imaging Scanner, it not only limits radiation exposure, but it also takes only a few seconds to capture the necessary images. It is non-invasive and completely painless, and the use of this scanner can actually help save you money in the long run. Because we use this system in-house, you will spend less than if you were to be referred to an outside imaging clinic.
TRIOS® 3D Scanner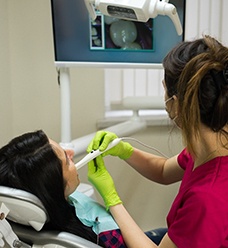 We use the TRIOS® 3D Scanner to capture accurate images of your teeth within a matter of minutes. Unlike traditional methods of impressions, which involve biting down on a wet, cold, messy dental putty, the TRIOS® system allows your implant dentist in Jacksonville to record a 3D image of your teeth and oral structures using a small, handheld scanner that we maneuver throughout your mouth. This method is more comfortable for you, and it provides a better image for treatment planning purposes.
Advanced Dental Implant Procedures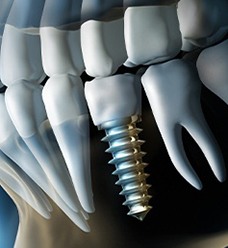 Every patient's mouth is unique, which means that every implant case is unique. There are some circumstances that may make it impossible for you to undergo a traditional, straightforward implant journey. Thankfully, advanced dental implant procedures can help practically any patient overcome whatever obstacles stand between them and being a good candidate for dental implants.
Many dentists are able to restore dental implants, and there are a handful that can also perform the implant placement surgery. However, there are only a few who are able to offer advanced implant procedures in Jacksonville. Drs. Nawrocki and Aguila are highly-trained experts who are dedicated to providing gentle, precise care for all of their patients. Even if your case is relatively complex, our team may be able to restore your lost teeth with dental implants.
Bone Grafting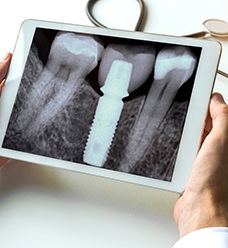 It is essential that you have adequate bone density and height in your jaw to support dental implants. Unfortunately, bone loss naturally occurs after tooth extractions, which can lead to the need for a bone graft. Either using your own bone or an artificial grafting material, we can build up the jaw to the point where it is able to support your new smile.
Sometimes, a bone graft can be done at the same time as an implant placement procedure. In other cases, it is necessary for a patient to wait several months after the bone graft. Once the new bone has had an opportunity to bond with the body prior, we can proceed with the implant placement surgery.
Sinus Lifts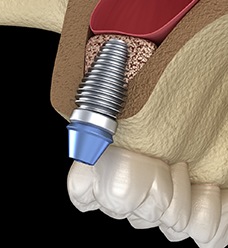 Following tooth loss in the upper jaw, bone deterioration may cause the sinuses to drift downward. When there is only a thin layer of bone between the mouth and the sinuses, there is not enough room to safely place dental implants.
During a sinus lift procedure, which is sometimes called sinus augmentation, we gently lift the sinuses and place new bone into the upper jaw. Several months after a sinus lift surgery, a patient may be able to receive dental implants without the risk that their sinuses will suffer harm during the placement procedure.
Ridge Augmentation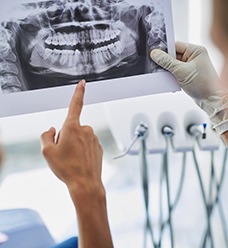 The alveolar ridge is a ridge-like section of bone within the jaw that contains the tooth sockets. After a tooth extraction, the socket usually heals itself, filling in with bone and tissue. Sometimes, though, the socket collapses, and it continues to deteriorate over time; it is unable to heal on its own.
Ridge augmentation is a special type of bone graft that we use to rebuild a socket's original height and width so the alveolar ridge can support dental implants. This procedure is usually done some time after a tooth extraction. A related procedure, socket preservation, can be performed at the same time as an extraction to ensure that the socket maintains its structure so a patient will not require ridge augmentation later on.
Dental Implant Salvage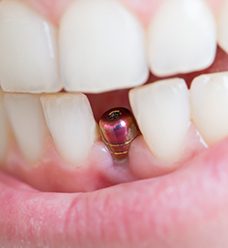 By and large, dental implants are a successful procedure. However, dental implant failure can occur due to infection, trauma, or other reasons. If you notice that one of your new teeth feels loose or you experience other possible signs of implant failure, contact us right away. Drs. Nawrocki and Aguila will work to pinpoint the cause of the problem and correct it so you can continue to enjoy all the benefits of your restored smile.
Learn More About Dental Implant Salvage
Dental Implants Post-Op Instructions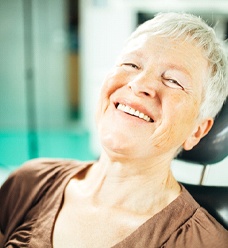 Our dentists are highly trained to place and restore dental implants in-house, making your tooth replacement process all the more convenient. Of course, you'll need to take the proper steps right after surgery so you can recover quickly and ensure the most successful treatment results possible. We've broken down a few of the most important aftercare steps you'll need to follow, so make sure to give them a quick read ahead of and after your dental implant surgery! Give us a call if you have any questions or concerns as well.
What to Do Directly After Dental Implant Surgery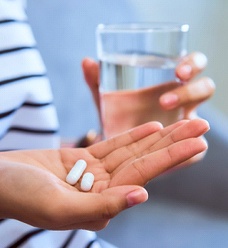 While the placement of the dental implants is generally the most difficult part of the entire process, you can ensure your recovery is smooth and stress-free when you know what steps to take. For example, there are certain things you should do right after surgery is complete. These include:
Avoiding the use of all straws
Avoiding tobacco and all other tobacco products
Touching the treatment area
Brushing or flossing the treatment area (only applies for the day of surgery)
Replacing gauze pads regularly throughout the day
Common Side Effects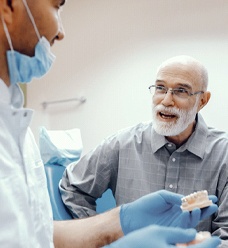 Certain symptoms are normal following oral surgery, such as mild discomfort and swelling. These can be managed easily with painkillers and cold compresses. Over time, the discomfort should begin to dissipate. If your pain does not improve or gets worse, call our office as soon as possible. Other common side effects include intermittent bleeding, which can be alleviated by applying gentle pressure on the treatment site using a gauze pad.
Diet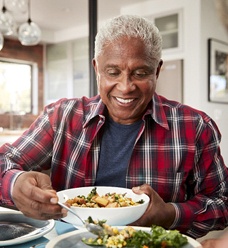 You do not want to eat chewy, crunchy, or hard foods for the next several days after oral surgery. For example, some safe foods to have in your house ahead of time include:
Pasta
Scrambled eggs
Mashed potatoes
Yogurt
Blended fruits (such as applesauce)
Ice cream and pudding
As your discomfort improves and after you've completed follow-up appointments with us, you'll regain confidence in your ability to eat tougher foods. Make sure to reintroduce them slowly and eat small pieces at a time to gauge your comfort levels.
Health & Oral Hygiene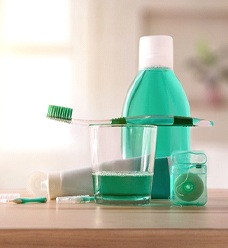 You will still need to practice oral care following your surgery, but you'll need to be careful brushing and flossing around the treatment site. While we will ask you to skip oral care the day of surgery, you should be able to perform brushing and flossing the next day. You can also rinse your mouth out with a mouth rinse recommended by our office or use a saltwater mixture made at home. Do not use mouthwash that contains alcohol as it can dry out the mouth.
What to Do After Your New Teeth Are Attached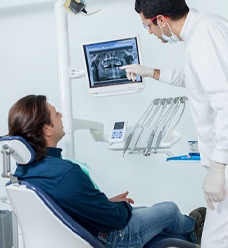 Once your implants are fully healed and integrated, you can come back to our office to have the dedicated restoration attached. It's normal to experience a little sensitivity after the prosthetic is placed; this should go away on its own. What is not normal is bleeding or swelling after the restoration is attached, so let us know right away if it occurs so we can examine the treated area more closely.
Maintaining & Caring For Your Dental Implants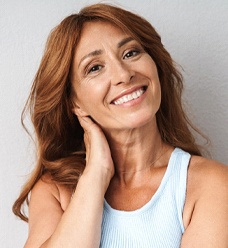 Now that you have your dental implants, it's important that you know how to properly maintain them. As a big investment, you want it to last as long as possible, right? With the help of our team at Jacksonville Dental Specialists, we will provide you with detailed instructions for dental implant care in Jacksonville. By keeping these tips in mind, you can ensure that your new teeth will look and feel amazing with each passing year. Instead of worrying about potential replacements, you can enjoy a stronger, fully functional, and beautiful smile for decades when you commit to taking care of your smile.
Making Oral Hygiene a Priority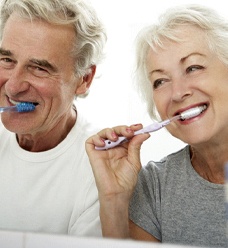 It is a fact that dental implants in Jacksonville cannot decay. Because they're not porous like regular tooth enamel, you don't need to worry about them developing cavities. However, if you have any natural teeth remaining, you will need to be mindful of the potential for tooth decay. You also must take care of your soft oral tissues, as gum disease is still a risk. Brushing twice a day for two minutes, flossing at least once before bed, and rinsing with an ADA-approved mouthwash will help to reduce your chances of developing periodontal disease and cavities that can negatively impact your dental implants.
Eating a Healthy Diet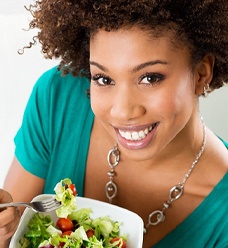 Dental implants make it possible to eat your favorite foods with ease. And although you may be enjoying your favorite sweet treats, too much of a good thing can be a problem for your new teeth. Sugar and starch-filled foods are known to cause bad bacteria that lead to cavities and gum disease. To avoid the potential risks associated with these common oral health issues, it's best to adopt healthy food alternatives into your diet, such as lean proteins, calcium-enriched foods, leafy greens, and plenty of fruits and vegetables.
Breaking Bad Habits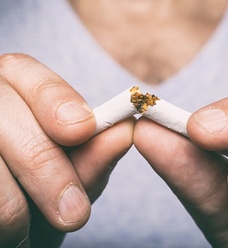 It can be hard breaking bad habits. Whether you're prone to chewing on pens or pencils because of work-related stress, eating ice to pass the time, mindlessly biting your fingernails, or smoking, all of these can damage your dental implants. Finding ways to replace your bad habits for ones that won't negatively impact your smile requires work, but it's certainly worth it when you can enjoy a damage-free, healthy smile. Trade your inanimate chewing objects with sugar-free gum, and find cessation resources to help you quit smoking. Your proactive efforts will ensure the lifespan of your dental implants.
Protecting Your Dental Implants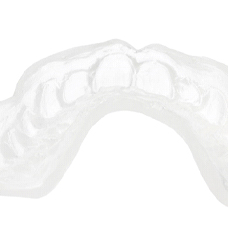 If you are actively engaged in physical sports or find yourself grinding your teeth because of stress at work or home, it's time to talk to your implant dentist in Jacksonville about a customized mouthguard. This unique oral device is designed to fit comfortably inside your mouth and provide adequate protection to your pearly whites (real and artificial). By reducing the potential for chips, cracks, fractures, and broken teeth, you can continue to enjoy your new smile without making multiple trips to see an emergency dentist.
Scheduling Regular Dental Checkups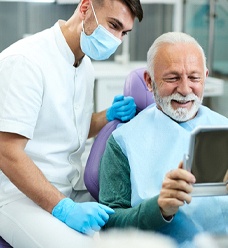 It doesn't matter how many dental implants you have, regular dental checkups and cleanings are essential. Every six months, you are encouraged to see our team so we can examine your real and artificial teeth to check for signs of decay, gum disease, and potential damage. Finding problems early on allows us to provide immediate treatment and prevent worsening conditions that could result in potential implant failure later on. With the help of a qualified professional, you can ensure that your dental implants remain in place and are fully functional for the rest of your life.
Dental Implant FAQs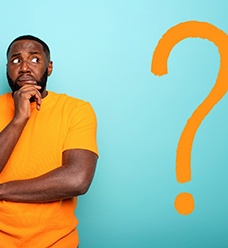 If you have any additional questions that weren't answered on this page, we have the answers! We understand that you may want information about dental implants in Jacksonville before coming in to visit our practice. Some questions we have heard enough to give you the answers before you even have to ask them. Read on to learn more about dental implants while considering this treatment option.
Does Dental Implant Placement Hurt?
Many people think that receiving dental implants is painful because they are placed in your jaw. However, the slight discomfort that you feel during surgery can be compared to a simple tooth extraction. Our expert team will make sure you're numb and comfortable before starting your procedure. Plus, your jawbone doesn't contain sensitive pain-feeling nerves, which makes the process easier than you would think.
What Are the Advantages of Dental Implants Over Other Options?
Dental implants bring some unique advantages to your smile. They allow for your restoration to mimic the way your natural teeth emerge from your gums, giving you the most natural-looking smile. Possibly their biggest benefit, dental implants secure your restoration permanently, so you don't have to worry about dentures sliding around in your mouth. Additionally, dental implants are the only replacement that stimulates your jawbone, keeping it strong and healthy. Contact our office today if you're ready to take your first step towards a strong and healthy smile.
How Long Have Dental Implants Been Around?
For thousands of years – but modern implants are safe, predictable, and effective.
Archaeologists have uncovered the skeletal remains of people thousands of years old that have primitive forms of dental implant tooth replacement. Jade, stones, and teeth from other people and animals were inserted into the gums to replace lost teeth. As is clear from the fact that these replacement teeth are still snugly in position thousands of years later, these dental implants worked. We use a much safer and more predictable surgical method of placing and restoring dental implants to replace lost teeth, but this method has been in use for a very long time. Today, dental implants have a greater than 95% success rate, and they provide tooth replacements that last decades.
How Long Do Dental Implants Last?
When maintained and cared for properly, you can expect your dental implants to last 30 years or more. Their longevity makes them one of the most superior forms of tooth replacement available. When compared to the 5-10-year lifespan of dentures or a dental bridge, it is easy to see why millions of people are choosing these permanent prosthetics to restore their smiles. Not only can you enjoy a longer-lasting smile, but you never need to worry about spending money on adjustments and replacements, nor will you be likely to develop many of the most common health-related problems caused by tooth loss.
How Successful Are Dental Implants?
It is believed that upon initial placement by a trusted implant dentist in Jacksonville, dental implants have a 95% success rate. After 10 years, that rate remains roughly the same (90-95%). Of course, much of this depends on how well you take care of your new smile. Unhealthy habits like smoking and chewing on inanimate objects as well as using your teeth to open packages and containers can damage your implants and require immediate treatment to fix. Of course, any additional treatment requires time and money. It is best to stay on top of your oral hygiene routine, forgo bad habits, and continue seeing your dentist every six months to ensure the lifespan of your dental implants.
Am I Too Young for Dental Implants?
Most dental experts will not recommend dental implants for patients under the age of 18. Why? Because their jaws are not fully developed. As a result, this can create problems with bone development if dental implants are put into place, especially since these prosthetics are surgically placed in the jawbone. Most patients who are eligible to receive dental implants are at least in their mid-20s. It is believed, however, that about 69% of Americans ages 35-44 have at least one missing tooth and one out of every four adults over the age of 74 have lost all their teeth.