Losing all your teeth can be a disheartening realization. Before you succumb to the thought that only traditional dentures can restore your smile, consider the alternative. Yes, regular prosthetics can recreate an entire arch of teeth and provide some level of functionality; however, their stability and longevity cannot remotely compare to implant dentures in Jacksonville. Designed to last 30 years or longer with proper care, you'll never need to worry about your teeth falling out. Contact our team today to schedule an appointment and learn more about implant dentures.
What Are Implant Dentures?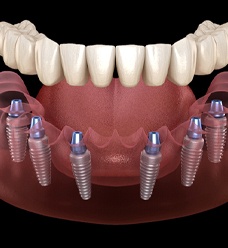 Implant dentures are a type of dental implant that is designed to replace an entire arch of teeth. Whether it is the upper or lower row that needs to be replaced, implant dentures use between four and six implant posts to stabilize and create a firm foundation for your new restoration. The process is vastly different from regular dentures, as it does require minor oral surgery. However, the incredible benefits that come with a permanent prosthetic make implant dentures an increasingly popular option among adults suffering from tooth loss.
There are two types of dentures you can have secured to the top of your dental implants in Rock Hill. These include:
Fixed/Permanent Implant Dentures
Requiring 4-6 implant posts, a fixed denture cannot be removed by anyone other than your dentist. Designed to be a permanent fixture inside your mouth, these teeth will look, feel, and act just like your natural smile, making it easy to clean and maintain.
Removable Implant Dentures
Known as a "Snap-On denture," those that are removable can be taken out at night for cleaning purposes. Less jawbone density is required, so only 2-5 dental implant posts are needed. The denture is held into place with a bar- or ball-retained device, making it easy for you to remove when necessary.
The Implant Denture Process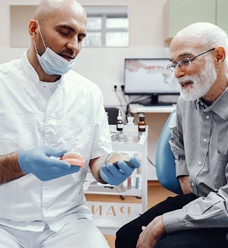 The dental implant process is actually quite straightforward. You will meet your implant dentist in Rock Hill and receive local anesthesia to numb your mouth. Once you are comfortable and feeling no pain, our team will begin to make multiple incisions in your gum tissue before exposing the underlying jawbone. Carefully placing each dental implant, we will position and angle it to ensure maximum support. When finished, we will close the tissue and place a protective healing cap over the area.
You will then be required to return home and spend 3-6 months recovery. During this time, osseointegration will occur, causing the bone and implant to fuse. This creates the firm foundation needed for a longer-lasting smile. The final stage is to receive your customized denture that will be secured into place by our qualified team of professionals.
Am I a Candidate for Implant Dentures?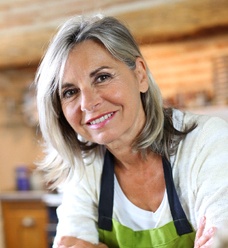 Although it may be hard to believe, most adults who suffer from complete tooth loss are eligible to receive implant dentures. While an initial consultation is necessary, it often only determines if you need preliminary treatments or if you can move forward with implant surgery right away. Good oral and overall health is necessary, so if you show signs of serious tooth decay or gum disease, we may need to extract your teeth or perform periodontal therapy.
You can count on Dr. Nawrocki and Dr. Aguila to provide the thorough explanation you need to feel confident and comfortable with the direction of your new smile.
Benefits of Combining Dentures & Dental Implants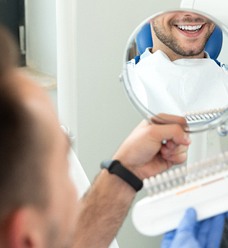 By combining dentures and dental implants, you will find there to be many great benefits, such as:
The ability to eat all your favorite foods because of your stronger bite force and chewing power.
A more youthful appearance because of how your implants will fill out your facial features and restore your smile.
A high success rate of 95% when placed by a qualified implant dentist.
A longer-lasting tooth replacement solution that can last 30 years or even a lifetime.
Continuous stimulation to your jawbone that prevents additional tooth loss and facial collapse.
A cost-effective option that will save you money in the long run.