Do You Have Unhealthy Gums?
Renew Your Oral Health with Periodontal Therapy in Jacksonville
Periodontal (gum) disease affects more than 50% of US adults, and has been linked to such chronic and systemic illnesses as heart disease, diabetes, and stroke. At Jacksonville Dental Specialists, we help patients suffering from gum disease restore their oral health whether they are experiencing the early, mild form of the disease, gingivitis, or the more advanced version, periodontitis. We offer a wide array of treatment options for patients with gum disease, and we work with patients to create a plan for ongoing care that renews their oral health and prevents reinfection in the future. Contact our team in Jacksonville to find out more or schedule an appointment. We also welcome patients from Arlington, Orange Park, and other surrounding communities.
What does Advanced Cleaning to Treat Gum Disease Involve?
These advanced cleanings combine scaling and root planing to remove plaque and prevent buildup.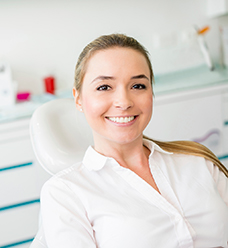 In the earliest stages of gum disease, more frequent professional cleanings may be enough to reverse the damage and renew oral health. However, as gum disease progresses to the more advanced periodontitis, more thorough cleanings may be necessary to restore oral health. Typically that includes a combination of two deep cleaning procedures: scaling and root planing. Scaling is the careful removal of plaque, tartar, and infected gum tissue. This can be completed with metallic scraping tools and scalpels or with a soft tissue laser. Once all of the plaque and tartar are removed from teeth, the roots of the tooth are smoothed. This procedure is known as root planing, and the smoothed roots make it more difficult for plaque and tartar to build up at the gums. This reduces the patients' risks for reinfection. Following scaling and root planning, we may also apply topical antibiotics in order to limit the amount of plaque producing bacteria in the mouth.
Why is Soft Tissue Laser Therapy Recommended?
To improve comfort during treatment and accelerate healing time for patients.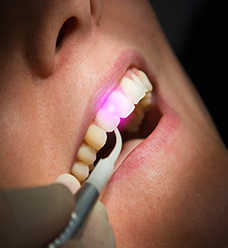 Traditionally, scaling and root planing procedures were completed using metal etching tools, scalpels, and stitches. While this was effective, patients often experienced significant discomfort during the procedure, lost a good deal of blood, and with immune systems already weakened by advanced gum disease, patients struggled to recover without further infection following treatment. Our cutting edge soft tissue laser allows us to complete these procedures in less time, with less bleeding and discomfort during treatment, and faster healing time following the procedure. The laser enables us to use high intensity light waves to precisely target damaged or infected areas of gum tissue, and it allows us to remove minimal amounts of tissue as well as the plaque and tartar buildup below the gum line while simultaneously cauterizing the gums reducing the amount of bleeding during treatment. Since stitches are not typically necessary, patients heal more quickly and are much less likely to experience reinfection.
When will I Need to Consider Gum Grafting?
This procedure is used to restore the full shape of smiles following advanced gum tissue recession.
One of the main side effects of advanced gum disease is soft tissue recession. Patients often notice this because it appears as though their teeth are growing. In some cases, gum tissue is able to resume its full, healthy shape and volume after treatment, but in other situations, we'll need to graft tissue from other parts of the mouth, a tissue bank, or synthetic gum tissue in order to restore the lost shape and structure. Whenever possible, we try to take the graft tissue from one of three locations: the flap on the roof of the mouth, the palate, or the cheek. We attempt to allow the gums to regrow on their own, but when the roots are exposed, the results can be painful. To decrease the sensitivity patients experience, gum grafting may be the best option. The procedure is relatively simple. We numb the area to be treated, place the new tissue, and stitch it in position.