At Jacksonville Dental Specialists, patients trust us to help them achieve and maintain a healthy smile that lasts a lifetime. That includes keeping their natural smile healthy. Unfortunately, there are cases where removing a tooth is the ideal solution to help patients maintain their optimal oral health. When this is the case, our team of experienced dentists are here to help, offering safe, comfortable tooth extraction services to keep patients smiling. When you're ready to get started with a dentist who can keep you smiling, call our dental office in Jacksonville to schedule an appointment. The Jacksonville Dental Specialists team can make even the most advanced treatments, like tooth extraction, completely comfortable.
Wisdom Tooth Extraction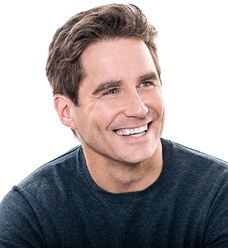 There are many reasons why we might remove teeth, including impaction (inability of the tooth to erupt), crowding, and advanced tooth decay or damage. Wisdom teeth are easily the most often extracted. This late-erupting third set of molars are often too large to fit within the patient's natural smile line. For this reason, these teeth often do not erupt from the gum line naturally, and they can cause other teeth to shift out of healthy alignment. For these and other reasons, we often recommend wisdom tooth extraction.
Multiple Tooth Extractions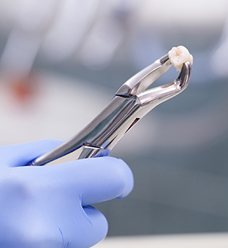 Patients may need to have two or more teeth removed after they've experienced facial trauma, when preparing for an advanced tooth replacement prosthetic, if tooth decay is spreading over several teeth, or for any number of other reasons. Regardless of the reason, we will do our utmost to remove all teeth on the same day in order to limit your discomfort and ensure you make a complete recovery as soon as possible.
Extraction Site Preservation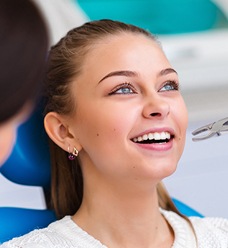 In order to maintain the optimal level of oral health and retain the maximum bone density and gum tissue volume, we may recommend extraction site preservation. This treatment is often recommended when patients are likely to replace missing teeth using dental implant posts in the near future. However, it can be beneficial for almost anyone. Following the loss of a tooth, the diminished supportive bone and gum tissue allows surrounding teeth to shift out of place and the loss of structure can change facial shape and lead to a number of other concerns, including additional tooth loss. Site preservation creates the necessary stimulus to prevent tissue degeneration and keep your tooth socket functional until you can replace the lost tooth.
Post-Operative Care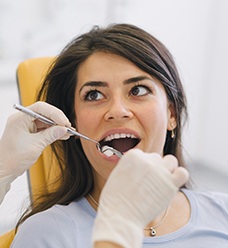 As part of your treatment planning process, we will provide a personalized post-operative dental care plan to ensure you get back to smiling confidently right away. Some basics you should always keep in mind following an advanced procedure include:
Get plenty of rest in the first few days after your procedure. Our bodies heal best during deep sleep, so make sure you're getting a full night's rest. You should also avoid any very strenuous activities for at least the first 48 hours after treatment.
Consume only liquids for the first few days after treatment, and gradually reintroduce foods that are more difficult to chew as you feel comfortable.
Absorb blood with clean gauze and replace gauze regularly as the material because saturated.
To relieve pain and swelling, use ice packs at 20 minute intervals. The cold can also help to slow blood flow.
Take care when brushing and flossing remaining teeth. Avoid irritating the extraction site. In some cases, we'll provide an oral rinse. Otherwise, simply swish the area with cool water regularly to remove food particles as the site heals.
Tooth Extraction FAQs
Are you worried about needing a tooth extraction? Although it sounds like a grim treatment, it isn't! At Jacksonville Dental Specialists, we're able to provide you with a healthier mouth and rebuild your smile with one of our many restorative treatments. We've answered some common questions that we receive from our patients below to help ease your anxiety.
Do I need to prepare for my tooth extraction?
Before we're able to conduct the procedure, we'll provide a thorough examination of your mouth in order to diagnose the underlying problem. Once we're able to determine that we can't save the tooth, we'll likely suggest having it extracted to restore the health of your smile and prevent any additional issues from arising down the road. At this time, we'll provide you with any instruction you'll need to follow before your procedure. Typically, we let patients know that they shouldn't eat for anywhere from eight to 12 hours before their surgery and have them organize for a family member or trusted friend to pick them up and drop them off to their appointment.
Are tooth extractions painful?
Before our team extracts your tooth, we'll administer a local anesthetic to numb the area and eliminate any pain or discomfort. We may also recommend taking over-the-counter pain medication such as ibuprofen after the treatment to make sure that you can heal in comfort. We also offer sedation as well, for our patients who are especially anxious about the procedure or scared of the dentist.
How long does it take to recover from a tooth extraction?
Aftercare and healing periods can differ from patient-to-patient, but we typically tell our patients that they can expect to recover in seven to 10 days. It's important to follow our post-operative care instruction and keep the blood clot in place. If you continue to experience pain or discomfort past a week, then be sure to call our office.
What should I do about the gap in my smile?
During your initial consultation, we'll discuss whether you're a good candidate for one of our restorative treatments. Based on how many teeth you need extracted and the health of your gums, we may suggest a dental bridge or even dental implants.
It's important to replace the gaps in your smile to prevent your surrounding missing teeth from drifting out of alignment to fill the space. This can also make it difficult to do basic daily tasks such as eating and speaking. If you have any questions or concerns about your restorative options, don't hesitate to ask our friendly team.