Many people wish to improve the appearance of chipped, stained, uneven, or otherwise imperfect front teeth. Porcelain veneers offer a wonderful solution for these and other issues, and they can be completed over the course of two visits to the Jacksonville Dental Specialists. Veneers are highly customizable to match the size, shape, and color that suit your smile best. Keep reading to learn more about this wonderful cosmetic dental option.
What Are Porcelain Veneers?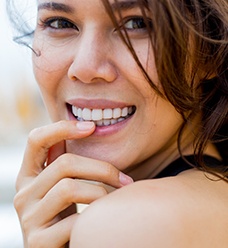 Tooth-shaped coverings that mask imperfect teeth.
Porcelain veneers are custom crafted shells that are affixed to the front side of the teeth that show when you smile. They can cover up the appearance of just about any cosmetic issue affecting otherwise healthy teeth. Chipped teeth, stained or discolored teeth, slight gaps between teeth, oddly textured teeth, and other imperfections are all hidden behind beautiful dental veneers. Porcelain is highly customizable and also reflects light in the same way as the surrounding tooth enamel, for the most flattering and natural-looking results possible.
How Do Veneers Work?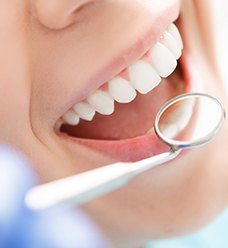 A sliver of enamel is removed from the tooth and the veneer is bonded on top.
Veneers are custom-crafted according to the specifications of each tooth. Most of the time, a small amount of the natural tooth enamel will need to be removed from the natural teeth to make room for the new restoration to be placed on top. Without this step, the veneers might look bulky. Once veneers are placed, they can last for up to 20 years with proper care and maintenance.
What's the Process for Veneers?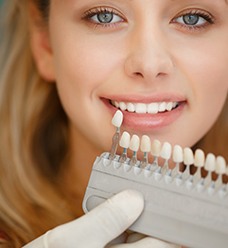 A treatment that takes place over the course of two visits to our office.
If it is determined during an initial consultation that you are a candidate for dental veneers, we will schedule another appointment to begin the preparation phase of the treatment. First, tooth enamel is carefully removed from the surface of each tooth that will receive a veneer. Then, impressions are made of the teeth. This information is sent along with the rest of the treatment plan to our partner lab, where the veneers will be crafted from high-quality porcelain. Once they have been prepared, they are sent back to our office and you return for a follow-up appointment. The temporaries are taken off and the new veneers are bonded securely onto the surface of the prepared teeth.
Are Porcelain Veneers Right for Me?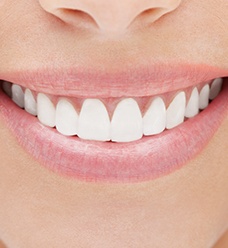 Most people are eligible for dental veneers.
If you are unhappy with the appearance of your cosmetically imperfect but otherwise healthy front teeth, you are likely an excellent candidate for dental veneers. The only way to know for sure is to schedule an appointment with our office to discuss this treatment. Please do not hesitate to get in touch with us today!