What Are Porcelain Veneers?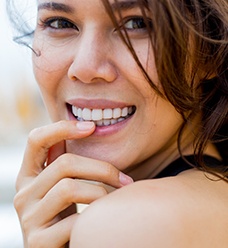 Tooth-shaped coverings that mask imperfect teeth.
Porcelain veneers are custom-crafted shells that are affixed to the front side of the teeth that show when you smile. They can cover up the appearance of just about any cosmetic issue affecting otherwise healthy teeth. Chipped teeth, stained or discolored teeth, slight gaps between teeth, oddly textured teeth, and other imperfections are all hidden behind beautiful dental veneers. Porcelain is highly customizable and also reflects light in the same way as the surrounding tooth enamel, for the most flattering and natural-looking results possible.
Traditional Porcelain Veneers
Made of high-quality porcelain, these thin shells are designed to fit over the enamel of your tooth and cover your imperfections. They're permanent and require a small portion of your tooth enamel to be removed prior to placement.
Minimal-Prep Veneers
Although much like traditional porcelain veneers, these minimal-prep veneers require very little-to-no altering of the tooth's structure. In order to receive minimal-prep veneers, the tooth enamel must be healthy and in good shape and are best for people who have small teeth or narrow smiles. They're also less likely to create tooth sensitivity and often require no anesthesia for placement.
What is the Procedure Like?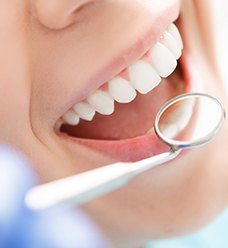 A sliver of enamel is removed from the tooth and the veneer is bonded on top.
Veneers are custom-crafted according to the specifications of each tooth. Typically, the treatment requires two visits to our office. Prior to your procedure, you will meet with one of our dentists for an initial consultation to determine if you are a candidate for dental veneers. At this time, we will schedule another appointment to begin the preparation phase of the treatment.
Most of the time, a small amount of the natural tooth enamel will need to be removed from the natural teeth to make room for the new restoration to be placed on top. Without this step, the veneers might look bulky. We will then make impressions of your teeth, which will be sent along with the rest of the treatment plan to our partner lab, where the veneers will be crafted from high-quality porcelain. Once they have been prepared, they are sent back to our office and you return for a follow-up appointment. The temporaries are taken off and the new veneers are bonded securely onto the surface of the prepared teeth. Once your veneers are placed, they can last for up to 20 years with proper care and maintenance.
What Are the Benefits of Porcelain Veneers?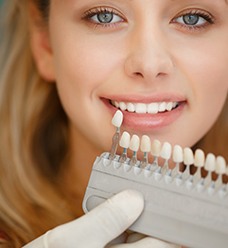 Apart from the full transformation you will see in your smile, porcelain veneers offer a wide range of benefits, including:
A completely natural look and feel
A versatile treatment option that effectively covers cracks, chips, spaces between teeth, and minor misalignments
A long-lasting cosmetic solution.
A much less invasive procedure than having a dental crown placed
An easily maintainable cosmetic treatment
Porcelain Veneer FAQs
Before receiving your veneers, we've compiled some frequently asked questions for you to review. Should you have any additional questions, please don't hesitate to contact us.
Can I get cavities while wearing veneers?
While the veneer itself cannot decay, the natural tooth underneath can, which is why it's important to maintain a good oral hygiene routine. You will need to brush your teeth twice a day for two minutes, floss at least once a day, and rinse using an ADA-approved mouthwash.
Will my porcelain veneers stain?
While the porcelain used to create your custom veneers is much more stain-resistant than regular tooth enamel, over time, your veneers can become stained if you consume too many dark-colored beverages or continue to smoke. It's important that you take proper care of your veneers to ensure they maintain their color.
Will my insurance cover porcelain veneers?
The answer is dependent upon your individual insurance coverage. Most insurance companies will not cover cosmetic dentistry services; however, some will agree to cover up to 50% of any fee that they believe is fair. Make sure you discuss the treatment and coverage with your dental team as well as your insurance provider before deciding whether to move forward with porcelain veneers.
How long will my veneers last?
Depending on how well you maintain your veneers, they can last anywhere from 7-20 years. Normal wear and tear can cause them to chip or crack if you're not careful, so you'll want to be mindful of the foods you eat as well as if you play sports or engage in outdoor activities. You can also expect that over the years, your gum and tooth structure will change, requiring you to have your veneers altered to prevent an unnatural appearance.