Our office performs a variety of complicated procedures by our highly trained prosthodontist and periodontist. These advanced dental services may require patients to be still and relaxed for hours. In order to ensure patients remain completely safe, comfortable, and free from stress, we utilize advanced sedation dentist solutions. Before we recommend dental sedation in Jacksonville, our prosthodontist carefully reviews your past history, current needs, and help you choose the right sedation method. Keep reading to find out more about dental sedation, or contact Jacksonville Dental Specialists .
Is Sedation Dentistry Safe?
Absolutely! We're proud to offer several safe and effective sedation options. It's only natural to feel a bit apprehensive about the idea of dental sedation. Let us start by putting your mind at ease. Our dentists have completed the appropriate training and certification processes to perform sedation. Additionally, we use state-of-the-art vital monitoring systems to ensure patients are completely safe and healthy while under sedation. Before recommending dental sedation, we will review the following information that may impact patients' ability to safely undergo sedation:
Health assessment
Patient health and surgical history review
Drug history and drug allergies
Full list of past sedation experiences
Are Dentists Qualified to Perform Sedation?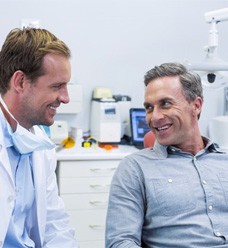 Our highly experienced dental professionals have completed training and certification in sedation dentistry. They have all the necessary education and qualifications to perform oral conscious and intravenous (IV) sedation. Dr. Richard Aguila has completed all of the dental sedation training required by the American Dental Association, and maintains memberships in the American and Florida Dental Societies of Anesthesiology. Additionally, our dentists perform sedation services on a regular basis, and are familiar with warning signs and indicators of complication.
Your Sedation Dentistry Options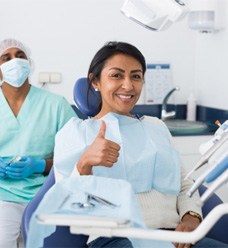 Both forms of sedation we offer create a moderate level of sedation. That means patients are able to respond to questions, and they remain awake during treatments. The effects of oral and IV sedation are long lasting, so patients should plan to have a friend or family member drive them to and from their appointment. Patients should also plan to forego daily activities, especially complex functions and machinery operation, for at least 24 hours after treatment. Oral sedation is taken in pill form prior to arriving at our office, and IV sedation is administered through a needle drip during your procedure in our practice. Before beginning any treatment, we'll discuss these options, and determine which is right for you.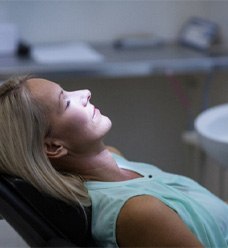 IV Sedation
IV dental sedation is the most powerful form of dental sedation available. Once you've settled into the examination chair for your appointment, we'll place a small needle on your arm or the back of your hand. This will administer the sedative directly into your bloodstream, allowing you to feel relaxed and calm in just a matter of moments. We'll carefully monitor your vital signs during your treatment, and we'll be able to adjust your level of sedation at any time if needed. Once your appointment is complete, we'll remove the needle and a trusted friend or family member will drive you home. You will likely continue to feel sleepy for the rest of the day, but you should feel back to normal within 12 hours.
Oral Conscious Sedation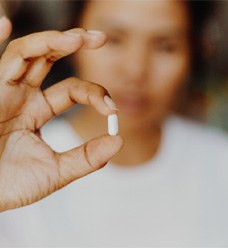 Oral conscious sedation is the mid-level choice for sedation dentistry. We'll prescribe a medication for you to take by mouth before your appointment. The effects will come about slowly, but you should feel completely relaxed by the time you reach our office. Afterwards, you'll continue to feel groggy for quite some time, so you should plan on resting for the remainder of the day. You should feel completely back to normal by the following morning.
What Is Oral Conscious Sedation?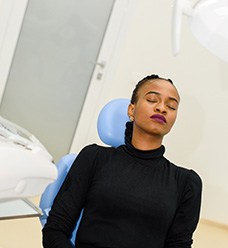 For some patients, nitrous oxide sedation is not enough, but IV dental sedation is a bit too much. That's where oral conscious sedation comes in. This type of sedation dentistry will help you achieve a deeper state of relaxation than what you can get with nitrous oxide sedation, but it's gentler and less powerful than IV sedation dentistry. Oral conscious sedation is often a good choice for patients who will be undergoing longer or more complex dental treatments. It can also be a very helpful choice for those who tend to feel very nervous before their appointments.
As its name implies, oral conscious sedation involves a prescribed medication that you'll take orally. While it may feel like you've slept through your appointment with oral conscious sedation, you'll actually remain aware enough to respond to basic instructions.
How Does Oral Conscious Sedation Work?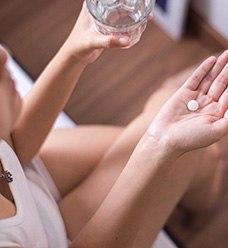 Once you've taken the oral conscious medication, you will slowly start to feel calmer and somewhat sleepy. By the time we're ready to start your treatment, the medicine will be in full strength. By this point, your limbs may feel heavy and time may seem to pass quickly. Your body won't register any of the sights, sounds, or sensations that would typically cause you discomfort. Many patients even drift off to sleep during their treatment! However, should you nod off, you can easily be awoken with a gentle nudge.
Oral conscious sedation has an amnesiac effect, so you likely won't remember anything about your appointment afterwards. The sedative will remain in your system for several hours, so you'll need a trusted friend or family member to drive you home after your appointment. You should be feeling back to your normal self by the end of the day or the start of the day after.
Are You a Good Candidate for Oral Conscious Sedation?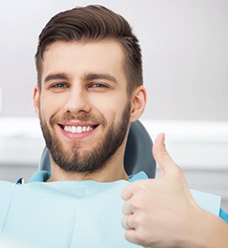 The majority of patients are considered good candidates for oral conscious sedation! Nonetheless, we'll meet with you beforehand to discuss your concerns and review your medical history to make sure that oral conscious sedation is the safest and most effective choice for you. In most cases, we'll recommend oral conscious sedation if you:
Are moderately afraid or anxious at the dentist's office
Tend to cancel your appointments out of nervousness
Will be undergoing a somewhat long or complicated treatment
Have jaw, neck, or back discomfort when sitting in the dental chair for long periods
Have trouble sitting still for long periods of time
Plasma Rich Growth Factors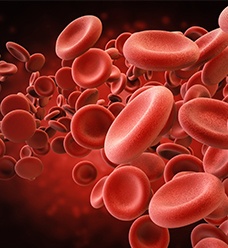 When placing dental implants, an adequate amount of healthy, strong bone structure is necessary for a successful procedure. If a bone grafting procedure is deemed necessary, Dr. Nawrocki might recommend the use of Plasma Rich Growth Factors (PRGF) in order to accelerate the process. This advanced technique uses a small amount of the patient's own blood to help regenerate vital tissues and stimulate healing in a safe and effective fashion. Even better, using the patient's own biological material eliminates the risk of rejection!
The WAND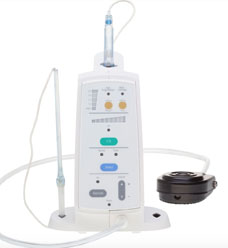 Patient comfort is a top priority for our practice during every step of treatment, which is why Dr. Nawrocki utilizes the WAND when injecting numbing anesthetic into the gum tissue. This system hides the fine needle inside a small, pen-like handpiece. When this device is held against the mouth, painkiller flows out and helps to numb the gum tissue before the tip of the needle even makes contact, creating an easy pathway for the injection that most patients won't register. Our team can also target the site of the injection more precisely, which helps keep the numbing effects to a minimum.