The best way to maintain optimal oral health is to keep your smile healthy by brushing and flossing teeth each day and visiting us every six months for preventive dentistry appointments. At Jacksonville Dental Specialists, our team of experts work hard to help patients achieve and maintain healthy, beautiful smiles they'll be proud to share. We recommend checkup appointments twice a year for most patients, so if it's been six months, six years, or longer since your last dental checkup, call us right away. We'll schedule a visit to examine your smile and partner with you to maintain optimal oral health in our Jacksonville dental office.
Dental Checkups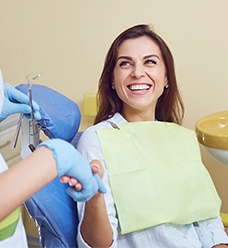 During your dental checkup, we make sure to perform detailed diagnostics to confirm if any underlying dental issues are present. Not only do we examine your teeth and gums, but we also observe the condition of the bone tissue underneath your gums via digital X-rays. We also look out for warning signs of other underlying conditions, including tooth decay, gum disease, teeth grinding and clenching, and oral cancer. From there, we can provide a treatment recommendation.
Dental Cleanings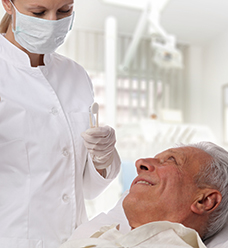 Routine professional cleanings are incredibly important for keeping the teeth and gums free of any plaque and tartar, both of which cause cavities and general tooth decay. One of our skilled hygienists will perform your cleaning, making sure that all hard-to-reach areas of the mouth are thoroughly rinsed and polished. Once your cleaning is complete, your mouth will feel fresher than it's ever been! Younger patients can also expect a fluoride treatment following their dental cleaning.
Learn More About Dental Checkups and Cleanings
Emergency Dentistry
Our office is happy to see you and your family for dental emergencies when they occur. Our highest priority is getting you out of pain and confirming the exact location of your dental problem. Whether it's a toothache cause by an oral infection or physical trauma, we will make sure you understand exactly what's happening inside your mouth and get you on the right path towards treatment. If you require sedation services before your treatment begins, you can receive it at our office!
Learn More About Emergency Dentistry
Fluoride Treatment
Fluoride is one of the most important minerals for your oral health because it keeps teeth enamel strong for many years to come. This is why we perform fluoride treatments following your cleaning, especially for younger patients with still developing teeth. Additionally, fluoride provides protection from cavity-causing bacteria. You'll often find it in public drinking water and most oral care products, but it can also be found in the foods you eat! If you require more frequent fluoride applications to protect your smile, we'll gladly work with you to create a treatment plan that addresses your needs.
Oral Cancer Screenings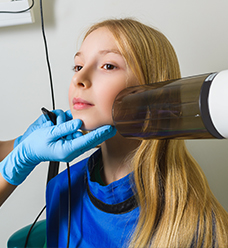 While most people aren't thinking about oral cancer during their dental appointments, Dr. Nawrocki and Dr. Aguila are doing everything they can to catch the early signs when they appear. If they believe they see symptoms, such as oral sores that have not healed after a long period of time or red/white patches of skin inside the mouth, they'll partner you with a trusted general practitioner to get you on the right path towards a more precise diagnosis and treatment. Remember, the sooner you catch oral cancer, the easier it is to treat.
How Can I Maintain a Healthy Smile at Home?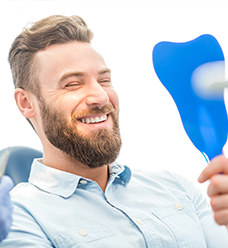 Most patients learned to brush and floss teeth when they were young children, but the majority of people don't think much about it after they grow up. While any brushing and flossing each day are good, there are a few small changes you can make to create the ideal oral hygiene routine:
Always use soft or ultra-soft bristled toothbrushes and fluoridated toothpaste
Brush at least two minutes at a time twice a day
Place toothbrush bristles at a 45 degree angle toward the gums to remove plaque and tartar at and below the gum line
Floss at least once each day
The type of floss or flosser you use is a completely personal decision, and as long as you floss properly, they type of floss should not make any difference in your results
Run floss over both sides of each tooth all the way to the gum line to remove plaque and tartar
Don't forget to ask your hygienist for pointers when it comes to your oral hygiene products and techniques