Preventive Dentistry - Jacksonville, FL
Is My Mouth Healthy?
The Importance of Jacksonville Preventive Dentistry
The best way to maintain optimal oral health is to keep your smile healthy by brushing and flossing teeth each day and visiting us every six months for preventive dentistry appointments. At Jacksonville Dental Specialists, our team of experts work hard to help patients achieve and maintain healthy, beautiful smiles they'll be proud to share. We recommend checkup appointments twice a year for most patients, so if it's been six months, six years, or longer since your last dental checkup, call us right away. We'll schedule a visit to examine your smile and partner with you to maintain optimal oral health in our Jacksonville dental office.
How Often Should I Visit a Dentist?
The American Dental Association recommends patients visit us at least twice a year for dental checkups. These preventive dentistry appointments give us the opportunity to examine your smile for warning signs of common oral health concerns and partner with you to prevent most major oral health issues and keep your smile healthy.
What Should I Expect During My Dental Visit?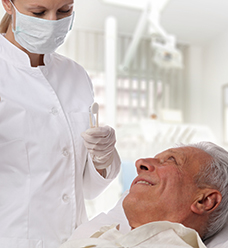 During your dental checkup appointment, we'll provide a number of preventive treatments, including:
Diagnostics – we capture x-rays and images of the oral and facial structures to reveal any oral health concerns
Screenings – the dentist will visually and manually examine your smile for warning signs of common oral health concerns, including tooth decay, gum disease, TMJ dysfunction, teeth grinding and clenching, and oral cancer
Cleanings – a skilled hygienist removes plaque and tartar buildup in even the hardest to access parts of the smiles
Consultations – the dentist will sit down with you to discuss your oral health concerns and create a custom treatment plan
What Does an Oral Cancer Screening Entail?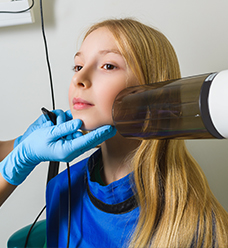 Oral cancer screenings are quick and comfortable. In fact, you may not even notice you've received the screening. We simply examine the oral and facial structures looking for warning signs of oral cancer including:
Changes in the color or texture of soft tissue
Lumps or swelling in the mouth, neck, throat, or other facial structures
Sores that don't heal within a few days
Chronic sore throat or hoarse voice
Difficulty swallowing
Learn More about Oral Cancer Screenings
How Can I Maintain a Healthy Smile at Home?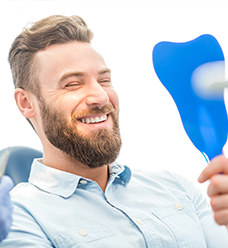 Most patients learned to brush and floss teeth when they were young children, but the majority of people don't think much about it after they grow up. While any brushing and flossing each day are good, there are a few small changes you can make to create the ideal oral hygiene routine, including:
Always use soft or ultra soft bristled toothbrushes and fluoridated toothpaste
Brush at least two minutes at a time twice a day
Place toothbrush bristles at a 45 degree angle toward the gums to remove plaque and tartar at and below the gum line
Floss at least once each day
The type of floss or flosser you use is a completely personal decision, and as long as you floss properly, they type of floss should not make any difference in your results
Run floss over both sides of each tooth all the way to the gum line to remove plaque and tartar
Don't forget to ask your hygienist for pointers when it comes to your oral hygiene products and techniques