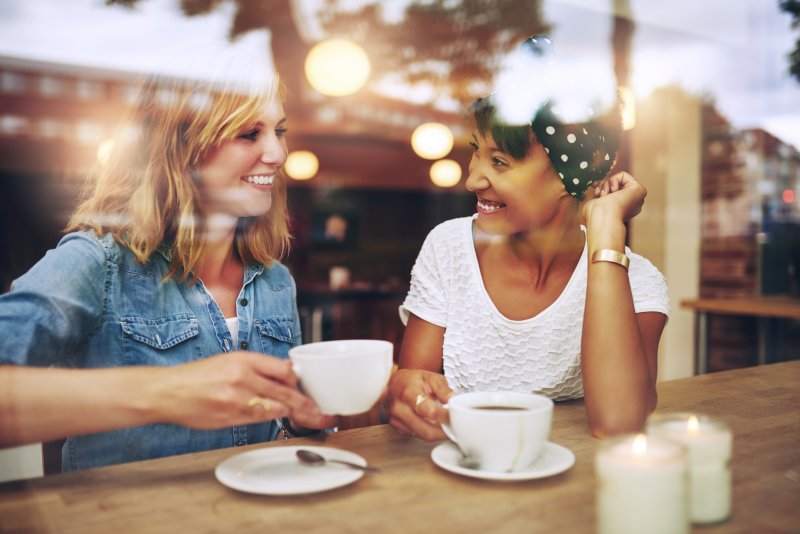 Are you struggling with moderate to severe dental discoloration? Although teeth whitening is a popular and effective treatment, the better option would be to get veneers. With these super-thin porcelain shells, you'll be able to brighten your pearly whites while also concealing multiple other dental flaws in your smile. However, will you still be able to drink a warm cup of joe with your brand-new teeth? Read on to learn if coffee is still on the table once you have veneers!
Am I Allowed to Drink Coffee with Veneers?
Absolutely! Your veneers will be constructed out of non-porous porcelain material, meaning they'll be heavily resistant to staining and discoloration. Once the durable shells are cemented in place, you'll be able to enjoy most of your favorite foods and drinks, including dark-pigmented beverages like coffee. While dark-colored liquids will have a more difficult time penetrating the surface of your veneers, you'll still want to practice certain preventive measures, as they aren't stain-proof and can begin to discolor over time.
What's the Smile-Friendly Way to Enjoy Coffee?
Although coffee isn't off the table once you get your veneers, you should consider taking proper precautions to preserve them in the long run. Here are several things you can do to make the most of your new smile:
Sip on water simultaneously to help wash away the coffee
Drink through a straw to minimize your teeth's exposure to the liquid
Brush your teeth around 20 minutes afterward, using a soft-bristled toothbrush and toothpaste
6 Extra Tips on Preserving a Stain-Free Smile
Even if you have one or eight veneers, it's essential to do your best to keep them in pristine condition. The good news is that this won't involve a complex or special oral hygiene routine. You can simply use the same cleaning techniques as with your natural teeth, including:
Brush for two minutes twice a day
Floss and rinse with mouthwash daily (or after every meal)
Avoid overindulging in sugar to prevent decay and cavities
Quit poor oral habits like smoking and chewing on ice
Minimize how often you consume dark-colored drinks and meals
Schedule routine dental checkups and cleanings every six months
After receiving your veneers to achieve your dream smile, you'll want to ensure they remain bright for as long as possible. By keeping these few tips in mind, you can effectively preserve your pearly whites without having to give up your favorite cup of joe!
About the Author
Dr. Matthew Nawrocki earned his dental doctorate from the University of Florida College of Dentistry. He's also a member of several prestigious organizations such as the American Dental Association and the Florida Dental Association. He provides a wide range of high-quality and comprehensive services, including porcelain veneers. If you'd like to schedule a consultation, visit his website or call him at 904-683-4781.