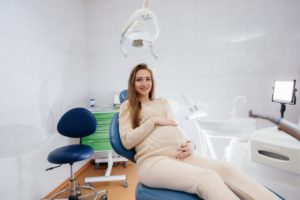 Receiving dental care is crucial to not just maintaining a healthy smile, but also to improve your overall health since your whole body is connected, and it's important across all stages of life, including if you're pregnant! If you're anxious or require an invasive procedure and need dental sedation to help calm your nerves, you're probably wondering whether it's safe for you to still get it at your next appointment. Read on to learn whether dental sedation is safe if you're pregnant and whether you can receive any treatments during this time.
Is Sedation Safe if You're Pregnant?
It's recommended that any invasive treatments that aren't urgently needed and require dental sedation be delayed until after your pregnancy whenever possible. However, there are situations where you may require treatment and need dental sedation, like gum disease therapy or wisdom tooth extraction, so what do you do?
Before your treatment, your dentist will discuss all of your sedation options with you as well as the potential harmful effects they could have on your fetus to ensure that you understand the risks. Many medical professionals and dentists recommend waiting until your second trimester to receive invasive procedures to minimize the chances of the medication passing through the placenta and leading to developmental issues.
Safest Types of Sedation if You're Pregnant
While some sedation methods may be deemed safer than others, it's not recommended that you're exposed to these medications for long periods of time throughout your pregnancy, and whenever possible, the safest option is to avoid receiving sedation until after you give birth.
Your dentist may recommend either administering a local anesthetic with or without epinephrine to numb the area so you can't feel a thing, which is absolutely safe if you're pregnant according to the American Dental Association. It's also possible that they recommend nitrous oxide; however, there is a risk of fetal harm if administered during pregnancy. While IV sedation is generally not administered during pregnancy, when closely monitored by a professional, it can be a safer form of sedation to receive. Finally, drugs used for oral conscious sedation, like Valium, are generally not recommended for routine use throughout your pregnancy, but your dentist may determine that using it during a procedure outweighs any risks.
Why is it Important to Receive Dental Care While Pregnant?
While most dental sedation options pose some type of risk if you're pregnant, it's important to speak in detail with your dentist about the downsides and benefits of all of your options. Receiving timely dental care, especially for oral problems like gum disease, is very important because when they're not treated in a timely manner it could lead to other health issues that could impact the wellbeing and development of the fetus.
With a trustworthy sedation dentist by your side, you can tackle oral health problems that could put the fetus and your smile at risk, all while remaining comfortable and at-ease throughout any procedures you may need during your pregnancy.
About the Author
Dr. Richard Aguila is a highly skilled dentist with years of experience under his belt. He has received specialized training in sedation dentistry and is certified in conscious sedation by the American Dental Society of Anesthesiology. He's passionate about helping his patients feel at-ease during procedures and is a proud member of the Florida Dental Society of Anesthesiology. For questions or to schedule an appointment, visit Jacksonville Dental Specialists' website or call 904-323-0928.