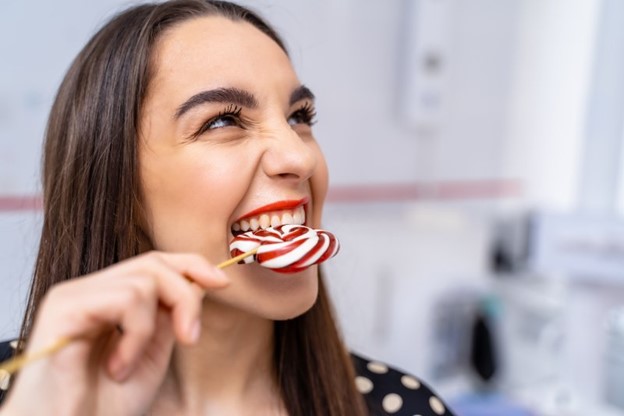 Good oral hygiene consists of more than just brushing your teeth! You must floss, use mouthwash, and regularly visit the dentist for checkups and cleanings, but that's not all—avoiding dental emergencies is also very important. That said, it's helpful to be mindful of what you put into your mouth, concerning food and non-food alike. Here are some of the things that your dentist would never put in their mouth and why these items are potentially hazardous for your teeth.
Which Foods Should I Avoid Eating?
There are certain foods out there that become very problematic upon entering your mouth, including:
Lemons – Even though they're fruit, lemons are highly acidic and can cause enamel erosion and pH imbalance inside of your mouth.
Hard candies – Your mouth is exposed to these candies for longer periods of time, delivering a large amount of sugar. They can also chip or crack your teeth!
Potato chips – Chips might be tasty, but they're high in starches and sugars which can lead to enamel erosion.
Ice cubes – Ice cubes aren't meant for chewing! Use them to chill your drinks; biting into them can lead to fractured teeth.
What Non-Food Items Should I Never Put in My Mouth?
Avoid putting these non-food items in your mouth to greatly reduce the risk of a dental emergency:
Metal and plastic bottle caps – Your teeth are not bottle-openers! Trying to remove bottle caps with your teeth can lead to chips, fractures, and TMJ pain.
Fingernails – Biting your nails isn't just unsanitary; it can flatten the edges of your front teeth and create cracks in your enamel that cause hypersensitivity.
Keys – When your hands are full, it might be tempting to use your teeth to hold your keys. But this can also cause chips or cracks in your teeth, in addition to transferring germs to your mouth.
Pens, pencils, erasers, and paperclips – These items are often riddled with bacteria that can spread throughout your mouth and body.
Jewelry – Facial piercings and jewelry can cause injuries to not just your teeth, but also your cheeks, lips, and even taste buds!
Other people's toothbrushes – This is a surefire way to get sick, as sharing toothbrushes can easily spread bacteria.
Cigarettes – There are plenty of reasons for why cigarettes and other tobacco products are bad for your health, but they're especially hard on your mouth. Stained teeth and bad breath headline a long list of potential issues that also includes nasty problems like oral cancer.
The next time you're sucking on an ice cube or biting your fingernails, stop and think twice about what you're doing! Knowing what your dentist wouldn't put in their mouth and following suit can go a long way towards preserving your oral health.
About the Practice
Jacksonville Dental Specialists proudly serves patients and families in the Jacksonville area under the leadership of Dr. Matthew Nawrocki and Dr. Richard Aguila! Both Dr. Nawrocki and Dr. Aguila have several years of experience and expertise in a wide variety of fields and their practice offers many available services, including emergency dentistry. If you or a loved one is suffering from a dental emergency, don't hesitate to schedule an appointment through the practice's website or by phone: (904) 323-0928.