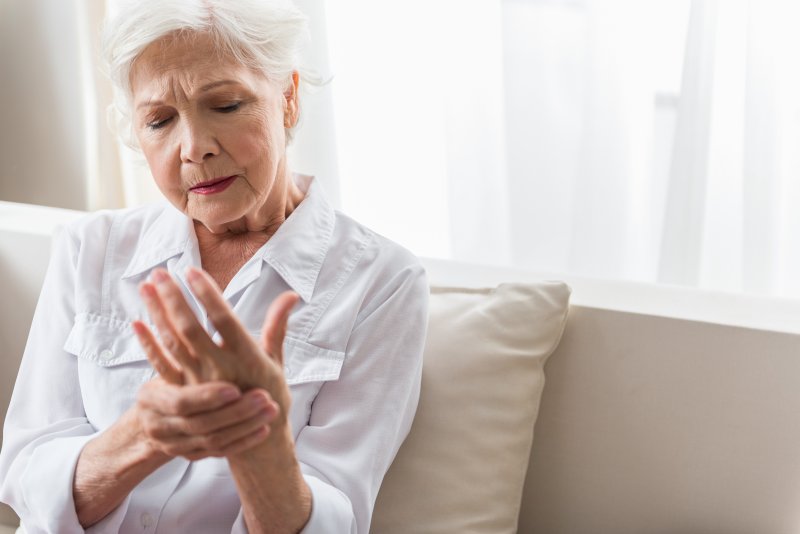 You pick up your toothbrush and let out a sigh; your rheumatoid arthritis makes brushing your teeth a difficult task that you aren't looking forward to at all. As you slowly and carefully begin cleaning, you start to wonder if your oral health might be in jeopardy. You know that solutions like dental implants exist for those with compromised smiles, but you aren't sure if your arthritis will allow you access to such impressive solutions. Here's everything you need to know how rheumatoid arthritis can impact dental implants.
I Have Rheumatoid Arthritis; Can I Still Get Dental Implants?
If you have rheumatoid arthritis (RA) and are curious about dental implants, your dentist will need to evaluate your overall health. They'll need to test the bone density of your jaw, and they'll also need to check that your gums are healthy. If everything in your mouth checks out, your RA won't disqualify you from being eligible. Although, there are a few things to be mindful of.
The Challenges of Having Dental Implants with Rheumatoid Arthritis
The biggest challenge that patients with RA encounter when they receive dental implants is keeping their mouth clean. Brushing with arthritis is already quite difficult; however, dental implants are even more susceptible to gum disease than your natural teeth are. This means that if you cannot brush and floss thoroughly, you will likely develop infections around your implants.
Rheumatoid arthritis is also an autoimmune disorder, meaning that many of the available treatments involve suppressing the patient's immune system. This can greatly increase the risk of oral infection. Some of these medications, including methotrexate, can also interfere with bone healing and bone density—which means your body could have difficulty incorporating and supporting dental implants.
Tips For Preparing for Dental Implants
Even though rheumatoid arthritis might make things tricky, ensuring that your mouth is healthy will greatly increase your chances of not only getting dental implants but also keeping them. There are a few measures you can take to prepare yourself:
Brush and floss twice a day, in addition to using a mouth rinse.
Monitor your sugar intake to help lower the risk of tooth decay.
Regularly visit your dentist for checkups and cleanings.
Practicing good oral hygiene is a smart idea; especially if you suffer from RA. Should you end up needing dental implants in the future, your mouth will be adequately prepared. While it's ultimately up to your dentist, your rheumatoid arthritis won't stop you from getting implants and achieving the smile of your dreams.
About the Practice
Jacksonville Dental Specialists has served patients in the Jacksonville community for several years, offering a wide range of services including preventive, restorative, cosmetic and emergency dentistry, as well as dental implants. They are led by the elite team of Dr. Matthew Nawrocki and Dr. Richard Aguila, who combine their many years of extensive specialty training to provide patients with a comfortable and rewarding experience. If you have any questions about the article or would like to schedule an appointment, you can contact the office through their website or by phone: (904) 323-0928.