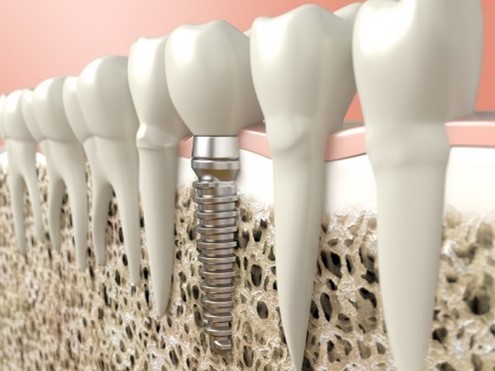 You know you want dental implants to replace your missing teeth, but did you realize there are various problems that can make it more difficult to receive these prosthetics? Depending on your oral and overall health as well as your lifestyle habits and jawbone density, you may not be ready for immediate placement. Here are four potential issues that may delay your ability to receive dental implants.
Insufficient Jawbone
When you lack the necessary jawbone density, you are at a greater risk for dental implant failure. A skilled and experienced prosthodontist will not allow these prosthetics to be placed in your jawbone is not sturdy enough. Instead, you'll be recommended for a bone graft, which is a procedure that requires the use of grafting materials (either from you or a donor) to be placed into the weakened area where the new and existing bone will integrate. Over time, you will have a stronger foundation that better equips you for dental implants.
Chronic Health Condition
Whether it is an autoimmune disease or a serious chronic health condition (i.e., diabetes), dental implants may not be an option right away. Your prosthodontist will discuss your medical history and any current medications you are taking. If you are working closely with your physician to manage your condition, there's a good chance you'll qualify for treatment sooner rather than later. However, you don't want to experience dental implant failure, which can happen if your immune system is already weakened. Until you are able to get your condition in check, it may be necessary to postpone the surgery.
Poor Oral Health
Gum disease and tooth decay are both serious problems for anyone looking to have dental implants put into place. During your initial consultation, you'll undergo an evaluation to determine if your oral health is in optimal shape. If not, it is imperative that you receive periodontal therapy and/or tooth extraction to rid the mouth of any bad bacteria that could compromise your dental implants.
It is not uncommon for many people to receive these initial procedures before ever living life with dental implants.
Lack of Commitment to the Process
Anyone who is preparing to undergo dental implant placement understands it is a time commitment. They cannot be placed immediately, and the healing phase takes months to complete. You must be committed to the process if you want to receive permanent prosthetics, as there are four key stages every patient must go through, such as initial consultation, oral surgery, osseointegration, and delivery of the final restoration. Once you've completed each step, you can start enjoying your new and improved smile!
Just because you suffer from any of these issues doesn't mean dental implants are never an option. You can take special steps to get your smile to a place that is healthy and ready for optimal functionality, improved appearance, and a better way of life.
About the Author
Dr. Matthew Nawrocki is a licensed prosthodontist who serves alongside Dr. Richard Aguila at Jacksonville Dental Specialists. Providing dental implants to patients needing tooth replacements, they work together to ensure the successful placement and results of each person's new smile. With careful evaluations, they can keep the successful implantation rate around 95%. If you're ready to learn what you need to do to receive dental implants, contact us at (904) 683-4781.