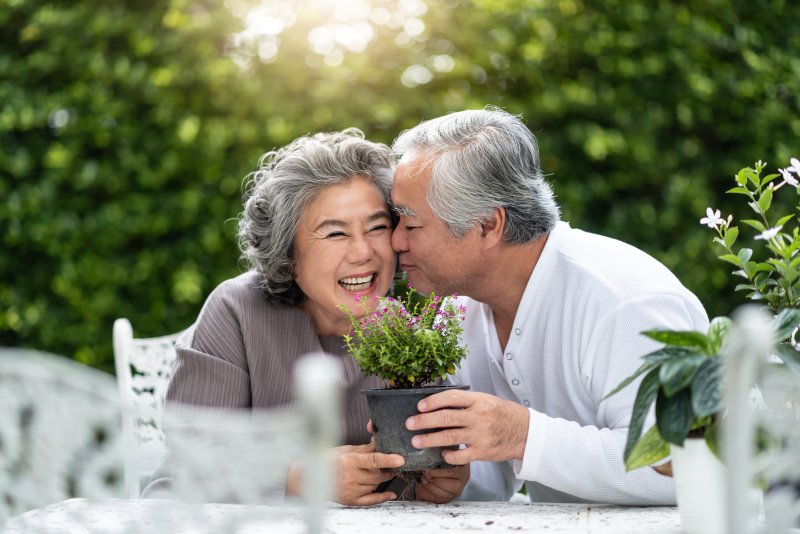 Are you living without your natural teeth but want to feel confident and comfortable in your dating life? As Valentine's Day approaches, you may be worried that kissing with dentures will result in an embarrassing moment you and your date would both like to forget. In this article, a periodontist explains what you can do to avoid this potentially awkward situation and why you might consider transitioning to implant dentures.
Is It Hard to Kiss with Dentures?
The short answer is that it can be. Depending on how well your dentures fit or if you are using a denture adhesive to hold them in place, you may not have much to worry about. However, the biggest problem that comes with kissing while wearing dentures is the amount of suction used when kissing. Puckering your lips can dislodge your prosthetics (partial or complete), which will garner a reaction from your partner.
Tips to Better Kissing
You want your upcoming Valentine's Day date to go off without a hitch, so what can you do to prevent an embarrassing situation when it comes to moving in for a kiss? Here are a few tips that will make the moment seamless and enjoyable:
Inform your date of your dentures. While this may not be ideal, it can certainly reduce the potential surprise should a slip occur.
The more practice you receive, the easier it will become to kiss while wearing dentures.
In a worst-case scenario, you can remove your dentures beforehand. This is unlikely to be your go-to method, but just in case, you can take them out before going in for a kiss.
Try to keep the kiss gentle and not forceful or too passionate.
Why Implant Dentures is An Ideal Alternative
If the idea of kissing with dentures leaves you far too worried about successfully entering the dating world, you might consider implant dentures. Finding a qualified periodontist who can provide in-house placement and restoration will allow you to replace your missing teeth with prosthetics that not only mimic the natural tooth structure but also look, feel, and function just like regular teeth.
As a result, you will be able to enjoy time spent with your significant other without worrying whether your teeth will shift or fall out while kissing. Instead, you can trust that your prosthetics will remain firmly in place, so you and your partner can create a memorable, romantic evening you'll never forget.
About the Author
Dr. Matthew Nawrocki is pleased to provide patients suffering from tooth loss with a viable solution – dental implants. Those living with dentures for many years may find it is no longer conducive to their needs. As a result, they may want to transition to dental implants. With a scheduled consultation, Dr. Nawrocki can review a person's oral and overall health as well as their jawbone to determine if it's a possibility. If you are ready to say "so long" to your removable prosthetic, contact us at (904) 683-4781.