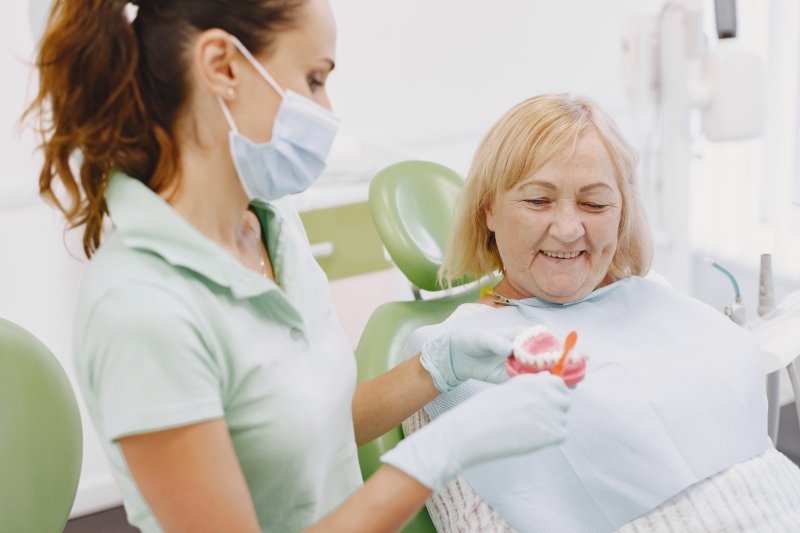 Drinking your morning cup of coffee may be the norm but over time, it can cause stains to form. When wearing dental implants, you might assume this same problem won't happen but unfortunately, it can. To better understand how your new teeth can become a victim of discoloration, a local periodontist is here to offer an explanation as well as three effective ways to keep your implants looking new for years to come.
How Can Dental Implants Become Discolored?
It may seem impossible for your artificial teeth to become discolored, but the reality is that although they are made from stain-resistant materials, they can become damaged and stained over time, especially if you use abrasive toothpaste. Also, certain fluoride treatments can be harmful to your new teeth.
Instead of maintaining a beautiful sheen, the exterior of your implant restoration will become rough, making them more susceptible to stains.
You might not realize but you can also develop discoloration around the edge of the implant where it meets the gum line.
What You Can Do to Prevent Stains
Now that you know how discoloration can form, you might be asking what you can do to keep this from happening. Here are just three effective ways to keep your dental implants from developing stains:
Choose a Non-Abrasive Toothpaste Recommended by Your Dentist. It might seem as if regular toothpaste is fine to use, but unfortunately, it can scratch artificial teeth because of its abrasiveness. When meeting with your dentist to discuss ways to maintain your new teeth, write down a few of the non-abrasive toothpaste options recommended. These will help to keep your teeth clean while also maintaining their protective and beautiful sheen.
Limit Your Consumption of Dark-Colored Foods and Beverages. Coffee, tea, red wine, berries, and other darkly pigmented foods and drinks contain tannins. These substances are known to cause corrosion to regular tooth enamel but can also be damaging to artificial teeth. By limiting your consumption or avoiding them altogether, you can reduce your risk of stains.
Quit Smoking. The nicotine found in cigarettes, cigars, and other tobacco products can easily stain your teeth over time. It can also affect the healing process of your implant placement and potentially cause them to fail. This is why it is highly recommended that you kick the habit before ever moving forward with dental implants.
To answer the question, "Do dental implants stain," yes, they do. Although it may not be exactly the same as regular tooth enamel, you'll want to take proper measures to avoid discoloration so your new smile can shine bright year after year.
About the Author
Worried about the potential for stains on your dental implants? Dr. Matthew Nawrocki can offer helpful tips to keep your new teeth free of discoloration. Using only the highest quality implants posts and materials to create your restorations, he will go over all the necessary details regarding how to care for your teeth and avoid potential problems that can lead to timely and costly dental care. If you want to learn more about what you can do to avoid stains and ensure the aesthetics and health of your smile, contact us at (904) 683-4781.