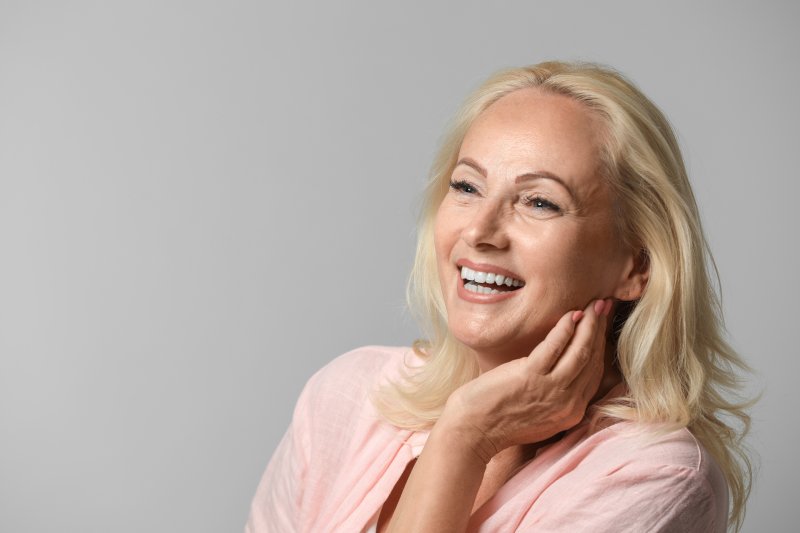 If you're tired of looking older than you are because of your missing teeth, you may be surprised to learn just how transformative dental implants can be. Unlike dentures and dental bridges, their ability to replicate the entire tooth structure from root to crown make them far superior, appearing more natural once in place. To learn more about recapturing a more youthful appearance, here are four ways it is achievable with dental implants.
You'll Retain Jawbone Density
Dental implants make it possible to maintain better oral health because they provide continuous stimulation to your jawbone. While dentures and dental bridges make it appear as though you have a full smile, they only sit on the gums, which can cause your bone to weaken over time. With the help of titanium implant posts, you can enjoy a stronger, more youthful appearance that doesn't leave your face sagging or "collapsing."
You'll Avoid More Tooth Loss
When even one tooth is missing, nearby healthy teeth can start to shift. If your jawbone deteriorates over time and treatment is avoided, your pearly whites can become loose and eventually fall out. As a result, you'll appear much older with every tooth you lose. However, when choosing dental implants, you'll enjoy a full, functional, and natural-looking smile that not only stimulates the bone but keeps healthy teeth in place.
You'll Minimize Worn Tooth Enamel
When eating or using your teeth after losing one or two, you may notice how additional pressure and tension are placed on other areas of your smile. As a result, you may develop cracks, chips, or other forms of damage that can cause you to appear older. Worn tooth enamel cannot be retrieved once it is gone. To prevent this from happening, you can opt for dental implants, which fill in the gaps and allow for a normal bite. In turn, you can minimize the potential for wear and tear to your tooth enamel, allowing you to maintain a healthier and more beautiful smile for years or even decades to come.
You'll Forgo the Need for Dentures
Dental implants are permanent fixtures inside your oral cavity. Dentures are not. You can enjoy greater confidence when eating, speaking, and smiling with titanium posts, but you may worry about possible embarrassment when wearing dentures. Whether you previously wore removable prosthetics or are considering them to replace your missing teeth, you'll find they do not provide the youthful and functional attributes possessed by dental implants. If you want a more permanent solution that allows you to fully embrace a better quality of life, choose the option that is designed to remain in place for 30 years or even a lifetime.
If you're still asking the question, "do dental implants make you look younger," the answer is yes, they do! These are just four of the many reasons you should choose permanent prosthetics. If you're looking for additional benefits, don't be afraid to talk to your implant dentist.
About the Author
Dr. Matthew Nawrocki is a prosthodontist in Jacksonville who works side-by-side with Dr. Richard Aguila. Overseeing a team of professionals at Jacksonville Dental Specialists, he is equipped and trained to provide dental implant placement and restoration in-house. Whether it is replacing one, multiple, or an entire arch of teeth, he and Dr. Aguila can create healthier, fully functional smiles that look their best for 30 years or more. If you are suffering from tooth loss and want a permanent solution, contact us at (904) 683-4781.