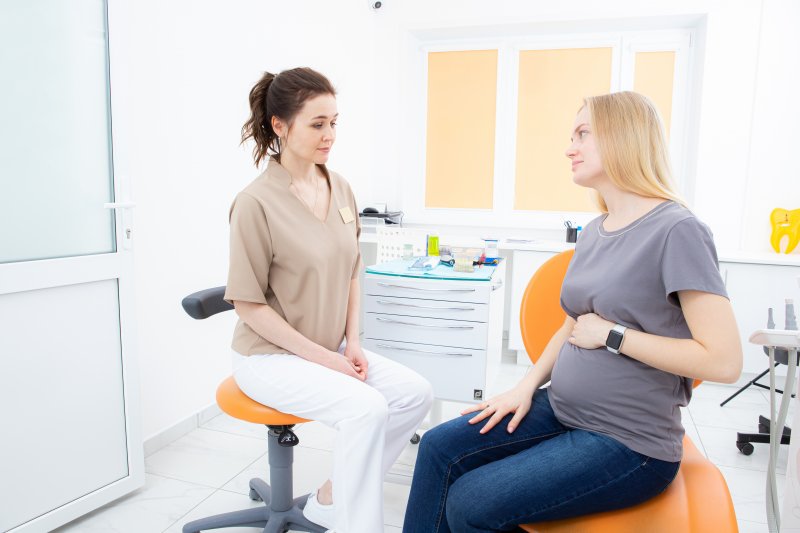 You need to have one or more teeth replaced, but you're pregnant. Is it safe? Should you wait? While it is necessary to seek treatment as soon as possible to avoid deterioration of the jawbone, you may need to hold off until a more appropriate time to ensure the safety of your baby. A local implant dentist explains the rule of thumb to remember when it comes to dental implants during pregnancy.
What Do the Experts Say?
According to the American College of Obstetricians and Gynecologists and the American Dental Association, it is strongly advised that women wait until after a baby is born to undergo the surgical placement of dental implants. Although regular preventive care is recommended, this type of tooth replacement procedure is considered elective surgery and should be avoided.
The reason is that dental x-rays and anesthesia are involved. During the first trimester, most oral surgeons and general dentists do not take digital images because of the potential danger. While local anesthesia might be safe during these nine months, an implant dentist may need to use a stronger anesthetic to place dental implants, causing it to be unsafe for the mother and baby.
Potential Problems That Can Form
Because of the many changes a woman undergoes during pregnancy, hormone levels can make it difficult to receive dental implants when there is an already increased risk for gum disease. You can use this time to remain proactive about your oral health, continuing to brush and floss regularly to avoid bacterial growth that causes gum inflammation and bleeding.
Also, it's important to remember that antibiotics are often recommended once dental implants are in place. When pregnant, many of these medications cannot be provided out of caution for the baby. Should an infection form or complications arise, you may be at risk for dental implant failure, potentially costing you additional time and money.
Is It Possible to Start the Process?
Although you may be unable to receive your dental implants while pregnant, it certainly does not hurt to undergo a scheduled consultation once you enter your second trimester. Your dentist will evaluate your oral and overall health as well as the amount of jawbone density with the help of digital imaging. At this stage in your pregnancy, digital x-rays are safe to use. Should there be signs of gum disease or tooth decay, appropriate treatments can be provided to ensure your oral cavity is healthy and ready when it is time to insert your dental implants.
When meeting with your dentist to discuss your available options for tooth replacement, don't discount the possibility of dental implants once your baby is born. In the meantime, your dental professional will determine how to handle your situation so you can enjoy a full, complete smile.
About the Author
Dr. Matthew Nawrocki is ready to help patients battling tooth loss. However, if you are pregnant and looking for dental implants to restore your smile, you may need to wait. He and his team will be happy to evaluate your smile and offer suggestions regarding ways to restore your appearance without implants at least until you are no longer pregnant. If you want dental implants but need to know when you can begin the process, contact us at (904) 683-4781.