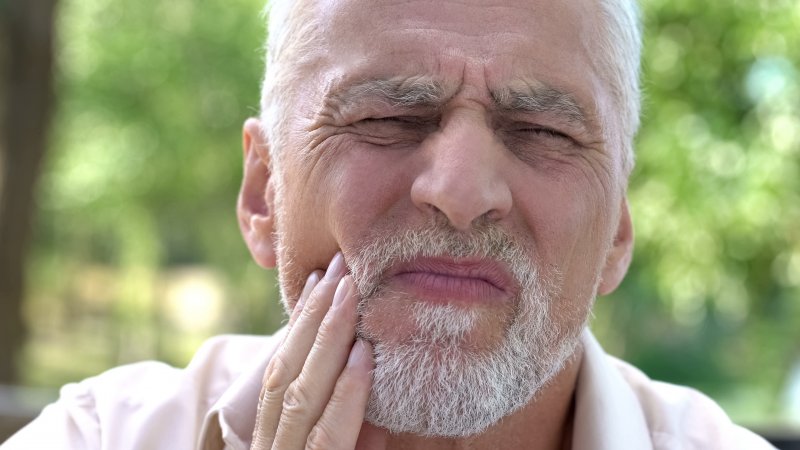 Are you experiencing dental implant sensitivity? This concerning problem may cause you to wonder about the cause and what you can do to avoid spending additional time and money to preserve your new smile. A local prosthodontist shares three reasons you may be experiencing sensitivity and how they can help avoid more serious complications moving forward.
3 Reasons for Dental Implant Sensitivity
There are many reasons your dental implant may feel sensitive, but it is important that you have a professional identify the underlying problem so you can get the treatment you need in a timely manner. An important thing to remember is that your dental implant alone cannot cause sensitivity because it is not made up of nerves and tissues. However, the area around your implant can be subject to irritation if you're not careful.
Here are three potential reasons you may be feeling some discomfort:
Gum Disease or Peri-Implantitis: If you develop an infection around your soft oral tissues, the bacteria can attack and break down your jawbone over time. As a result, your teeth (and dental implants) can become loose. However, if the problem is not the bone but instead the restoration on top of your implant, it may be that your dentist placed too much cement to hold your crown, bridge, or denture in place. This can lead to irritation.
Lodged Food: Although this seems minor, a lodged piece of food can lead to increased sensitivity. If you enjoy a bowl of popcorn while watching a movie one night, don't be surprised if your gums become irritated and your implant area feels sensitive.
An Allergic Reaction: While it is highly unlikely for you to experience an allergic reaction to the titanium or zirconia implant post, it is possible. Should this happen, you can expect your gums to swell, and you may be unable to taste food.
Ways to Reduce Sensitivity and Enjoy Your Improved Smile
Sensitivity can be one of the most bothersome feelings a person can experience. If you want to reduce your risk and allow your dentist to closely monitor your oral habits and health, don't hesitate to reach out and ask about valuable tips you can use to take optimal care of your smile.
To minimize your chances of developing sensitivity, try:
Using a mouthwash designed to combat tooth sensitivity
Brush with a soft-bristled toothbrush twice each day
Floss at least once a day before bed
Limit the amount of sugars and starches you consume.
Stop smoking and using tobacco products
Have a customized nightguard created if you grind and clench your teeth
Continue to see your dentist every six months for regular checkups and cleanings
Now that you know what can cause your sensitivity, it's important that you not only take proper care of your smile but also see your dentist should you experience any immediate signs of pain.
About the Authors
As skilled and professional prosthodontists, Dr. Matthew Nawrocki and Dr. Richard Aguila are here to help patients receiving dental implants fully adjust to their new teeth. While sensitivity is rare, there are things you can do to minimize potential complications that might arise while wearing dental implants. If you need help to identify an underlying problem that is causing you much pain, contact us at (904) 683-4781.