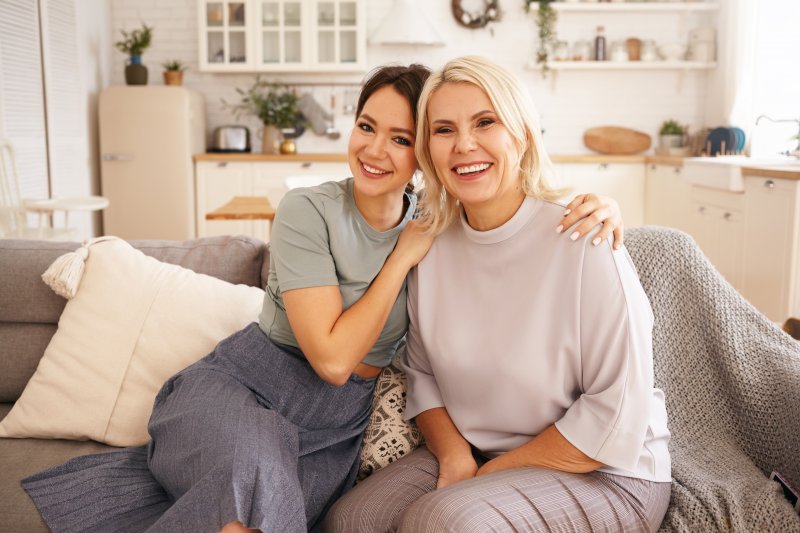 As you prepare to have your dental implants put into place, you may begin to wonder what it will feel like once they are officially part of your new smile. Unlike traditional dentures or dental bridges that offer a new and improved appearance but do not replace the actual tooth structure, implants go deep into the jawbone to provide a natural look and feel. As a result, the timeframe between placement and adjustment is small. Read on to discover what you can expect once your dental implants are firmly in place.
The Placement of a Dental Implant
A dental implant consists of a titanium (or zirconia) post, a metal abutment, and a customized restoration (i.e., crown, bridge, or denture). The implant post looks similar to a screw and is surgically placed into the jawbone. Over time, osseointegration causes the bone and implant to fuse, creating a solid foundation that mimics the natural tooth structure. As a result, the implant continuously stimulates the jawbone to prevent collapse or deterioration.
With dental implants, you can trust that your new teeth will not slip, fall out, or require frequent adjustments and replacements over time.
Expectations After Dental Implant Placement
While it is natural to experience some slight discomfort in the days following your implant placement, this should dissipate within a few weeks, as your gums heal. Some minor sensitivity is common but again, it is only temporary. During this time, you'll be advised to stick to soft foods and avoid anything hot or cold to reduce the effects.
What You Will Feel When Receiving Your New Teeth
A few of the most beneficial aspects of your dental implants that you may not expect to experience include the ability to enjoy a greater bite force and chewing power as well as increased comfort. Traditional prosthetics (i.e., dental bridges, dentures) often shift or do not feel quite as natural, which can cause much discomfort and dissatisfaction. Fortunately, with dental implants, you will enjoy greater stability, less irritation to your soft oral tissues, and greater functionality.
When eating, you can be free to eat your favorite foods without worrying your implants might slip or fall out. Dentures only sit on top of the gums, so they do not provide much security when biting into a steak. Instead, they might slip or shift, making it harder for you to eat without anyone noticing the difficulty you're experiencing.
Do not be surprised, however, if you do experience some excess saliva production and tender gums in the beginning, as your mouth will need to adjust to the new restorations where gaps once existed.
Living with dental implants means a chance to enjoy a better quality of life. Remember that any minor adjustments are only temporary and before you know it, you'll be resuming your normal daily functions with greater ease because of your new smile.
About the Authors
As skilled and professional prosthodontists, Dr. Matthew Nawrocki and Dr. Richard Aguila are here to help patients receiving dental implants fully adjust to their new teeth. While the timeline can vary from person to person, the reality is that with stronger, fully functional teeth, a person can feel more at ease eating and speaking around friends, family, and colleagues. If you want to know more about what you can expect once you receive your dental implants, contact us at (904) 683-4781.