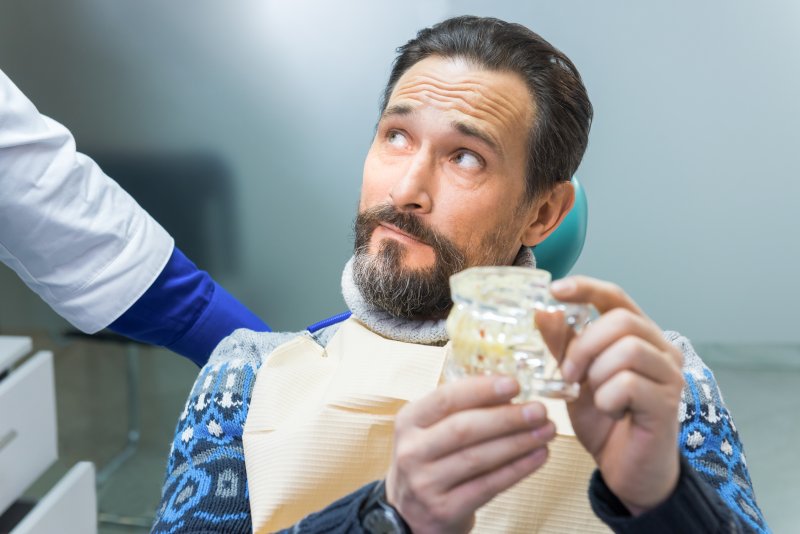 Your dental implant consultation sets the stage for your future smile. This is when digital images are taken, questions are asked, your oral and overall health is evaluated, and your concerns can be addressed. While you are certainly welcome to inquire more about your procedure at any stage of the treatment, you'll want to make sure you're prepared when meeting with your implant dentist the first time. Here are three questions to ask during your appointment to help you feel more confident in your decision to choose dental implants.
Why Is Replacing My Tooth Necessary?
Tooth loss is known to cause many oral and overall health problems. Not only will you likely experience jawbone deterioration, but you might also notice dental drift, which is the shifting of your natural teeth to try and close the gap. This can cause orthodontic problems to develop. It is also possible for your regular teeth to become loose and fall out because of bone resorption. The less stable it is, the more it will affect your existing smile.
Over time, you may experience problems with diabetes, osteoporosis, and even heart disease, all of which can occur as a result of tooth loss.
Is the Process Completed In-House or Will I Need a Referral?
Most patients prefer to have their entire dental implant placement process completed in one convenient location, by the same trusted professional. This is not always the case for some dentists. Instead, they will provide referrals to local specialists who complete the surgical part of treatment. If you want to avoid unnecessary referrals, make sure to choose a professional who offers both placement and restoration in-house. This can make it a much less daunting process while also reducing potential confusion when it comes to paying for your dental implants.
How Much Time Will I Need to Take Off Work?
Depending on how many dental implants you need to replace your missing teeth, you can expect to at least take a few days off of work. The recommendation is that you visit your implant dentist on a Thursday or Friday for your procedure, so two of those recovery days won't necessarily be counted against you as "time off." You'll need to allow your body to recover, and although full healing requires several months, the initial phase should have you back on your feet in a short amount of time. Just be mindful of overexerting yourself or engaging in too much physical, strenuous activity in the first week.
Being informed before agreeing to any dental treatment is important. Make sure you're asking the right questions, so you can be sure you're on the right path to a healthier smile.
About the Author
Are you interested in learning more about dental implants? Scheduling an initial consultation with Dr. Nawrocki will help you to better understand the process, cost, and factors that are considered to determine if you're a qualified candidate. While he may do a lot of the talking, you should be equipped with the right questions to ask along the way. If you would like to find out if dental implants are the right tooth replacement solution for you, contact us at (904) 683-4781.