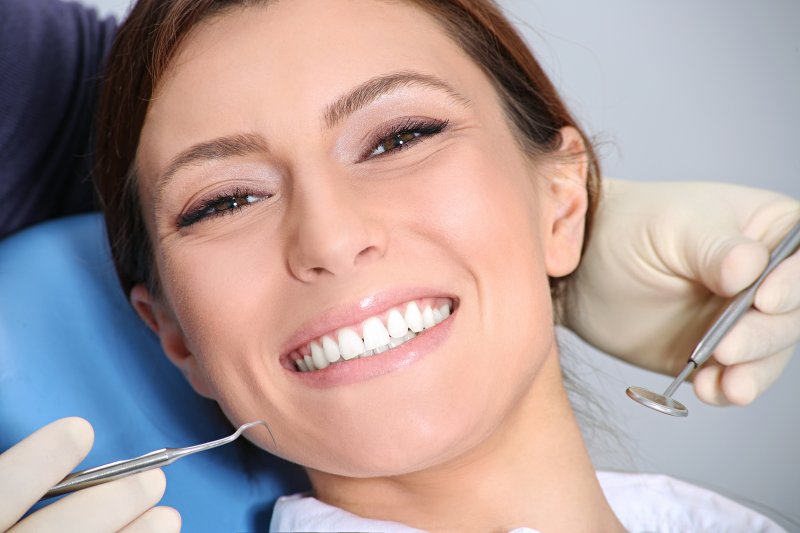 As children, it is normal to experience loose teeth and have them fall out. However, this problem is not a welcomed reality for adults, and there won't be a Tooth Fairy who will visit and leave money under your pillow. Instead, your dentist is the one you'll need to see to determine how best to save your smile. But until you get in to see them, here are 4 things you can do at home should you notice you have a loose tooth.
Don't Touch It
Although you're an adult, you may find yourself acting like a child, eager to touch the tooth to see just how loose it really is. While this is fine for a kid since their permanent tooth will erupt in its place, it's a serious no-no for adults. Why? Because it will only make the situation worse. Even if you realize the tooth will need to come out, never try to do this yourself, as it could cause an infection and increasing pain.
Clean Your Mouth Carefully
Keeping your loose tooth clean is essential to minimize the risk of serious problems (i.e., infection) but how can this happen if you can't touch it? While you may be unable to brush or floss around the tooth, you can swish with warm water. Just be sure not to do it aggressively. By rinsing your mouth, you will remove any harmful particles that might try to irritate or negatively impact your loose tooth.
Avoid Certain Foods
While waiting to see your dentist, you'll likely become hungry, especially if they cannot get you in right away. Since avoiding food is not the best idea, you can forgo chewing on the side of your mouth with the loose tooth. You can also avoid anything hard, sticky, or chewy, as these types of foods can further damage the problem area and put you at greater risk. Instead, choose soft foods and those that are not too hot or cold (i.e., mashed potatoes, warm soup).
Seek Professional Help From Your Dentist
You may not think a loose tooth is anything to worry about, but it is. Seeking the help of a professional is essential if you want to avoid worsening oral health conditions. They can also help save your tooth from possible extraction. The moment you notice a problem with a particular tooth, don't wait to call your dentist's office. Notify a member of the team right away to find out when you can get in for an appointment. Allowing an expert to examine your smile will ensure appropriate treatment is administered, so you can continue to enjoy a full, complete, and natural smile.
Taking these necessary steps at home will ensure that your loose tooth remains intact and in place until you see your dentist. With the right treatment, you can prepare to move forward with a healthier, more stable smile.
About the Author
Dealing with a loose tooth? Unsure how to manage it until you can get in to see Dr. Matthew Nawrocki or Dr. Richard Aguila? Leading the team at Jacksonville Dental Specialists, Dr. Nawrocki and Dr. Aguila are here to provide emergency services when you need them most. No matter the problem, they will offer timely treatment that ensures the health and future of your smile. Whether it is working to save the natural tooth or extract it and replace it with a superior prosthetic, they will do what is best for your smile. If you believe you have a loose tooth that needs immediate attention, contact our office at (904) 683-4781.