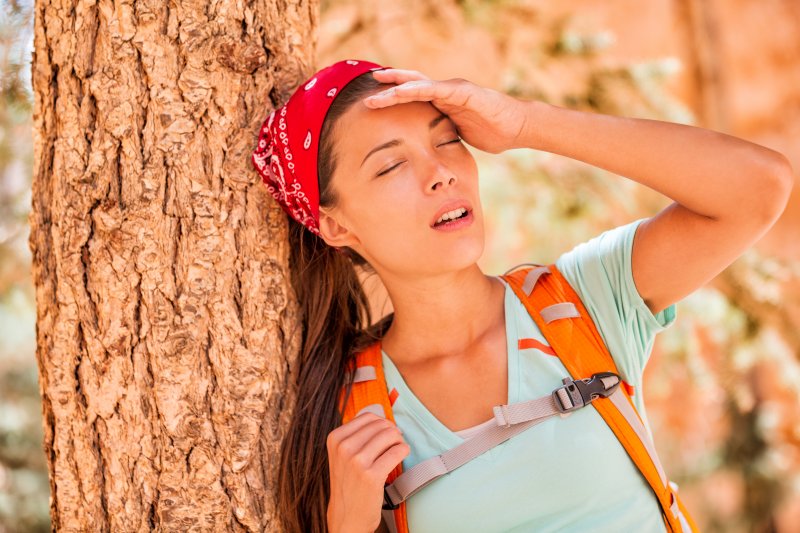 The summer months are a great time to get outside and enjoy everything nature has to offer. Whether it's biking, hiking, going for a swim, or enjoying a run along the greenway, you'll want to make sure you're paying attention to the signs of dehydration. Although you might think you're drinking plenty of fluids, you may begin to experience serious problems with your mouth, body, and brain. To prevent a sudden trip to the emergency room or dentist, read on to discover how harmful dehydration can be and what to look for while out in the summer heat.
How to Spot Dehydration
If you want to be at your best each day, you need to make sure you're drinking plenty of water. A cup of coffee may be how you want to start your morning, but if you prefer to feel energized and effective, opt for a more hydrating beverage. Of course, even if you do consume water, you may not be getting as much as you need, which is why dehydration can easily occur.
Some of the most common signs to watch for include:
Dry mouth
Bad breath
Leg or muscle cramps
Headaches
Dark urine
Increased hunger
Dizziness or feeling lightheaded
Nausea
Fatigued
The Damaging Effects of Dehydration
Should you notice that you feel dehydrated, its effects will not only impact your ability to function, but it can harm your oral health as well. Dry mouth is a common symptom, which means your salivary glands are not working at an optimal level. When your mouth is not producing saliva as it should, it cannot flush out food particles and germs that can harm your teeth and gums. Bacteria can grow and spread, making it increasingly difficult to neutralize harmful acids. As a result, tooth decay, gum disease, infections, and halitosis (bad breath) are more likely to develop.
Ways to Avoid Dehydration This Summer
To avoid the potential for dehydration, you'll need to pay close attention to how much water you're drinking. Simple solutions to consider include:
Keeping a reusable bottle nearby to use throughout the day. One will timeframes or "goals" can help you stay motivated in drinking enough water.
Herbal tea and water infused with fruits can be helpful if you prefer something with a bit of flavor, just be careful using those that are highly acidic, as these can wear away at your tooth enamel over time.
Drink extra fluids (water) when preparing to be out in the sun for extended periods. This is also true during cold months, as there is less moisture in the air.
Eat foods with high water content (i.e., fruits, vegetables).
Drink plenty of water while exercising.
Don't let the heat negatively impact you this summer. Make sure you're drinking plenty of water to keep yourself and your smile in tip-top shape.
About the Author
Dr. Matthew Nawrocki is an advocate for preventive care. Providing general checkups and cleanings as well as fluoride treatment, and oral cancer screenings, he and his team at Jacksonville Dental Specialists are here to ensure your smile remains in a healthy condition year-round. When the summer months have you spending most of your time outside, he can offer valuable tips to ensure you stay hydrated and avoid common dental diseases. If you need help to better protect your smile during this time, contact us at (904) 683-4781.