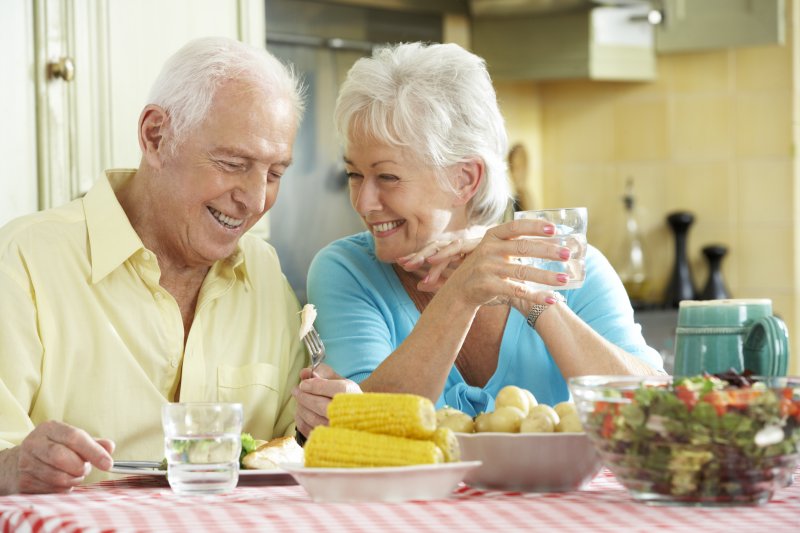 While each season has its own special meals you can't wait to enjoy, there is just something about summer foods that leaves people wanting more. From juicy steaks and kabobs to corn on the cob, beans, and sweet watermelon, you will often find most of these, if not all, at the next party you attend. But if you have dental implants, are these okay to eat? Before you begin to worry if your new teeth will keep you from enjoying all your favorite foods this summer, read on to find out which ones you're free to add to your plate.
The Benefits of Dental Implants Versus Dentures
While there are is an endless number of benefits that come with dental implants, one of the most prominent is the ability to eat with greater ease and functionality. Instead of worrying about your prosthetic slipping or falling out while trying to eat your favorite foods, dental implants are held firmly in place.
The surgical process requires placing each implant into your jawbone, creating a solid foundation for your new smile. During your recovery phase, osseointegration will allow your implants and bone tissues to fuse. As a result, you will notice a stronger bite force and greater chewing power thanks to their permanency.
Which Foods Are Okay to Eat with Dental Implants
Surely not all foods are actually okay to eat though, right? It is true there are certain foods and beverages you'll want to avoid or significantly limit because of their ability to stain and potentially damage your dental implants. But by making a few adjustments to how you eat your food, you can expect to enjoy the many great flavors of summer's must-have meals.
Some of these include:
Corn on the cob – While you can eat it on the cob, it's best if you cut it off the cob or purchase the canned variety that is ready to eat, as it is possible for the small kernels to become lodged between your implant and natural teeth.
Hot Dogs – These are a staple at any backyard BBQ, but you will want to be mindful of how often you're eating them. Because of their high saturated fat content, hot dogs can raise your risk for gum disease and inflammation. If left untreated, it can cause bone loss, which will hinder the lifespan of your dental implants.
Veggie Kabobs – Eating vegetables is a great way to swap out processed snacks for healthy alternatives. Plus, grilling your favorites like zucchini or squash on the grill will make them taste great while also being easier to eat.
Fruit – Along with vegetables, fruit is a sweet and delicious treat that can take the place of cakes, pies, and cookies this summer. Whether it's watermelon, raspberries, strawberries, or blueberries, make your table truly colorful with these beautiful fruits.
Enjoying many of these great foods can be your reality this summer! By being mindful and smart about how you consume certain items, you don't have to give up your favorite foods once your dental implants are placed.
About the Author
Ready for summer and the chance to embrace a better quality of life? Dr. Matthew Nawrocki and Dr. Aguila lead a team of experts at Jacksonville Dental Specialists who can help you navigate the dos and don'ts of dental implants. If you want to replace your missing teeth with these permanent prosthetics and ensure the lifespan of your smile, contact us at (904) 683-4781 to get started today.