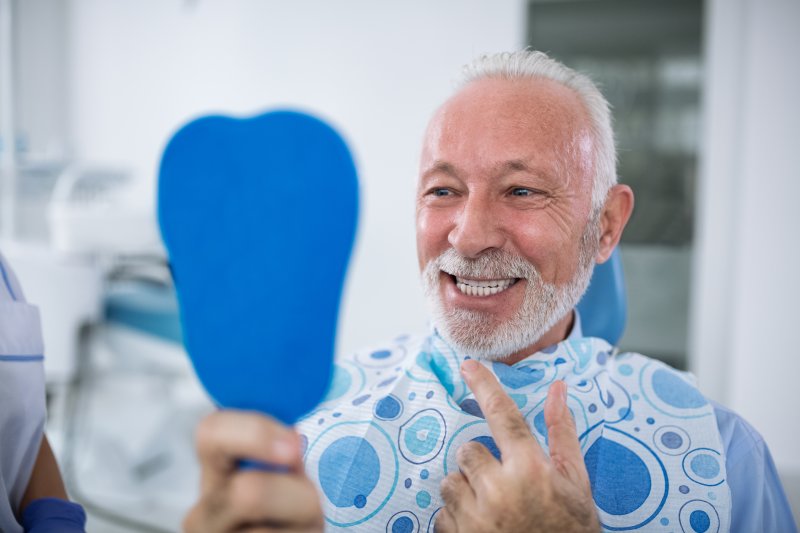 As you contemplate how to replace your missing teeth, you will likely discover in your research that dental implants have an extremely high success rate of around 98% when initially put into place. After 10 years, this percentage remains roughly 90-95%. When compared to other, more traditional tooth replacement options, you may be asking, "What is the secret?" To better understand dental implant success, a local periodontist explains the various factors that make these unique prosthetics work so well.
Dental Implants Replicate the Natural Tooth Structure
Dentures and fixed bridges only replicate the look of your smile; however, dental implants mimic the natural tooth structure. This means that everything from the root to the crown is reproduced in the form of a dental prosthetic (implant). The reason this is important is that, unlike traditional tooth replacements, implants continuously stimulate your jawbone, allowing for greater strength and durability as well as the ability to prevent changes to your facial shape over time.
Dental Implants Improve Oral Health
With dental implants, you will notice an improvement in your ability to maintain good oral health. Far too often, individuals with dentures or fixed bridges struggle with bad bacteria finding their way underneath the prosthetic and causing decay or gum disease to develop. However, brushing and flossing remain the same when wearing dental implants. They not only look like natural teeth, but they function the same as well, allowing for you to easily care for your oral health using the same dental instruments (i.e., soft-bristled toothbrush, dental floss, mouthwash). Although implants cannot decay, it's important that you maintain optimal oral hygiene to prevent infections that can be detrimental to your prosthetic(s).
Dental Implants Use Advanced Technology
During the planning phase of treatment, your periodontist will incorporate the use of a CT Cone Beam Scanner. This not only provides a more well-rounded, in-depth look at your oral and facial structures, but it helps to form a clear view of how and where your implants will need to be placed. It also allows for your dental professional to anticipate challenges early on and find solutions to mitigate these issues during the surgical placement of your implants.
Dental Implants Are Put Into Place By a Skilled Professional
An important key factor in successful implant placement is finding a qualified professional to perform the surgery. While some dentists refer patients to oral surgeons, others provide start-to-finish treatment in-house. No matter the decision, it's best to identify an individual who has the training, experience, and ability to successfully place dental implants. This level of expertise will ensure your procedure is completed correctly, and you will be able to move forward with receiving your custom restoration and enjoying a healthier, longer-lasting smile.
While other tooth replacement solutions are available to help you see a new and improved smile, only dental implants will give you the complete functionality and improved appearance you deserve.
About the Author
Looking to replace one or all your missing teeth? You'll be pleased to know that Dr. Matthew Nawrocki and the team at Jacksonville Dental Specialists are here to help you navigate the process from start to finish. Offering expert advice and using only the best, most advanced dental technology, he and his team will craft a smile that you can be proud to show off to family, friends, and colleagues. Using dental implants to mimic your natural tooth structures, you'll enjoy greater oral function, improved confidence, and a more youthful appearance in the years to come. To learn more about these superior prosthetics or to find out if you are a candidate for treatment, contact us at (904) 683-4781.