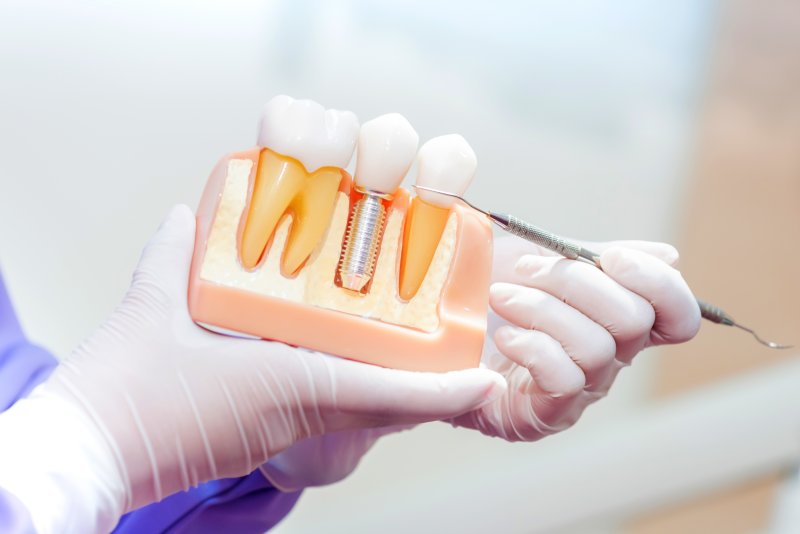 If you've decided it is time to replace your missing teeth, congratulations are in order. Although there are many tooth replacement options available, there's only one that can offer far more benefits than any other – dental implants. Considered the gold standard by dental professionals, their functionality, longevity, and appearance rank them high above dentures and fixed bridges. But before you embark on your journey to a fully restored smile, it's important that you understand the basics of dental implants. Read on to learn what they are, how they work, and what you can expect from these permanent, longer-lasting prosthetics.
What are Dental Implants?
Dental implants are titanium posts that are surgically placed into your jawbone and support a custom-made restoration (i.e., dental crown, bridge, denture). Designed as an alternative to traditional dentures and fixed bridges, they mimic the natural tooth structure and fuse with your bone and surrounding tissues to create a solid and firm foundation for your new smile.
How are They Placed?
Using advanced dental technology to map your oral and facial structures, a dentist will determine the density of your jawbone and formulate a treatment plan that designates how many implants you will need to replace your missing teeth. After administering local anesthesia to numb the areas of your mouth, an oral surgeon will make small incisions in your gums to expose the bone. Carefully, they will place each implant into its designated spot before closing the gum tissue and sending you home to recover for 3-6 months. Osseointegration will occur that requires the bone, implant, and tissue to fuse. Once you are fully healed, you'll return to have your metal abutments attached that will connect the implant to your restoration before your final crown, bridge, or denture is secured into place.
Will Insurance Cover Them?
Most dental insurance companies do not offer coverage for implant placement; however, it may be possible to have other aspects of your treatment paid for (i.e., restoration, consultation, preliminary treatments like bone grafting or tooth extraction). You might also check with your health insurance to find out if they will cover any portion of the total cost. If not, you can check with your dentist about flexible financing through CareCredit or LendingClub.
What are the Benefits?
During your initial consultation with your dentist, you will likely learn more about the unique benefits that come with dental implants. As you compare them to traditional tooth replacement options like dentures or fixed bridges, you will understand why they are considered far superior, especially since:
They have a 90-95% success rate after 10 years
They are capable of improving your oral health by stimulating your jawbone and preventing changes in your facial shape
They increase your bite force and chewing power, allowing you to eat the foods you love
They will cost less in the long run because you will not need frequent repairs and replacements, dental adhesives, or additional cleaning supplies
You'll enjoy a greater quality of life because your smile will be fully restored
Now that you have the low-down on dental implants 101, why wait any longer to replace your missing teeth?
About the Author
Dr. Matthew Nawrocki earned his Bachelor of Science degree in chemistry from the University of Florida. From there, he went on to attend the University of Florida College of Dentistry, earning a Doctor of Dental Medicine degree. As a dental professional with Jacksonville Dental Specialists, Dr. Nawrocki and his team understand that the longer you wait to replace a missing tooth, the greater the chances for future dental problems. By entrusting your smile to Dr. Nawrocki, you can rest easy knowing you'll receive an improved, more beautiful smile. To learn more, contact us at (904) 683-4781.