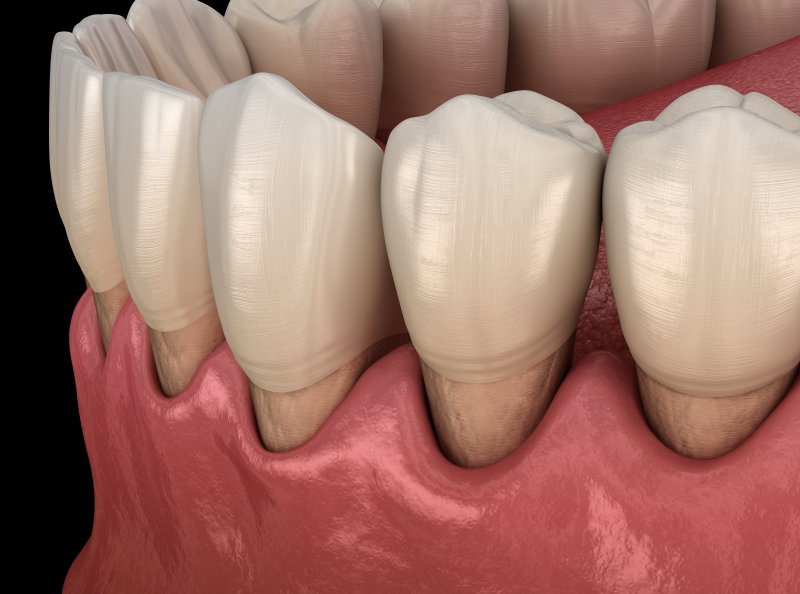 Receding gums can be an unfortunate reality for individuals living with gum disease. It can also occur for many other reasons, but no matter why it happens, the ultimate question remains, "Can gums grow back?" Before you give up hope, a local periodontist sheds light on the topic, explaining why this common problem occurs and what you can do to take back your smile.
Why Do Gums Recede?
To better understand what you can do to remedy a receding gum line, it's important that you first recognize why it happens in the first place. No one wants to wake up in the morning to see their soft tissues pulling further back and creating an unpleasant appearance, so what causes it to occur? The answers can range from hard or excessive brushing, age, and poor lifestyle habits (i.e., smoking, chewing ice, using teeth as tools) to gum disease, facial trauma, a poorly aligned bite, or teeth grinding.
Will Receding Gums Ever Look Normal Again?
Unfortunately, no, receding gums can never grow back, but they can be treated with the help of a professional. When the tooth structure is exposed for any reason, it puts you at greater risk for sensitivity, damage, and decay.
A periodontist who is skilled at treating gum disease and performing oral surgery that centers around repairing soft oral tissues may suggest a gum graft to hide vulnerable areas of your teeth and ensure a more pleasing appearance. By carefully removing a small amount of tissue from the roof of your mouth, they can attach it to the existing (although receding) gingiva, effectively covering the root of your tooth and
How to Avoid Gum Recession
If you want to keep your gums firmly in place and prevent the possibility of exposed tooth roots, you'll want to keep these helpful tips in mind:
Use a soft-bristled toothbrush and be gentle while cleaning your teeth. You do not need to aggressively brush. Otherwise, your gums will begin to recede over time.
Do not push down on your gums when flossing. Instead, gently move it back and forth to effectively remove bacteria from in-between your teeth.
Use an antimicrobial mouthwash to rinse your teeth and gums of any bacteria or food particles that can cause decay and gum disease.
Avoid using your teeth to open packages or containers.
Do not chew on ice or inanimate objects like pens or pencils.
While gum recession is irreversible, not all hope is lost. Finding a skilled periodontist who can provide the right method of treatment will help you regain improved oral health and a more pleasing appearance.
About the Author
Dr. Richard Aguila earned his bachelor's degree in Chemistry, graduating Summa Cum Laude, as well as his Doctor of Dental Surgery degree from West Virginia University. He then went on to attend the Naval Medical Center San Diego to complete a hospital-based General Practice Residency. Dr. Aguila also possesses a master's degree in health sciences and a certificate in periodontics. At Jacksonville Dental Specialists, he and Dr. Matthew Nawrocki understand the difficulties gum disease can pose to your oral and overall health, which is why we offer periodontal therapy and oral surgery solutions to help you take back your gums. Find out how we can help you by contacting us at (904) 683-4781.