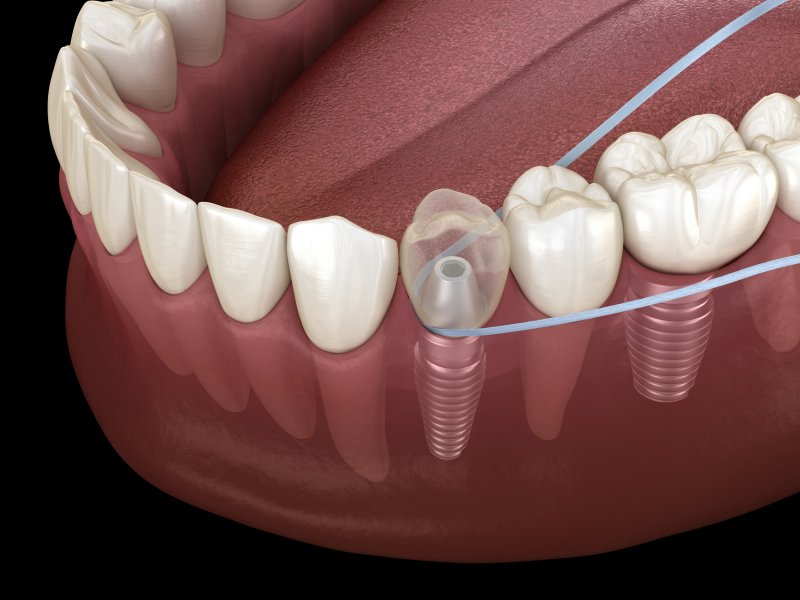 Do you know how to properly maintain your dental implants? If you think brushing and regular trips to the dentist is all you need to do, guess again. Flossing dental implants is a crucial step to preventing tooth decay and gum disease from developing around your restoration. It can keep bacteria away and help your worthwhile investment last even longer. Read on to find out how to perform this task the correct way and keep your real and artificial teeth looking their best.
Why It's Necessary to Floss Dental Implants
Although dental implants cannot decay, your gum tissue is still susceptible to harmful bacteria, which can attack this area around your natural and artificial teeth and your bone. Should bad bacteria spread beneath the gum line, it can weaken your jawbone, resulting in your implants becoming loose over time. There is no doubt that brushing is an extremely important part of maintaining good oral hygiene while wearing these restorations; however, flossing is equally as crucial because of its ability to move throughout areas of your mouth a toothbrush cannot reach.
Ways to Floss Safely and Effectively
During your regular visits with your dentist, do not be surprised if they provide helpful tips to ensure you know how to floss around your implants correctly. Knowing how to do this the right way will not only ensure you remove harmful bacteria and food particles, but it will help you to avoid damaging your gum tissue as well.
Unlike flossing regular, natural teeth, moving dental floss around your implants can be a bit trickier. One way to perform this task is to use a floss threader. If you have an implant bridge or denture, you can move the device underneath your restoration and carefully pull the floss through to the tongue side of your mouth. Gently moving it up and down the implant, you will pull the floss out from underneath the restoration and continue the process until you've successfully cleaned each implant.
You might also try using a water irrigator (i.e., Waterpik) that uses pulsating water to push into the crevices and smaller areas of your teeth and gums and eliminate hardened plaque or food particles.
No matter how you choose to floss around your dental implants, it is important to remember that you must never push it down into the gum pocket. Why? Because it can break the seal that is designed to help the gums attach to the implant. Should this happen, you expose your gums and bone to the potential for bacteria to enter the area and cause implant failure.
Although it may take some time to learn how to best perform this necessary task, make sure to floss regularly and keep your worthwhile investment fully intact for a lifetime.
About the Author
Dr. Matthew Nawrocki earned his Bachelor of Science degree in chemistry from the University of Florida. From there, he went on to attend the University of Florida College of Dentistry, earning a Doctor of Dental Medicine degree. As a dental professional with Jacksonville Dental Specialists, Dr. Nawrocki and his team understand that the longer you wait to replace a missing tooth, the greater the changes for future dental problems. By entrusting your smile to Dr. Nawrocki, you can rest easy knowing you'll receive an improved, more beautiful smile. To learn more, contact us at (904) 683-4781.