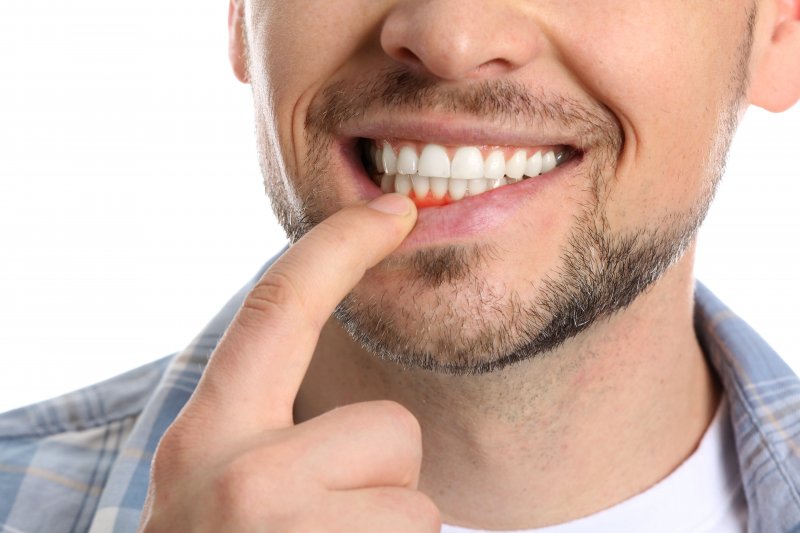 Gum disease is a real problem, and millions of Americans suffer from some form of it without even realizing it. When these soft oral tissues become red, tender, swollen, and begin to bleed, time is of the essence to reverse the symptoms and get your oral health back on track. While brushing and flossing are tried and true solutions to maintaining good dental hygiene, you can also find benefits in various vitamins and minerals. Read on to learn which nutrients your body needs to stay healthy and lower your risk for periodontal disease.
How Gum Disease Can Negatively Impact Your Health
Learning you have gum disease can be an unfortunate realization; however, if you are in the early stages, you have the opportunity to reverse your symptoms and improve your oral health. Practicing good oral habits at home, regularly seeing your dentist for checkups and cleanings, and minimizing the amount of sugar and starch you consume are just a few of the many ways you can improve your gum health.
But if you choose to leave it untreated, you could be faced with the potential for bone and tooth loss as well as numerous health-related conditions such as diabetes, Alzheimer's, dementia, cardiovascular disease, respiratory illness, and more.
Which Vitamins and Minerals Can Positively Improve Your Health and Wellbeing?
To reduce the risk of developing gum disease and, in turn, avoid a decline in your overall health, there are many vitamins and minerals you can take that are proven safe and effective.
These include:
Calcium – Not only will it strengthen tooth enamel, but it will also increase the density of your jawbone, creating a stronger foundation for your teeth and making it harder for bacteria to negatively impact this area of your mouth. Try incorporating milk, cheese, yogurt, salmon, or broccoli into your diet.
Vitamin D – Vitamin D works in alignment with calcium, making it easier for the body to absorb as well as increase bone density. You can find Vitamin D in fatty fish, portobello mushrooms, milk, orange juice, and even cereal. You might also venture into the sunlight for added exposure.
Potassium – In connection with magnesium, this vitamin keeps your blood from becoming highly acidic and absorbing calcium from your bones and enamel. It can also work to increase bone density. You can find potassium in potatoes, avocadoes, bananas, and tomatoes.
Phosphorus – Taking ample amounts of phosphorus and calcium will work to build strong teeth and bones and can be found in many seafood dishes as well as soybeans, pumpkin seeds, pork, cheese, and beef.
Vitamin K – Inadequate amounts of Vitamin K can weaken the immune system, making you more susceptible to infection (i.e., gum disease), so eating plenty of kale, leafy greens, broccoli, and Brussel sprouts will help to strengthen the bone and block harmful substances that are present and known to break down bone.
Vitamin C – The most pivotal vitamin for healthier gums is Vitamin C, as it is specifically designed to better protect these soft tissues against gum disease. It can strengthen the gums and keep teeth firmly in place. It is recommended you consume citrus fruits, potatoes, and leafy greens.
Vitamin A – If you want to avoid dry mouth and the potential for bacteria to build and cause gum disease, make sure you are eating leafy greens, orange juice, apricots, carrots, sweet potatoes, fish, and egg yolks.
Incorporating these healthy vitamins and minerals will further protect your smile and overall health from the debilitating effects caused by oral infection. Instead of seeking advanced treatment for gum disease, you can continue enjoying a healthier smile and body for a lifetime.
About the Author
Dr. Richard Aguila earned his bachelor's degree in Chemistry, graduating Summa Cum Laude, as well as his Doctor of Dental Surgery degree from West Virginia University. He then went on to attend the Naval Medical Center San Diego to complete a hospital-based General Practice Residency. Dr. Aguila also possesses a master's degree in health sciences and a certificate in periodontics. At Jacksonville Dental Specialists, he and Dr. Matthew Nawrocki understand the difficulties gum disease can pose to your oral and overall health, which is why we offer periodontal therapy to improve your oral tissue and reduce the likeliness for additional health problems. Find out how we can help you regain control of your oral health by contacting us at (904) 683-4781.