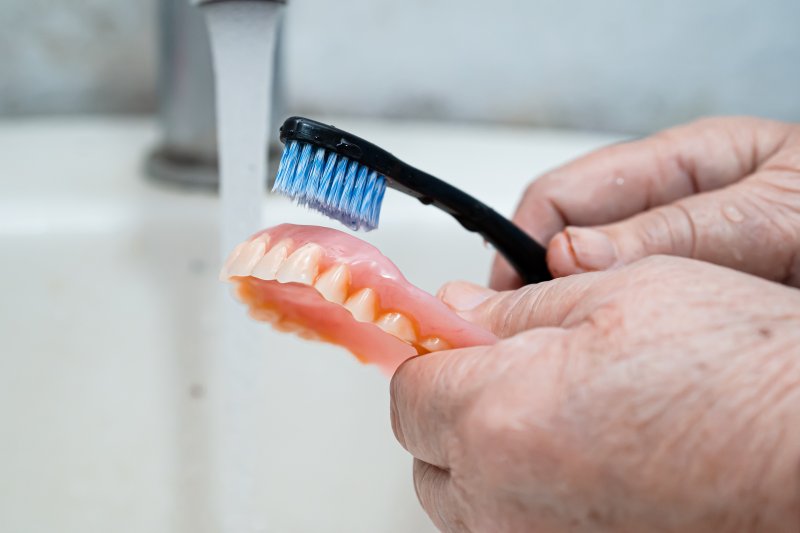 Cleaning dentures doesn't have to be hard. In fact, you might assume it's okay to simply keep them in your mouth and brush normally. While this technique isn't entirely wrong, it doesn't prove to be as beneficial as you might think. Food particles and bacteria can make their way into the smallest areas of your prosthetic, leaving you vulnerable to common dental diseases if you're not careful. To understand why it's better to remove your dentures before beginning the cleaning process, let a dentist in Jacksonville explain.
Can I Leave My Dentures in My Mouth to Brush Them?
While you are certainly welcome to keep your dentures in while brushing them, the reality is that you will still need to remove them to effectively clean all areas. For most denture-wearers, it's far easier to simply take them out from the start.
Throughout the day, your prosthetics can trap all types of bacteria and food debris, all of which can wreak havoc if left in place too long. By removing your dentures and thoroughly cleaning them twice a day, you can eliminate any harmful particles that may be living on the acrylic base or the artificial teeth. This will ensure your restoration remains healthy and stays in optimal shape for years to come.
Although the process might seem tedious, it is necessary if you want your dentures to last as long as possible. Should they feel as if they are no longer fitting correctly, or if your gums become sore when wearing your dentures, make sure to speak with a member of your dental team about a possible relining.
Effective Ways to Keep Dentures Clean
When removing your dentures to clean them, you will need to follow these simple steps:
Place a towel in the basin of your sink to prevent damage to your dentures should you accidentally drop them while cleaning.
Use a soft-bristled toothbrush to clear away debris and bacteria.
Make sure to avoid using toothpaste on your dentures, as this can scratch them. However, you can (and should) use fluoride toothpaste on your regular teeth to protect the tooth enamel and protect against decay.
You'll also need to brush your tongue, gums, and the roof of your mouth to help your oral cavity to stay clean in preparation for wearing your dentures.
Don't be afraid to use a denture cleaning paste to clean your dentures more thoroughly.
Allow them to soak in a glass of water or in denture cleaner overnight to ensure they stay moist.
Although it is possible to go ahead and brush your teeth while they remain in your mouth, you might consider saving yourself some time and just taking them out before you begin.
About the Author
Dr. Matthew Nawrocki earned his Bachelor of Science degree in chemistry from the University of Florida. From there, he went on to attend the University of Florida College of Dentistry, earning a Doctor of Dental Medicine degree. Dr. Nawrocki and his team at Jacksonville Dental Specialists want to make sure you know how to properly care for your tooth replacement restorations. When equipped with dentures, we will provide you with the necessary tips and techniques to keep your new smile looking and feeling its best for as long as possible. If you would like to learn more about what you can do to keep your dentures clean, contact us at (904) 683-4781.