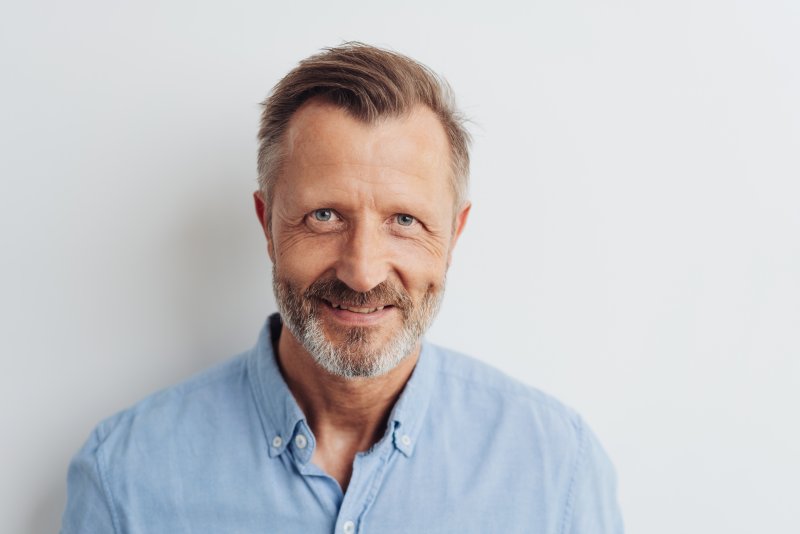 When patients arrive at Jacksonville Dental Specialists, they're looking for a skilled professional who can rebuild and restore their smile. In Tom's case, he needed help to repair years of damage and decay. Offering comprehensive services, each designed to address problem areas of his smile, Dr. Matthew Nawrocki, Dr. Richard Aguila, and their team worked together to improve Tom's oral health and appearance, giving him a new lease on life. Read more about Tom's story and how Jacksonville Dental Specialists changed his life.
Tom's Story
Tom knew his dental health was negatively impacting him and his family. With teeth breaking off at the gum line or falling out while brushing, he became more and more devastated by what had become of his smile.
Although his wife carried around mints to help him mask his bad breath, it was an instance with his four-year-old granddaughter that caused him to truly re-evaluate his oral health, saying, "We were talking, and she said, 'Papa, your breath smells.'" Knowing at that time he needed to "get something done," he contacted Jacksonville Dental Specialists.
During his meeting with Dr. Nawrocki and the team, they established a plan and discussed how they planned to help Tom achieve a new and improved smile as well as the timeframe in which they would do it. Once the work began, he would receive calls from individuals at the office asking how he was doing and if he was okay.
Thanks to Jacksonville Dental Specialists, he is now able to eat all the foods he enjoys, is gaining weight, and has more confidence than ever before.
Why Choose Jacksonville Dental Specialists?
Knowing when to ask for help is the first step toward achieving the smile of your dreams. When arriving at Jacksonville Dental Specialists, you never need to worry about feeling judged, as our professionals are here to ensure your teeth, gums, and oral health are in the best possible condition.
If you want to know why you should choose Dr. Nawrocki, Dr. Aguila, and their team of experts, here are just a few reasons:
Dr. Nawrocki is a board-certified prosthodontist who specializes in complex dental cases that require tooth replacement, oral surgery, and advanced cosmetic solutions.
Dr. Aguila is a board-certified periodontist who can treat minor and advanced cases of gum disease as well as perform dental implant surgery in-house.
They offer comprehensive services in a state-of-the-art facility ranging from preventive and restorative care to cosmetic, sedation, emergency, and periodontal treatment. They also provide sleep apnea therapy.
They use the latest, most advanced dental technology to ensure greater accuracy and precision as well as improve patient experience and reduce recovery times.
You can trust that your treatment will be personalized based on your individual needs. Much like Tom, you can achieve a better quality of life by entrusting your smile with Dr. Nawrocki, Dr. Aguila, and the team at Jacksonville Dental Specialists.
About the Author
Dr. Matthew Nawrocki earned his Bachelor of Science degree in chemistry from the University of Florida. From there, he went on to attend the University of Florida College of Dentistry, earning a Doctor of Dental Medicine degree. As a dental professional with Jacksonville Dental Specialists, Dr. Nawrocki and his team want you to feel confident in your appearance. When bad breath or missing or broken teeth keep you from enjoying life, let us help formulate a plan to improve your oral health and appearance. To find out how we can help you take back control of your smile, contact us at (904) 683-4781.