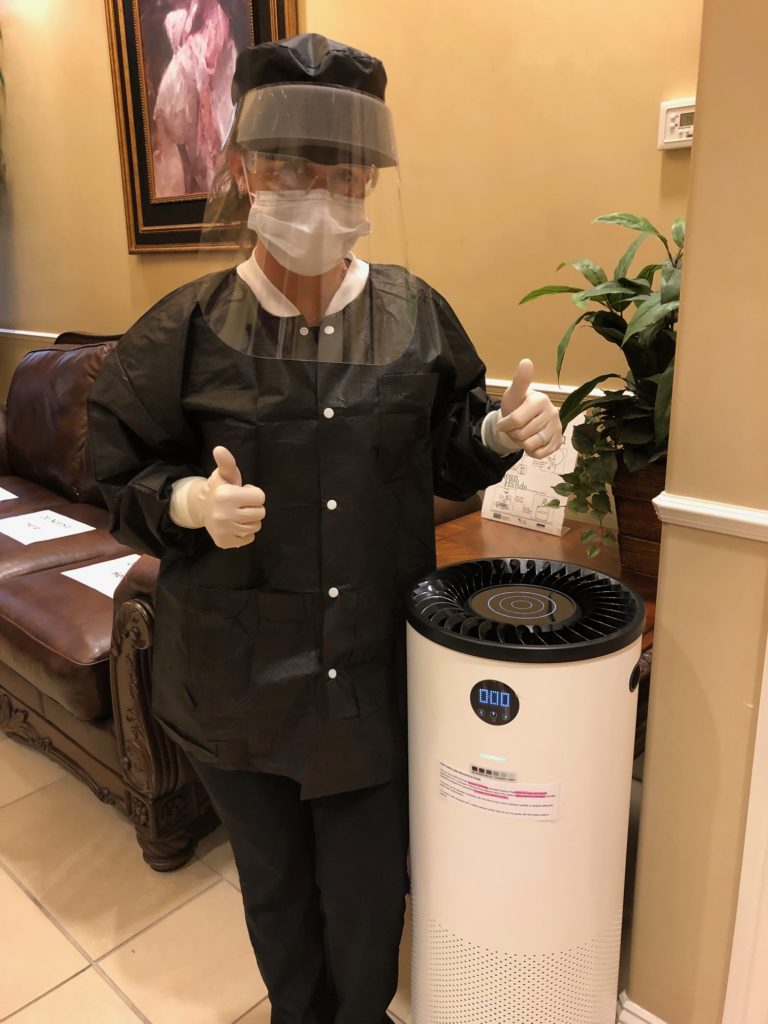 If you've yet to visit your dentist in Jacksonville since the start of the COVID-19 outbreak, you may be wondering what steps are being taken to protect you during your visit. Dental professionals throughout the United States are currently following recommendations provided by the Centers for Disease Control and Prevention (CDC), the Occupational Safety and Hazard Administration (OSHA), and the American Dental Association (ADA) as it pertains to improving health and safety standards for patients and staff. One of the most prevalent is the use of air purifiers in treatment rooms and lobbies. But how are these pieces of equipment making a difference? Read on to find out.
The Benefit of Air Purifiers
In light of the recent COVID-19 outbreak, your next dental visit will likely look a bit different. Not only can you expect to see your dentist and team members wearing personal protective equipment (PPE), but you may also notice newer instruments and devices throughout the office that are designed to better protect patients and staff.
Because aerosols are a concern in dental offices, these tiny particles can be easily dispersed into the air when instruments are used during a typical treatment. A face mask, face shield, and protective eyewear may protect staff from the possibility of harmful bacteria and viruses entering their eyes, nose, or mouth, but these airborne particles can remain present for hours or even days, effectively contaminating the air.
This is why you will see Jade Air Purifiers in each room throughout your dental office. These devices remove harmful air particles and absorb any odors or gases that may be present. They are also capable of killing airborne pathogens that can cause illness while refreshing and purifying the air for a cleaner environment.
But air purifiers aren't the only added pieces of equipment you'll see.
Additional Ways Your Dentist is Keeping You Safe
When seeing your dentist for a regular dental checkup and cleaning, you may have been instructed in the past to close your mouth around a device that sucks up saliva and other bodily fluids. Now, because of the continued threat of COVID-19, your dentist is using what is known as ReLeaf, which is a dental suction that assists in evacuating, retracting, and maintaining a dry area for team members to clean your mouth effectively and safely.
Not only does is it soft to the touch and comfortable for placement within your mouth, but it reduces aerosols within the mouth, minimizing the number of particles entering into the air.
Also, your dentist is using what is known as a Chairside ADS EVAC System. This specialized device reduces droplets and aerosol spray, which commonly occurs during treatment. It captures harmful pathogens, dust, and droplets through a suction mouthpiece before being passed through a HEPA filter, in which UVC lights kill the remaining bacteria and viruses. Clean air is then disbursed from the base cabinet, providing everyone with cleaner, fresher air.
Now that you know what your dentist in Jacksonville is doing to better protect you, don't wait any longer to schedule your next appointment. With these additional measures in place, you can feel confident knowing your health and safety are in good hands.
About the Author
Dr. Matthew Nawrocki and the rest of the team at Jacksonville Dental Specialists want you to feel safe and comfortable when visiting our office. With the recent events surrounding COVID-19, we understand you may be hesitant to seek dental care at this time; however, we are taking every precaution and adhering to the many protocols set forth by the CDC to keep everyone safe. If you would like to know more about what we're doing to keep you healthy and free of harmful bacteria and viruses, please don't hesitate to contact us at (904) 683-4781.