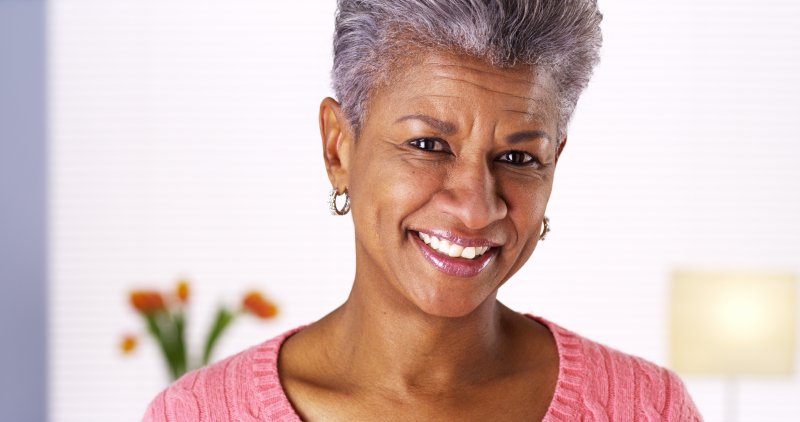 When it comes to transforming a person's smile, Dr. Matthew Nawrocki and Dr. Richard Aguila know what it takes. Whether it is solely based on improving aesthetics with cosmetic dentistry or in Charlaine's situation, replacing gaps in her smile, their ability to listen, offer a viable and affordable solution, and provide life-changing results are why she now feels beautiful and confident in her appearance. Read on to hear more of her story and learn why you should choose a dentist in Jacksonville to care for all your dental needs.
Charlaine's Story
When Charlaine reached out to Dr. Nawrocki and his team at Jacksonville Dental Specialists for help, she was working as a teacher. Worried that her students would focus more on her appearance and incomplete smile than the information she was providing in class, she knew she needed to do something to replace her missing teeth.
With multiple gaps in her smile, she began to not only worry about her aesthetics but also her overall health. Choosing to make an appointment, she spoke with the team at Jacksonville Dental Specialists and expressed her concerns. Thinking back on the time and money she spent undergoing various procedures and receiving different treatments to feel good about her appearance, she discovered that opting for any other form of treatment aside from dental implants would only result in needing additional work in the coming years.
After hearing more about the process and entrusting her smile to Dr. Nawrocki and Dr. Aguila, she experienced no complications from her dental implant placement and now enjoys a healthier, happier smile as a result.
Why Choose Jacksonville Dental Specialists?
It's more than just replacing your missing teeth. It's about finding the right professional who has the knowledge, background, training, and expertise to restore your smile in its entirety and give you life-changing results. Your smile says a lot about you, and if you want to keep making a good first impression and avoid the embarrassment that can come with an incomplete smile, you'll consider the benefits of choosing Jacksonville Dental Specialists.
Here are just a few reasons they are the best when it comes to dental implant placement:
You're never viewed as a number or just "another patient." Instead, their team will sit down and listen to your concerns, address your questions, and formulate a personalized treatment plan based solely on your needs.
Their in-house periodontist, Dr. Aguila, has specialty training in implant placement as well as an extensive educational background (i.e. a master's degree in health sciences and a certificate in periodontics).
Jacksonville Dental Specialists is a Hybridge-certified provider. This ensures that they follow a certain system when it comes to treating and replacing missing teeth. They also work with labs that use Hybridge systems to create the highest quality restorations.
You'll never have to leave or be referred to an outside specialist because Dr. Nawrocki and Dr. Aguila can perform the consultation, placement, and restoration in-house.
Dr. Nawrocki has a master's degree in dental science as well as a specialist certificate in prosthodontics.
They use only the most advanced implant brands (i.e. Noble Biocare and Straumann)
About the Author
Dr. Matthew Nawrocki earned his Bachelor of Science degree in chemistry from the University of Florida. From there, he went on to attend the University of Florida College of Dentistry, earning a Doctor of Dental Medicine degree. As a dental professional with Jacksonville Dental Specialists, Dr. Nawrocki and his team understand that the longer you wait to replace a missing tooth, the greater the chances for future dental problems. By entrusting your smile to Dr. Nawrocki, you can rest easy knowing you'll receive an improved, more beautiful smile. To learn more, contact us at (904) 683-4781.