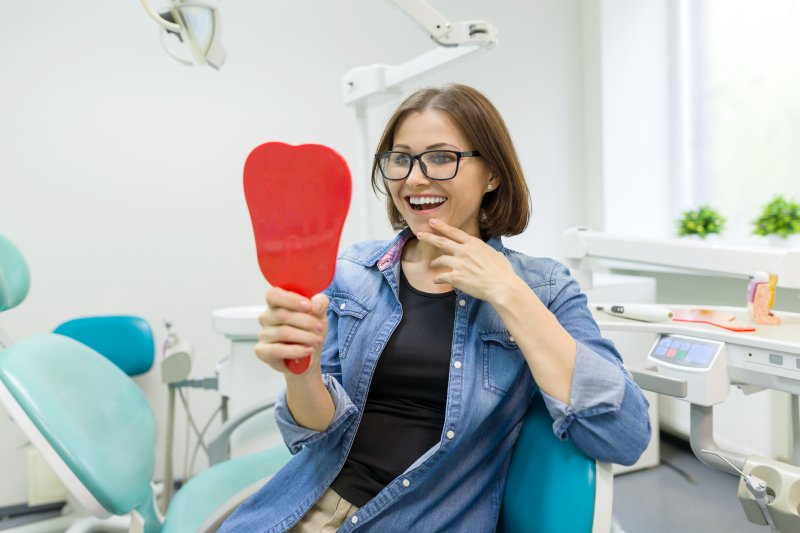 At Jacksonville Dental Specialists, licensed dentist Dr. Matthew Nawrocki and his team work hard to give patients beautiful, longer-lasting results. When it comes to missing teeth and whether dental implants are a beneficial solution, no one can offer better insight than a satisfied patient. If you are weighing your options and leaning more toward this permanent solution, hear from Linda, a patient of Dr. Nawrocki's. Listen to her story and why she recommends their dental office for dental implant placement.
Linda's Story
As a woman whose missing teeth made her feel depressed, unattractive, and ashamed, Linda experienced the emotional, physical, and even psychological effects caused as a result of an incomplete smile. Embarrassed to make eye contact with those at the grocery store, she knew she needed to do something to not only improve her aesthetics but also her oral health.
After visiting and seeking treatment from other dental professionals, she was dissatisfied with their methods of treatment and large amounts of money spent to fix a problem that never seemed to produce the results she desired.
It wasn't until she found Jacksonville Dental Specialists that she began to feel hope for the potential of a fully restored smile. She desperately wanted her teeth back, so when discussing her options with Dr. Nawrocki and his team, they discussed the entire process in a way that was easy for her to understand and made the possibility of a complete smile seem within reach.
Now that she has regained full functionality with her new restorations, she is always finding a reason to smile. In fact, when asked by others if she did anything, she's ecstatic to say, "Yes," and is eager to recommend Jacksonville Dental Specialists to anyone in need of replacing missing teeth.
Why Choose Jacksonville Dental Specialists for Dental Implants?
Dr. Nawrocki and his team understand you can choose anyone to help you achieve a fully restored smile; however, there are many reasons why it's best to choose their professionals for this type of restorative dentistry, including:
They are a Hybridge certified provider, which means they must follow a specialized system to treat and replace an entire of teeth. They work closely with dental labs who use the Hybridge system to create high-quality dental restorations that are secured to implants that are surgically and strategically placed along a patient's jawbone.
The entire dental implant placement process is completed in-house, offering patients start-to-finish convenience when replacing their missing teeth.
Only the most top-tier dental implant brands are available, some of which include Noble Biocare and Straumann.
Dr. Matthew Nawrocki has a specialist certificate in prosthodontics and a master's degree in dental science and Doctor of Dental Medicine degree, and he completed a one-year fellowship in prosthodontics at the University of Florida.
Dr. Richard Aguila is the in-house periodontist who has specialty training in the placement of dental implants and obtained a certificate in periodontics and a master's degree in health sciences at the Medical University of South Carolina.
Choosing Jacksonville Dental Specialists for dental implant placement will give you the kind of results you want. Who knows, maybe their next success story could be you, so what are you waiting for? Find out how you can get started on your new smile today!
About the Author
Dr. Matthew Nawrocki earned his Bachelor of Science degree in chemistry from the University of Florida. From there, he went on to attend the University of Florida College of Dentistry, earning a Doctor of Dental Medicine degree. As a dental professional with Jacksonville Dental Specialists, Dr. Nawrocki and his team understand that the longer you wait to replace a missing tooth, the greater the chances for future dental problems. By entrusting your smile to Dr. Nawrocki, you can rest easy knowing you'll receive an improved, more beautiful smile. To learn more, contact us at (904) 683-4781.