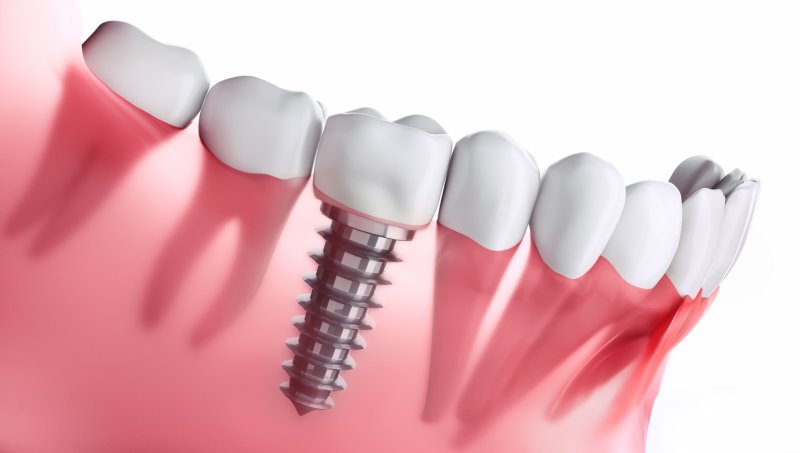 Dental implants are known to be one of the most versatile tooth replacement solutions available on the market. For decades, researchers and dental professionals have determined patients with missing teeth can receive multiple implants if necessary. This superior and truly unique restorative method of treatment can not only improve the health of a person's smile, but it can also offer patients a chance to enhance their aesthetics without altering any nearby, healthy teeth. Let's spend a few minutes reviewing the versatility of dental implants and what options are available should you be faced with tooth loss.
Why You Need Dental Implants
Missing teeth can cause various problems to develop, such as shifting teeth, bone resorption, changes in facial appearance, and an even higher risk of gum disease. When it comes to avoiding these potentially negative effects, choosing dental implants over dentures or a fixed bridge will prove much more beneficial and result in a healthier, longer-lasting smile.
What Options Are Available When It Comes to Dental Implants?
If you think you can only replace a single missing tooth with a dental implant, you'll be pleased to know that is not the case. Dental implants are designed to support all types of custom restorations, such as a dental crown, implant bridge, or even an implant-retained denture.
It is up to you and your dentist to determine how many implants you will need to restore your smile. If only one tooth is missing or multiples, the appropriate number of posts will be surgically implanted into your jawbone to ensure your restoration is secure.
Should you require full mouth reconstruction, your dentist can use the Hybridge process, which is a specially-designed system that creates full-arch restorations for individuals in need of replacing all their missing teeth. Similar to the traditional implant procedure, the Hybridge process helps your dentist to carefully plan your treatment before ensuring each post is carefully placed in strategic areas of the jawbone. This will ensure the appropriate amount of pressure is distributed throughout the bone one the restoration is secured into place.
Dental labs who use Hybridge restorations use only the most advanced technology to create the prosthetics, making it possible to ensure a comfortable, beautiful, and seamless smile that is durable, highly functional, and lasts a lifetime.
How Do I Know If I'm Eligible for Implants?
Just because you want dental implants doesn't mean you are a candidate, unfortunately. If your jawbone is not strong enough to safely support your restoration, you may need to undergo a bone graft or sinus lift before implant placement. In certain situations, especially as it pertains to individuals with weakened immune systems, implants are simply not a feasible solution because of the inability to heal quickly and effectively.
However, if your dentist examines your smile and determines your jawbone is dense enough, and you have good general oral health, you will experience the many benefits that come with dental implants, one of which a smile that will last decades with proper care.
About the Author
Dr. Matthew Nawrocki earned his Bachelor of Science degree in chemistry from the University of Florida. From there, he went on to attend the University of Florida College of Dentistry, earning a Doctor of Dental Medicine degree. As a dental professional with Jacksonville Dental Specialists, Dr. Nawrocki and his team understand that the longer you wait to replace a missing tooth, the greater the chances for future dental problems. By entrusting your smile to Dr. Nawrocki, you can rest easy knowing you'll receive an improved, more beautiful smile. To learn more, contact us at (904) 683-4781.