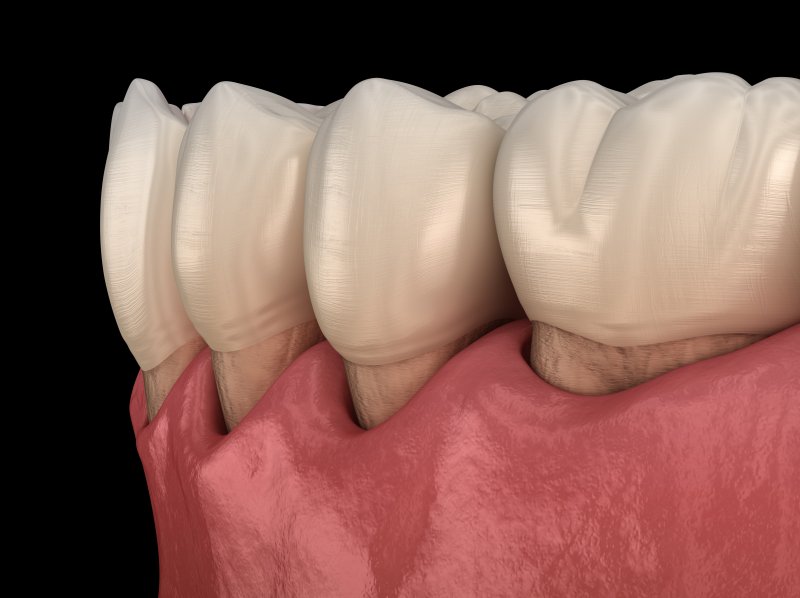 You recently learned that you have gum disease. Not only are your soft tissues red and tender, but they're also inflamed and causing your teeth to appear much longer than before. Why is this happening? The answer is gum recession. A common symptom of periodontal disease, many patients wonder, "Will the tissue grow back? Will my smile ever look the healthy again?" Find out what you can expect should this happen to you and what treatments can help you regain better control of your gum health.
What Causes Gums to Recede?
One of the most common causes of gum recession is periodontal disease. As bad bacteria accumulate in your mouth, it can cause the soft tissue to pull away from the teeth, resulting in gum pocket formations. If left untreated, additional plaque and tartar can spread beneath the gum line and cause serious dental and overall health problems (i.e. bone and tooth loss, cardiovascular disease, respiratory disease, diabetes, neurological diseases).
Other reasons your gums may begin to recede include:
Trauma
Teeth grinding or clenching (bruxism)
Smoking or using tobacco products
Crooked or poorly aligned teeth and/or bite
Genetics
Hard brushing and/or flossing
Can Receding Gums Ever Grow Back?
Unfortunately, the answer is no. Once this soft tissue recedes, it is impossible for it to ever grow back; however, this doesn't mean you can never retrieve a healthy, beautiful smile. In fact, there is a beneficial solution that can help you regain a uniform and more aesthetically pleasing gum line. Through the process of gum grafting, your periodontist can remove a small section of tissue from one area of your mouth (i.e. the palate, cheek, or roof of your mouth) and place it onto the area in need.
The process is relatively simple and only requires a numbing agent to prevent any discomfort throughout the grafting process.
There are other techniques that dentists use including pinhole surgical treatment, which involves movement of the gum tissue over exposed tooth roots, but most dental professionals rely on the success and effectiveness of gum grafting.
Ways to Avoid Gum Recession
While gum recession may not be entirely unavoidable, especially if caused by genetics, there are things you can do to minimize the risk of developing this common problem, such as:
Taking care of your oral healthy by gently brushing your teeth with a soft-bristled toothbrush twice a day for two minutes
Flossing at least once a day using the right techniques
Rinsing with an antimicrobial mouthwash that can help prevent gum recession
Maintain regular dental visits every six months
If you would like to know more about additional ways you can prevent gum disease and the recession of your soft oral tissue, make sure to talk to your dentist during your next visit. They will be able to provide helpful tips and recommend beneficial products to help you take back your gum health.
About the Author
Dr. Richard Aguila and Dr. Matthew Nawrocki understand a receding gum line can cause problems not only with your oral health but also your aesthetics. When suffering from periodontal disease, this common symptom often requires extensive treatment to help you regain your gum health and avoid worsening problems in the future. If you need the help of skilled professionals to address your receding gum line, contact us at (904) 683-4781.