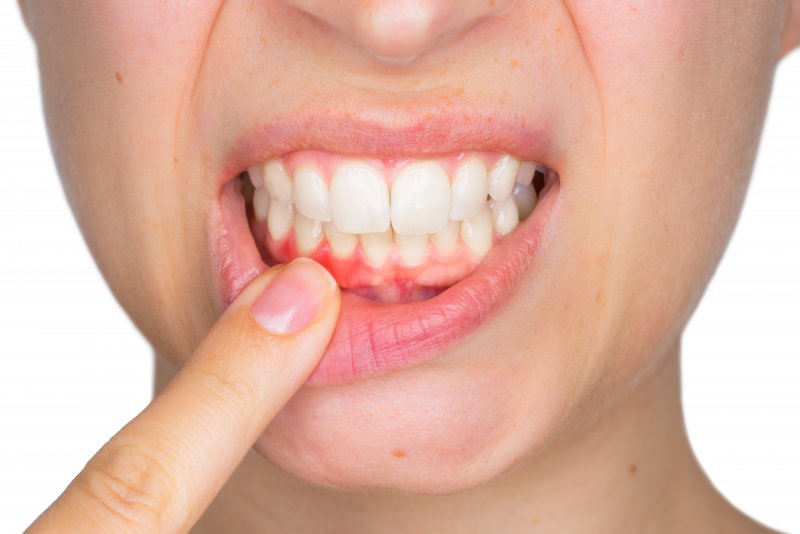 If you're somewhat familiar with gum disease, you know it is a harmful bacterium that attacks the soft oral tissue. Causing red, swollen, and tender gums, the disease can progress quickly if left untreated, resulting in potential bone and tooth loss as well as more severe health-related conditions. But what is it that causes gum disease in the first place? Read on to find out what you should do to eliminate bad bacteria from your mouth and reduce your risk of developing periodontal disease.
What Causes Gum Disease?
Gum disease, which is also known as periodontal disease, is caused by bad bacteria accumulating in your mouth and attacking the soft oral tissue that surrounds your teeth. Developing in the form of a sticky, colorless plaque, it can cause your gums to become red, tender, and inflamed in its earliest stages.
What can start as gingivitis can quickly escalate and become periodontitis, which is a more advanced form of gum disease. Once the plaque spreads deeper into your gum line, pockets will develop, making it easier for food particles and bacteria to become trapped. Eventually, if left untreated, bone and tooth loss can occur as well as problems with your heart, lungs, brain, and even your liver and kidneys.
Ways to Eliminate Bacterial Accumulations in Your Mouth
The most effective way to avoid the potential for gum disease is to maintain good oral hygiene. This includes brushing twice daily for two minutes, flossing before bed, and rinsing with an ADA-approved mouthwash. However, if you're experiencing early signs of periodontal disease, you may still be able to reverse the symptoms with brushing, flossing, and seeing your dentist regularly for checkups and cleanings.
If the plaque is not removed through traditional means and is allowed to harden, it can turn into tartar, which cannot be eradicated with brushing. The only way to rid your mouth of this type of bacteria safely and thoroughly is with a professional cleaning.
Your dentist and dental team can use specialized instruments and treatments that are designed to eliminate harmful plaque and tartar from your teeth and gum line. The most common method is scaling and root planing. Also referred to as "deep cleaning," they will remove the bad bacteria above and below the gum line before smoothing out your tooth root to encourage healthy reattachment of the tissue to your teeth.
As part of your treatment plan, you can expect your dentist and periodontist to recommend changes in your lifestyle habits if some are causing you to be more susceptible to gum disease. Whether it is to quit smoking, reduce your sugar intake, or simply improve your oral hygiene routine at home, you'll need to take action if you want to maintain healthier teeth and gums.
If you need help identifying certain products that can help you combat gum disease, or if you want to learn how you can fine-tune your brushing and flossing technique for a more thorough clean, don't hesitate to contact a member of your dental team.
About the Author
Dr. Richard Aguila earned his bachelor's degree in Chemistry, graduating Summa Cum Laude, as well as his Doctor of Dental Surgery degree from West Virginia University. He then went on to attend the Naval Medical Center San Diego to complete a hospital-based General Practice Residency. Dr. Aguila also possesses a master's degree in health sciences and a certificate in periodontics. At Jacksonville Dental Specialists, he and Dr. Matthew Nawrocki understand the difficulties gum disease can pose to your oral and overall health, which is why we offer periodontal therapy to improve your oral tissue and reduce the likeliness for additional health problems. Find out how we can help you regain control of your oral health by contacting us at (904) 683-4781.