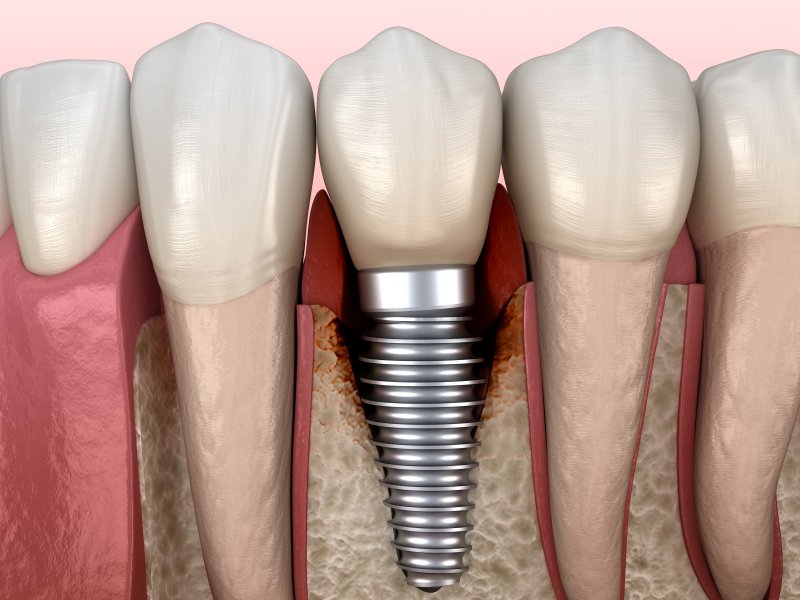 Do you currently suffer from gum disease? Do you worry it could hurt your chances of receiving dental implants to replace some of your missing teeth? These popular restorative tooth replacements require ample, healthy bone and gum mass, which means that it is possible to undergo treatment even if you've been treated for periodontal disease in the past. But what if you are currently receiving treatment for gum disease? Will it cause a delay in moving forward with implants? Read on to find out what your dentist recommends that will ultimately lead you to the smile of your dreams.
Why is Good Bone and Gum Health Necessary?
Dental implants require a strong, structural foundation to remain in place for as long as possible. It is no different than hammering a nail into a wall. It needs a good grip to hold up whatever is on the other end of it.
Your jawbone is what keeps your teeth in place but without a root to continue stimulating it, the bone can begin to weaken over time. As a result, an implant will be unable to stand up and maintain its structural integrity if the bone is no longer strong enough.
If you are suffering from advanced stages of gum disease, you will learn that your jawbone can begin to quickly deteriorate because of the infection. Apart from the weakening foundation, you may begin to experience tooth loss and other health-related conditions. While it will be necessary to replace these missing teeth, it cannot be accomplished without rebuilding the bone and treating the infection and inflammation in your soft oral tissue.
How to Improve Your Chances for Dental Implants
The good news is that even if you are currently battling the effects of gum disease, there is still hope of receiving dental implants…in the future. You must first gain control of your gum health and receive proper treatment (i.e. scaling and root planning, antibiotic therapy). You will also need to practice good oral hygiene at home to increase your chances of a fully restored smile.
Once this soft tissue is in better shape, your dentist might suggest a bone graft or sinus lift depending on the location of your missing teeth. These procedures allow for additional bone minerals to be placed in weakened areas so that your jawbone will begin to rebuild itself and become strong enough to hold up dental implants.
Although the process may take more time to complete, dental implants can be a possibility for almost anyone. To find out if you are a qualified candidate, make time to speak to a qualified dentist who understands the steps you'll need to take to achieve a complete, healthy, beautiful smile.
About the Author
Dr. Matthew Nawrocki wants all his patients to achieve healthy, beautiful smiles. While natural teeth are always best, dental implants offer a safe and effective solution for those who need to replace their missing teeth. However, before he can move forward with treatment, it is important that good general oral health be present. Should he discover this is not the case, he can employ periodontal therapy to address the issue. Over time, he will then be able to reopen the discussion of placing dental implants. Want to find out if you are eligible to receive these restorative prosthetics to repair and rebuild your smile, contact us at (904) 683-4781.