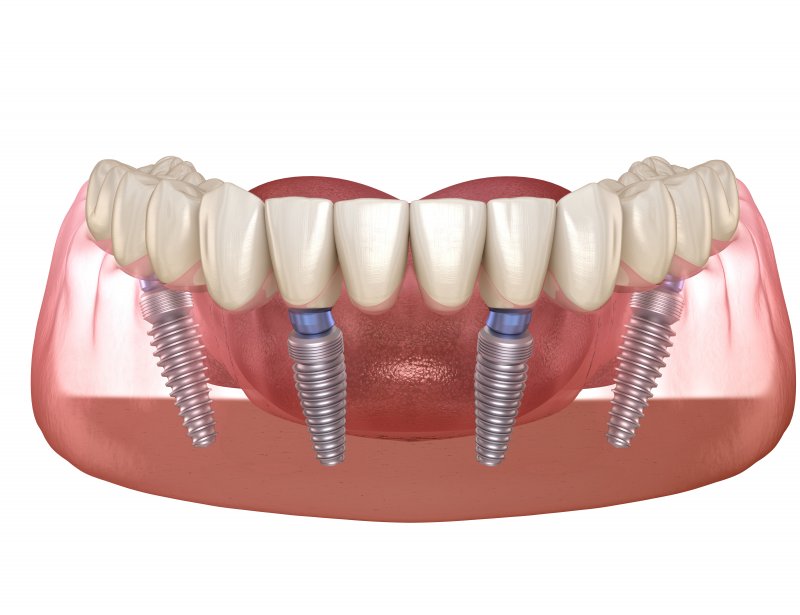 When considering how best to replace your missing teeth, you may be contemplating the idea of receiving All-On-4 implants. While proven an effective method of treatment for individuals with weakened areas of the jawbone and/or prefer faster results than those achieved with traditional dental implants, you may wonder if the restoration you receive is removable. While you might assume a solution that can be removed is best, spend a few minutes learning from a dental professional who explains why a permanent prosthetic is best.
Are All-On-4 Implants Removable?
If you are looking to have All-On-4 dental implants put into place, you should know that your final restoration will be affixed to the top of your posts, which means it is not removable. In fact, they are designed so that you can treat them just like your natural, healthy teeth. They do not need to be taken out and do not require any dental adhesives to keep them in place.
Instead, because your implants are surgically placed into your jawbone and equipped with abutments to connect the implant to the denture, your restoration will snap into place and create a permanently restored aesthetic.
Why Is It Better to Have a Permanent Denture Instead of a Removable One?
Although some individuals prefer a non-invasive method of treatment (i.e. traditional dentures), they tend to cause additional problems along the way, such as:
Accidental slippage while eating
Frequent relining and readjustments by your dentist
Improper fit due to changes in the facial shape because of jawbone deterioration
Necessity for a dental adhesive to keep them in place
All-On-4 offers you a chance to restore your smile and no longer worry about the disadvantages dentures can pose. Not only will you recapture an increased bite force with All-On-4, but you will also:
Enjoy all the foods and beverages you love without worry about tooth sensitivity
Have a more comfortable experience because the implants will look and feel like your natural teeth instead of a prosthetic that sits atop and puts added pressure on your gums
Avoid the need for messy dental adhesives
Be able to maintain your facial structure and features because of the continuous jawbone stimulation provided by your implants
It is clear that All-On-4 offers outstanding benefits that cannot be achieved with more traditional alternatives. Depending on your needs and preferences, you and your dentist can discuss which method of treatment is right for you.
About the Author
Dr. Matthew Nawrocki earned his Bachelor of Science degree in chemistry from the University of Florida. From there, he went on to attend the University of Florida College of Dentistry, earning a Doctor of Dental Medicine degree. As a dental professional with Jacksonville Dental Specialists, Dr. Nawrocki and his team understand that the longer you wait to replace a missing tooth, the greater the chances for future dental problems. By entrusting your smile to Dr. Nawrocki, you can rest easy knowing you'll receive an improved, more beautiful smile. To learn more, contact us at (904) 683-4781.