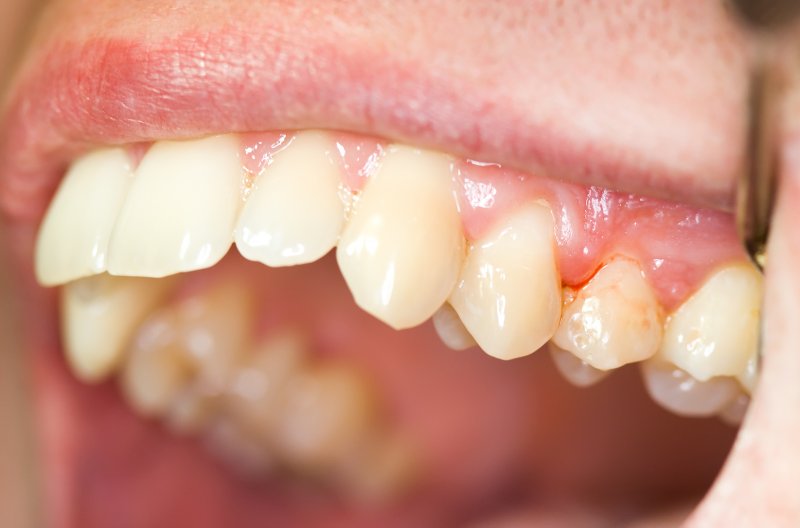 Gum disease, which is also known as periodontal disease, is one of the most common dental problems seen by dentists throughout the United States. With most individuals unaware they are experiencing the symptoms associated with gingivitis or periodontitis, knowing how extensive the damage is can be difficult, especially if regular checkups and cleanings are not practiced. So, how do you know if you are dealing with a problem that can be easily reversed or one that is advanced and requires periodontal therapy to fix? Let a dentist in Jacksonville explain.
What is Gingivitis?
Gingivitis is known as the first stage of gum disease. This occurs when bacteria (plaque) accumulates around the gum line and begins to attack the soft oral tissue. As a result, you can expect inflammation, bleeding, and even tenderness to occur, especially when brushing and/or flossing between your teeth.
To combat gingivitis, you will need to maintain regular dental checkups and cleanings with your dentist as well as practice good oral hygiene at home. If done properly, you can actually reverse the symptoms associated with this initial phase of periodontal disease and prevent damage to the jawbone.
What is Periodontitis?
When periodontitis is present, that same plaque will cause an infection to occur within an area known as a gum pocket. As the bacteria continue to accumulate, it causes the gum tissue and jawbone to pull away from your teeth, creating small spaces that can trap food particles and other harmful bacteria. Once this happens, the infection will continue to spread and enter the bloodstream. This will cause the immune system to weaken, making it difficult for your body to fight off the infection.
Should it enter into your blood, it can travel to your brain, heart, kidneys, lungs, and other areas, causing you to develop:
Neurological disorders (i.e. Alzheimer's, Dementia)
Heart attack/stroke
Respiratory disease
Kidney disease
How Can Gingivitis Turn into Periodontitis?
Should you avoid receiving regular dental checkups by your dentist, you will find that over time, periodontitis will develop. When gums are inflamed and bleeding and nothing is done to keep it from worsening, it is only natural for the infection within your mouth to escalate and wreak havoc on your gum health. This will lead to necessary treatment (i.e. periodontal therapy) to avoid the complete deterioration of the bone or tooth loss.
What Can Be Done to Prevent Gum Disease?
Apart from maintaining a good oral hygiene regime each day, there are a few other things you can do to avoid gum disease, such as:
Quit smoking
Avoid sugary, starchy foods/beverages
Maintain a well-balanced, nutrient-rich diet
Using a mouthwash that is designed to combat periodontal disease by killing most of the bacteria that can lead to bad breath and poor gum health
Keeping your regular six-month dental checkups and cleanings
If you suspect that you are experiencing any of the symptoms associated with gum disease, make sure you do not wait to see your dentist. The earlier you seek treatment, the better of you and your smile will be.
About the Author
Dr. Richard Aguila earned a Doctor of Dental Surgery degree from West Virginia University. He then went on to attend the Naval Medical Center San Diego to complete a hospital-based General Practice Residency. Dr. Aguila also possesses a master's degree in health sciences and a certificate in periodontics. At Jacksonville Dental Specialists, he and Dr. Matthew Nawrocki understand the difficulties gum disease can pose to your oral and overall health, which is why we offer periodontal therapy to improve your oral tissue and reduce the likeliness for additional health problems. Find out how we can help you regain control of your oral health by contacting us at (904) 683-4781.