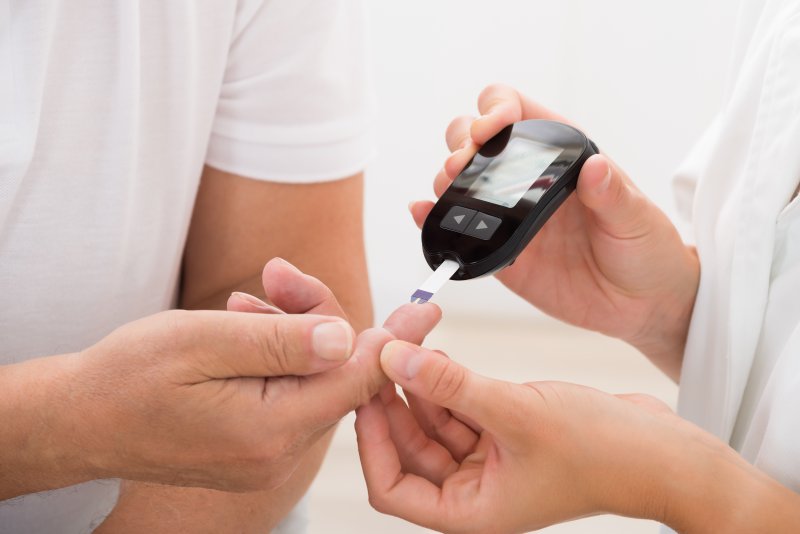 You may not realize that living with diabetes can have serious effects on your oral health and vice versa. Should you develop gum disease, there is a chance that the infection can enter your bloodstream and result in diabetes. No matter how the disease formed, it is possible that you can face tooth loss later in life. If you are suffering from this same situation and are worried you'll live with an incomplete smile forever, find out why more and more dentists recommend dental implants to replace missing teeth.
The Background Behind Diabetes and Tooth Loss
If you think you'll never have to worry about diabetes, you might want to reconsider your mindset, especially if you don't take care of your oral health as you should. When you begin to notice red, inflamed, bleeding gums, you should recognize this as gingivitis, the earliest stage of gum disease. If allowed to progress and worsen over time, you will notice that your gums will begin to recede and form pockets that can easily trap food and bacteria.
As your gum health deteriorates, the infection resulting in plaque and tartar build-up beneath the gum line will enter your bloodstream and travel to various parts of your body. Although it affects everyone differently, there is a chance you can develop diabetes as a result.
However, if you are one of the millions of individuals living with diabetes, you will discover that you are more prone to developing gum disease because your body's immune system is weakened, which makes it harder to fight off infection.
Either way, if you struggle to manage your blood sugar levels and avoid caring for your gums, the result can be devastating to your smile. Should you experience tooth loss, not only will your oral health be jeopardized, but your aesthetic will suffer as well.
Benefits of Choosing Dental Implants
Fortunately, many solutions can restore and repair incomplete smiles. While some may prefer less invasive solutions or those that offer a quicker timeline, you should consider how a lengthier approach might prove beneficial and more appropriate for your needs.
With dental implants, you might need to wait a bit longer to see results, but you'll soon learn why they're worth the wait. These small titanium posts are surgically placed into your jawbone, mimicking the entire tooth structure while continuing to stimulate your bone.
Many of the benefits you'll receive with dental implants include:
Greater functionality when eating, speaking, and chewing
Improved oral health
Enhanced aesthetics and boosted confidence
Minimal maintenance and no chance of decay
A more natural appearance thanks to customized restorations that blend in with the rest of your smile
These are advantages that cannot be attained with any other type of tooth replacement solution. Yes, implants do cost more upfront and take several months for completion, but the long-term benefits and cost-effectiveness make them a popular and superior treatment method for tooth loss.
About the Author
Missing teeth are a serious concern for not only a patient but a dentist, too. At Jacksonville Dental Specialists, Dr. Matthew Nawrocki works hard to combat this issue by offering dental implants as a way to effectively halt the negative impact brought on by tooth loss. As a highly-skilled and trained dental professional, Dr. Nawrocki earned his Bachelor of Science degree in chemistry from the University of Florida. From there, he went on to attend the University of Florida College of Dentistry, earning a Doctor of Dental Medicine degree. Whether you've lost a tooth to poor oral hygiene, injury, or gum disease, he can give you back your confidence and aesthetically pleasing smile. To learn more, contact us at (904) 683-4781.