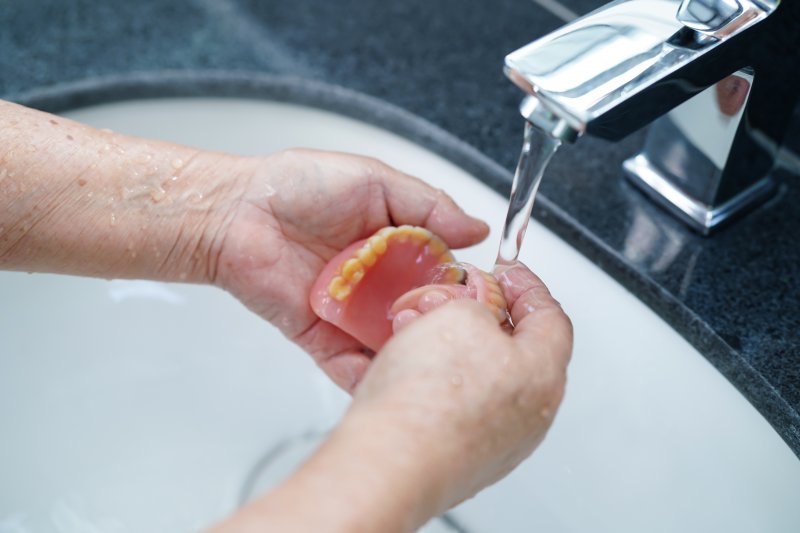 While at home because of COVID-19, did you experience problems with your dentures? Did you accidentally break one while cleaning them in the sink? If you felt helpless during this time, you're not alone. Fortunately, dental offices are reopening, which means you can get help with your damaged denture. Whether it is a replacement or alternative solution you are considering, your dentist can help you make the right decision. Spend some time learning what you can do to repair your smile and get your oral health back on track.
Damaged Denture: What to Do While at Home
If you're waiting to get in to see your dentist because you accidentally dropped your denture, don't worry. There are steps you can take while at home to protect your smile, some of which include:
Collecting any broken pieces or parts. You'll need to bring these with you to your next appointment.
Use regular dental wax to prevent irritation to your soft oral tissues. You can place it over rough or jagged areas of your denture if you need to wear it.
If possible, try to avoid wearing your damaged denture as much as possible. Instead, allow them to soak and remain moist until you're able to get in to see the dentist.
Available Options to Consider
Depending on how long you've been wearing dentures, you may or may not be ready to consider an alternative solution for tooth replacement. If you're new to this type of fixture and prefer to avoid a surgical, more invasive procedure, your dentist will likely recommend a replacement for your denture, especially if the damage is severe enough.
Although it may require another set of impressions before lab technicians will be able to craft a new prosthetic, you should have a replacement in a very short amount of time.
However, if you've been a denture-wearer for decades and are tired of needing a replacement every 7-8 years or so, you might consider dental implants. These permanent fixtures make it possible to enjoy a more functional, longer-lasting smile without the need for dental adhesive or frequent relining or adjusting.
An implant-retained denture may be more costly upfront but once you consider the time and money spent on regular dental visits to replace and readjust your denture, you will quickly learn why it is a more cost-effective tooth replacement solution.
It does require that you have enough bone density to support your dental implants, so if your jawbone has weakened or deteriorated over the years, you will need to either continue wearing dentures or undergo a bone graft/sinus lift before having implants placed.
No matter which option you choose, your dentist is available to offer recommendations on what will be best for your dental needs. If you are dealing with a damaged denture, don't wait to seek treatment. Contact your dentist's office as soon as possible to get help.
About the Author
Dr. Matthew Nawrocki earned his Bachelor of Science degree in chemistry from the University of Florida. From there, he went on to attend the University of Florida College of Dentistry, earning a Doctor of Dental Medicine degree. Dr. Nawrocki and his team at Jacksonville Dental Specialists want to make sure you know what to do should you accidentally damage your denture. With our doors now open, we can provide recommendations for alternative treatment or offer a replacement to your custom prosthetic. Let us help you restore your smile. Contact us at (904) 683-4781.