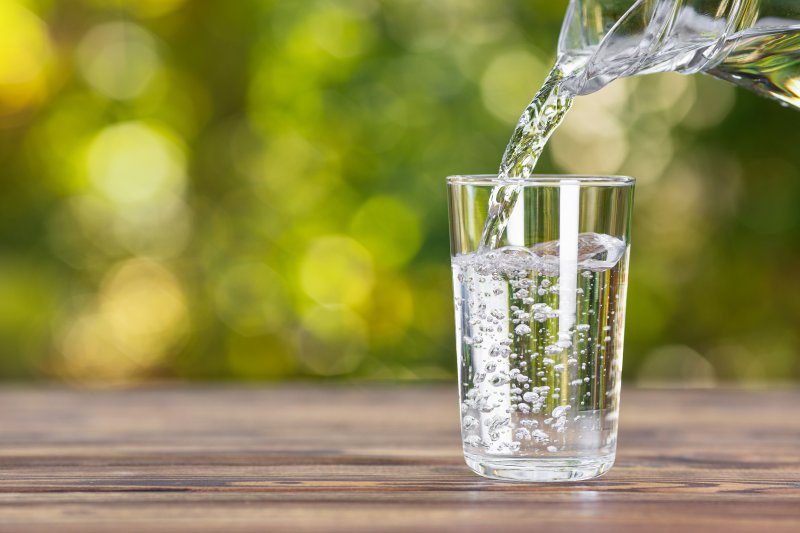 If you had the choice between drinking a tall glass of ice water or a can of soda, which would you choose? If you're like most people, you would probably select the latter option, but why? Yes, a caffeinated beverage may taste delicious, but all that sugar can leave your teeth in jeopardy for developing cavities. So, why should you choose water instead? Not only does it keep you hydrated, but amidst the COVID-19 outbreak, it can reduce your chances of contracting the virus! To keep your dental health and wellbeing in check during this time, read on to learn about the many benefits associated with water and why it should be your number one choice for quenching your thirst.
Water Contains Fluoride
Want to better protect your teeth from possible tooth decay as well as strengthen your enamel? Look no further than the water you consume. In many communities, fluoride can be found within tap water. Although not in large doses, it is just enough to give your teeth the protection they need. Combine this source of fluoride with the toothpaste you use on a twice a day basis, and you now have a battle plan for combatting possible cavities. This beneficial mineral is highly regarded by dentists and used to protect even the youngest teeth from developing tooth decay at an early age.
Water Increases Salivary Gland Production
Because you do not need to worry about sugar or other harmful additives in your drinking water, it is a great way to flush out any toxins or acids within your mouth that can lead to serious dental problems. But water isn't the only thing working hard. In fact, it also spurs your salivary glands to increase production, effectively keeping your mouth free of bad bacteria while preventing the possibility of bad breath, tooth decay, and gum disease.
Water Reduces Your Risk of Getting Sick
There is a reason so many doctors, nutritionists, fitness trainers, and other medical and healthcare professionals recommend drinking plenty of water. The simple fact is that it keeps your body hydrated. When you're sick, what does the doctor recommend? Drinking plenty of fluids, specifically, water. With the recent outbreak of COVID-19, drinking water every 15 minutes can significantly decrease your risk of contracting the virus and allowing it to enter your lungs.
Having a soda or cup of coffee every now and then is fine, but if you want to improve your health and wellbeing as well as enjoy a longer-lasting smile, the decision should be easy. Make water your go-to beverage of choice.
About the Author
Attending the University of Florida College of Dentistry, Dr. Matthew Nawrocki earned a Doctor of Dental Medicine degree. Since graduation, he has worked to provide his patients with healthy, longer-lasting smiles. Dr. Nawrocki wants you and your family to stay safe year-round, which is why he and his team at Jacksonville Dental Specialists are happy to provide patient education. From proper brushing techniques to diet and nutrition, Dr. Nawrocki can help you improve your oral and overall health with important tips and recommendations that will benefit your mouth and body. To find out more about what you can do to enhance and restore your smile, contact us at (904) 683-4781.