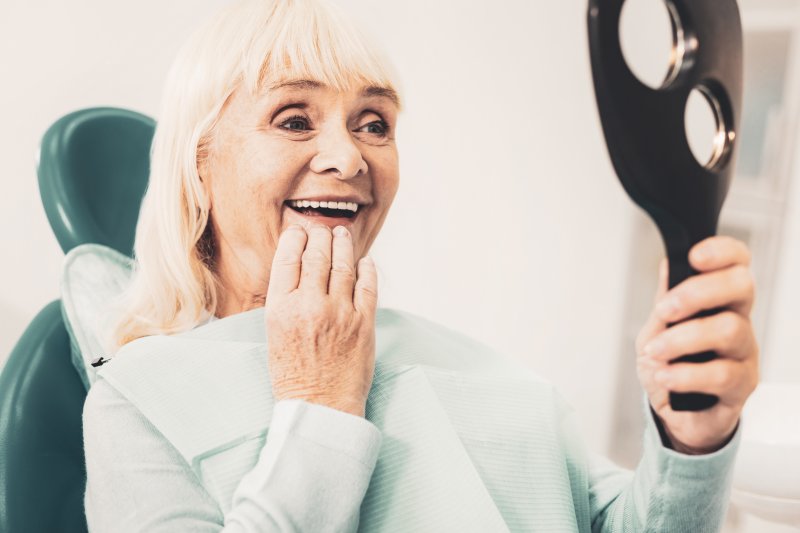 You're enjoying an evening out with your some of your closest friends. During dinner, you prepare to take a bite of your delectable steak when suddenly, your dentures manage to slip, causing you to second-guess your decision to bite down and instead, drop your silverware and reach for your mouth to prevent your teeth from hitting the plate. If this sounds familiar, you're not alone. Millions of denture-wearers face the struggle and fear of accidental slippage, especially when around others. So what can be done to remedy this situation? Let a dentist share 4 helpful tips to keep your dentures safely in place and avoid embarrassment.
Don't Be Afraid to Use Dental Adhesive
One of the best things you can purchase when wearing dentures is a dental adhesive. Whether buying a powder, liquid, or cream, it can provide you with a more secure fit when you need it most. The way it works is the adhesive mixes with your saliva and creates a strong bond between your dentures and your gums. If you're unsure what type of adhesive you should use, don't be afraid to ask your dentist for suggestions.
Keep Your Dentures Clean
Even though you don't have natural teeth, your dentures need to be thoroughly cleaned and maintained with a soft-bristled toothbrush daily. This means using a denture cleaner to remove bacteria, food particles, and any other germs that can cause them to deteriorate much more quickly as well as become loose or change their shape. Make sure not to use toothpaste, as this can scratch your dentures.
Be Mindful of What You Eat and How You Speak
If you're still adjusting to your dentures, your ability to speak clearly may prove difficult in the beginning. The best way to overcome this is to speak slowly and less at first. The more force you put on them, the more likely they are to fall out.
The same can be said for what you eat in the beginning. Harder foods can increase the amount of pressure put on your dentures, whereas softer foods are easier to eat and require minimal work on the part of your new restorations.
Don't Sleep in Your Dentures
While you may be tempted to sleep in your dentures, this is strongly not recommended. Here's why:
Your gums and bone need time to breathe. By placing your dentures in a glass to soak overnight, not only are you taking steps to keep them clean and moist (dry dentures can easily break), but you're also allowing your mouth the time it needs to restore itself before another day of accommodating your dentures.
By following these steps as well as those provided to you during your fitting appointment, you will feel much more confident in your ability to wear dentures without fear of embarrassment.
About the Author
Dr. Matthew Nawrocki earned his Bachelor of Science degree in chemistry from the University of Florida. From there, he went on to attend the University of Florida College of Dentistry, earning a Doctor of Dental Medicine degree. Dr. Nawrocki and his team at Jacksonville Dental Specialists want to make sure you are aware of your options, so when it comes to missing teeth, you have all the necessary information you need to make a confident decision. To learn more about dentures and dental implants, contact us at (904) 683-4781.