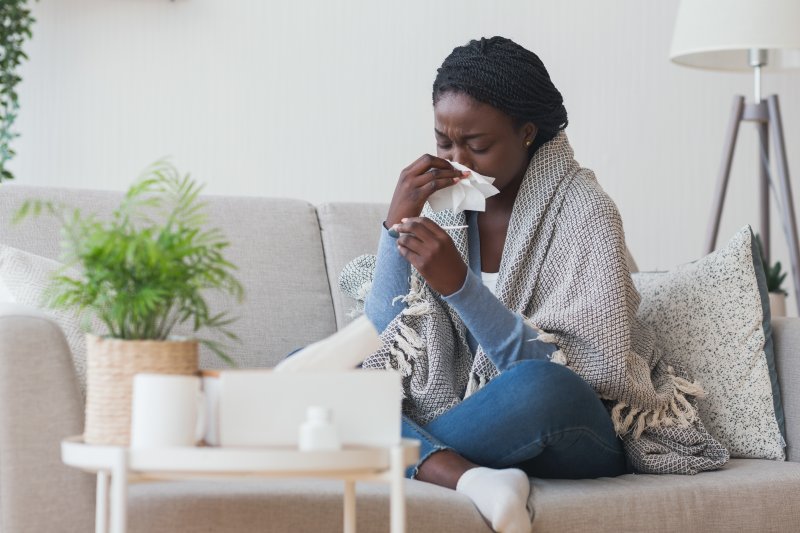 Are you worried about contracting coronavirus? Do you suffer from seasonal allergies or battle the cold or flu this time of year? How can you tell the difference between the symptoms associated with them? While it may not be easy, the Centers for Disease Control and Prevention (CDC) offers ways to tell if you have coronavirus and how you can protect yourself. But that's not all you should be concerned about. As we enter spring months, it is important to keep your oral health in check when dealing with any type of virus or cold, which is why you should check out these helpful tips to get you through this difficult time.
How to Avoid Contracting Coronavirus?
If you have cough, fever, and have difficulty breathing, you may be positive for coronavirus (also known as COVID-19); however, these symptoms can sometimes be confused with your average cold or flu. If you are concerned about the possibility of contracting the virus, there are things you can do to lower your risk. The CDC recommends:
Cleaning your hands often by washing them with soap for at least 20 seconds.
Use hand sanitizer if water and soap are unavailable. It should contain at least 60% alcohol and cover all surfaces of your hands.
Avoid close contact with others. Social distancing is the term used today, and it implies staying far away from those who may be sick with the virus.
These tips are great to remember whether you are trying to protect yourself from this widely-spread virus or the yearly cold and flu.
Ways to Keep Oral Health in Check
While a cough and fever are often associated with many different types of viruses, it may be that you have a seasonal cold or the flu and not coronavirus. No matter what, the medicines and steps you take to get better can either positively or negatively impact your oral health. A few tips to remember include:
Brush, Floss, and Rinse
You may not feel like it but remembering to brush your teeth twice a day for two minutes, flossing at least once a day, and rinsing with an ADA-approved mouthwash will ensure your mouth is free of harmful bacteria and food particles. When left on your teeth too long, they can burrow into your tooth enamel and lead to tooth decay and gum disease, so even if you don't feel like getting out of bed, take a few minutes to care for your oral health. Then, you are free to crawl back into bed and sleep.
Drink Plenty of Water
Water will help keep you hydrated while increasing saliva production. This is important because your salivary glands can flush out anything in your mouth that could potentially harm your teeth and gums. Eat a sandwich for lunch? Make sure you combine it with a glass of water to wash the food particles down and keep them from adhering to your chewing surfaces.
Be Mindful of Cough Syrups and Antihistamines
Cough syrups contain lots of sugar, as do lozenges and some antihistamines. To prevent too much sugar from getting onto your teeth, look for products that have a natural sweetener or honey. These are better for you and will reduce the likeliness of developing tooth decay and cavities. Yes, these items can help you get over your cold or flu, but you don't want to come out needing a filling or dental crown because you consumed too much sugar.
Throw Out Your Toothbrush
The CDC states that the flu virus can stay on surfaces for 72 hours. If you continue to use your toothbrush after you've overcome your illness, these germs will continue to live on your toothbrush and fill your mouth each time you brush your teeth. So, if you're using a manual toothbrush, throw it out and buy a new one. If you use an electric one, change out the brush head and keep your mouth free of harmful germs.
No matter if you have a cold, flu, or coronavirus, heed the instructions of medical professionals who can help you get better. Be mindful of the medications you choose and do your best to maintain good oral and overall hygiene. If you are concerned you may have contracted COVID-19, contact your health care provider for assistance.
About the Author
Dr. Richard Aguila earned his bachelor's degree in Chemistry, graduating Summa Cum Laude, as well as his Doctor of Dental Surgery degree from West Virginia University. He then went on to attend the Naval Medical Center San Diego to complete a hospital-based General Practice Residency. Dr. Aguila also possesses a master's degree in health sciences and a certificate in periodontics. At Jacksonville Dental Specialists, he and Dr. Matthew Nawrocki want to help you through this uncertain time, as the world grapples with coronavirus and cold and flu season. To learn more, contact us at (904) 683-4781.