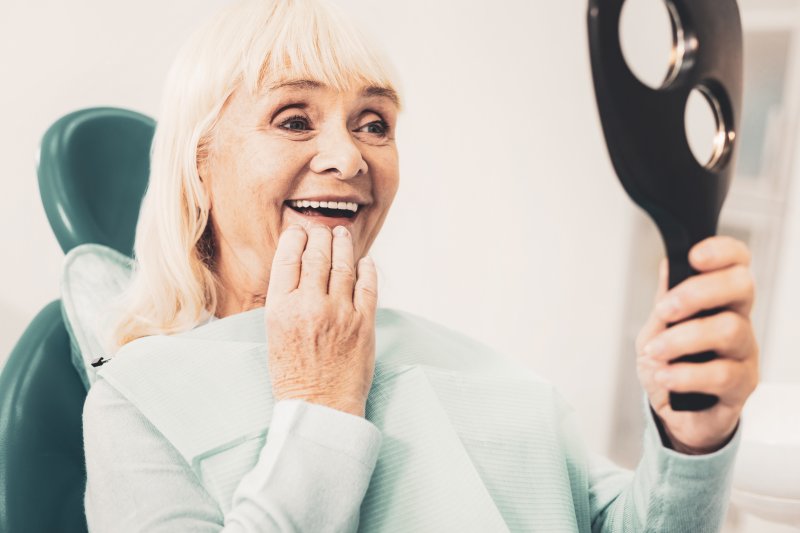 When receiving your new smile, it's understandable that you don't want to remove your dentures. After all, they make you look and feel good. Unfortunately, by choosing to keep you custom-made prosthetic in, you could be doing more harm than good to your mouth. To find out why sleeping with dentures is something you should avoid, read on and let a dentist explain what you should do to keep your restoration looking and feeling its best.
What Can Happen If Dentures Are Left in Overnight?
Even if you don't like being without your dentures, it is important that you remove them before going to sleep. Here's why: Not only are you not giving your gums and bone a rest from the continual pressure placed on them throughout the day, but you're putting your overall health at risk.
Here are a few things that can happen by choosing to leave your dentures in while you sleep:
Your dentures will break down much quicker, resulting in additional time and money spent to replace your prosthetic long before it is necessary
Your gums will become inflamed, making it much more uncomfortable to wear your dentures as a result
Your risk for pneumonia increases because the fluid that builds in your mouth that would normally be swallowed throughout the night may be more likely to pull into your lungs. This is due, in part, to the fact that wearing dentures at night makes it more difficult to swallow excess fluid.
How to Take Care of Your Dentures
Look at it this way: no one is going to see you while you're asleep, so you don't need to worry about wearing your dentures at night. Instead, here are a few tips to think about before you go to bed tonight:
Brush your dentures with a soft toothbrush and denture cleanser to remove bacteria and food particles.
Brush your gums and tongue with a separate soft-bristled toothbrush to keep them healthy and bacteria-free.
Soak your dentures in water or a denture cleaner while sleeping.
You'll also want to make sure that you rinse your dentures thoroughly before putting them in your mouth the next morning as well as remove and rinse them after eating. This will help to keep your dentures in the best shape possible and have you enjoying a healthier, more beautiful and fully restored smile.
About the Author
Dr. Matthew Nawrocki earned his Bachelor of Science degree in chemistry from the University of Florida. From there, he went on to attend the University of Florida College of Dentistry, earning a Doctor of Dental Medicine degree. Dr. Nawrocki and his team at Jacksonville Dental Specialists want to make sure you understand how to take proper care of your dental prosthetics, especially if you are a denture wearer. They will be happy to provide useful tips and suggestions on ways to prolong their livelihood as well as answer any questions you might have about wearing your dentures for an extended period of time. To learn more about these tried and true restorations, contact us at (904) 683-4781.