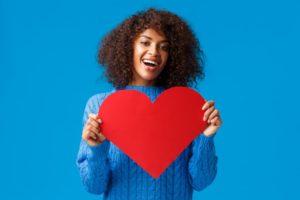 February is a special month for several reasons. It is the month when romance is in the air, and it is when we are encouraged to think about black history. It is also a good time to pause to think about your health since it is both Gum Disease Awareness Month and American Heart Association Month. Let's discuss how gum health can affect heart health, and the steps you can take to protect both your smile and your heart.
The Gum-Heart Connection
Multiple scientific studies have established a correlation between heart disease and gum disease. For instance, one study considered data from individuals who suffered from both conditions. The researchers found that for people who received care for their gum disease, their cardiovascular care costs were as much as 40 percent lower than the costs for those who did not receive gum disease treatment.
A separate study even found that people with gum disease are two to three times more likely to experience a stroke, heart attack, or other serious cardiovascular event than people who are free of gum disease.
What is the reason for the correlation between periodontal disease and heart disease? Although research has not yet proven a direct cause-and-effect relationship, many scientists believe that the way gum problems increase the body's burden of inflammation is a key factor in the gum-heart connection. When it occurs on a short-term basis, inflammation is a good thing; it promotes healing. Chronic inflammation, however, is a major contributor to atherosclerosis (the buildup of plaque and fatty acids on the artery walls).
Protect Your Smile, Protect Your Heart
Doing your best to care for your gums may help you protect your heart. Here are some tips to help you safeguard both of these important body parts:
Visit your dentist for twice-yearly preventive cleanings and checkups. A professional cleaning can free your mouth of gum-disease causing tartar that a regular toothbrush cannot get rid of.
If you notice any symptoms or signs of gum disease, such as bleeding or red gums, visit your dentist as soon as possible. You may need periodontal therapy.
Eat a nutritious diet. Leafy greens, garlic, and nuts are all good for both your gums and your heart.
Do not smoke cigarettes or chew tobacco.
Maintain an excellent oral hygiene routine that includes twice-daily brushing and once-daily flossing
Exercise regularly. Staying active will help to keep your heart strong. Exercise also boosts your body's immune response, which can help to prevent gum disease.
February is a short month, but it is an important one! Take some time this month to consider both your gum health and your heart health. Making a few adjustments to your oral care routine could end up saving your life!
About the Author
Dr. Richard Aguila is a periodontist, which means he is a dentist who specializes in all things related to gum health. He is a member of the American Academy of Periodontology, the Florida Association of Periodontists, and other prestigious organizations. If you would like Dr. Aguila's help to improve or maintain your gum health, contact Jacksonville Dental Specialists at 904-460-4201.