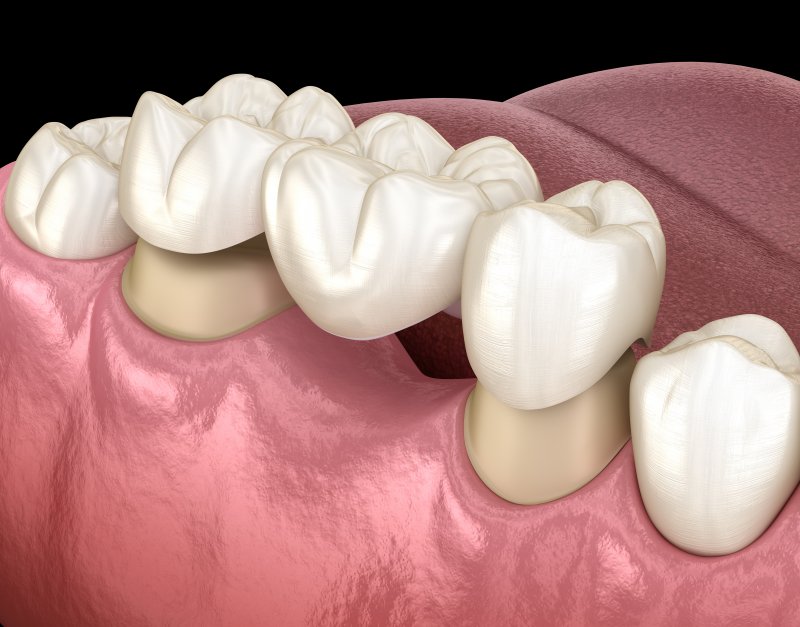 Natural teeth are susceptible to decay and damage, two of which are the most common reasons for dentists to provide restorative dentistry services. Some patients who receive a dental crown or dental bridge believe that because an artificial tooth exists over the regular tooth, what lives undeath no longer requires the care it once did. Not only is this statement false, but it is a potentially harmful way of thinking. To find out exactly what can happen to teeth underneath a bridge, let your dentist explain.
What Can Cause Teeth Under a Bridge to Go Bad?
After having your dental bridge put into place, you may find that everything is working just fine for a while until one day, you discover a problem. If you're not properly brushing, flossing, and rinsing your teeth as you should, gum disease and tooth decay can develop underneath the bridge.
If your gums become infected, it may require your restorative dentist to remove the bridge and provide periodontal therapy before replacing it. Should tooth decay be present, cavities will need to be filled after removing the bridge. If the infection has spread to the innermost layer of the tooth, a root canal will be performed before filling the decayed tooth and replacing the bridge.
How to Prevent Problems from the Start
If a bridge is not fitted properly, this can be a set up for failure, as bacteria and acids can destroy your teeth and cause your gums to become inflamed and infected. To prevent any of this from occurring, it is important that you see a highly skilled and trained dentist for any type of restorative dental work. There are additional steps you can take to keep from having your bridge removed and replaced, such as:
Maintaining a good oral hygiene routine, which includes brushing your teeth twice a day for two minutes, flossing at least once a day, rinsing with an ADA-approved mouthwash, and thoroughly cleaning your tongue.
Keeping your six-month dental checkups and cleanings with your restorative dentist.
Avoiding overconsumption of sugar and starch, as this encourages bacteria to feed and spread, burrowing into the enamel and creating cavities.
Avoiding hard foods and chewing on inanimate objects (i.e. ice, pens, pencils)
It's important to remember that just because you have a prosthetic doesn't mean your natural teeth, whether underneath or adjacent to the restoration, cannot become decayed or damaged. Take care of your teeth, both real and artificial, and enjoy a healthier smile for longer.
About the Author
Dr. Matthew Nawrocki is an expert at placing custom-made dental restorations. He is also equipped to handle problems associated with these restorations should they arise. Reminding patients that natural teeth, although covered by prosthetics, can still become decayed, he provides preventive and additional dentistry services to help keep smiles healthy and strong. Earning his Bachelor of Science degree in chemistry from the University of Florida, he went on to attend the University of Florida College of Dentistry, earning a Doctor of Dental Medicine degree. To become better informed about how natural teeth and prosthetics work together, contact us at (904) 683-4781.